Tacomas are one the most popular trucks in Baja and made in Baja... So, one of the activities can be to visit the California Spanish Missions... which began in Baja (which was California first) and expanded all over the peninsula and eventually came into Alta (Upper) California, which is part of the United States, since 1848.
If you live in California, have you visited the old missions? Did you know there are 21 in California (USA) and 27 in Baja California (Mexico)? The missions were how the Europeans first colonized California by converting the native Indians to the European way of living. That wasn't a good thing for the majority of Indians, specially those in Baja California that were the first exposed to European diseases for the 72 years before the Padres came north to San Diego, and beyond.
The missions were established from 1697 to 1834 (after Mexico won its independence from Spain, 1821). School children in California study and build models of the missions, but only the 21 in Alta California! They are taught that San Diego was the first mission, but it was not. It was the 19th California Mission out of 48 in all.
Learn how the missions came to be built and why, what happened to them and see how they were built in no special order, but randomly as the Spanish or Padres saw fit to pacify an Indian village or establish a farming area.
Each mission is numbered based on the founding date, maps show their location and make it easy to see the order in which they were built in Old California from Los Cabos north to beyond San Francisco Bay.
Over 140 pages, 160 photos and maps... More on our web site including how to order now, and save in September before the book's October release:
http://oldmissions.com
Also, 'like' us on Facebook:
http://www.facebook.com/oldmissions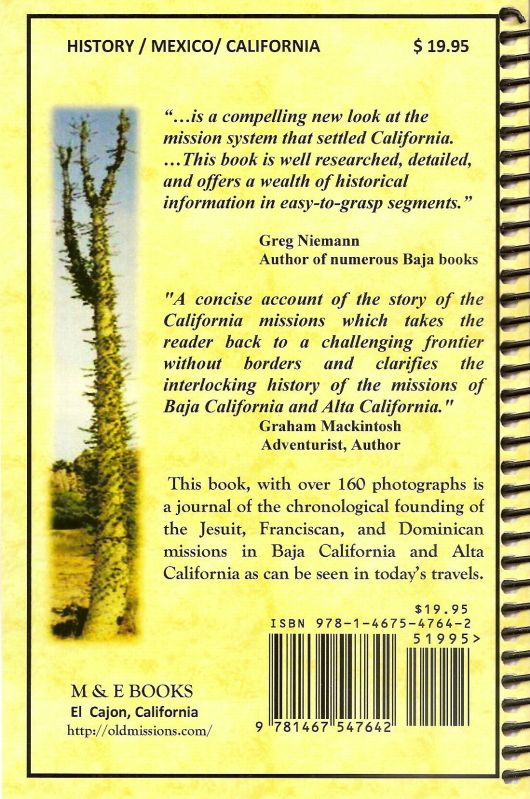 THANK YOU FOR YOUR INTEREST!