2002 BMW M3
Topaz Blue / Grey
Sunroof Delete (very rare)
SMG
79,000 miles
$23,990.00 obo
Mods currently on car:
OEM BMW CSL Bootlid (this mod alone was 2,500)
BMW CSL/Mini Lightweight Battery
CSL Style Rear Diffuser (Bezier)
VCSL 1x1 Carbon Center Console
OEM Alcantara SMG & Ebrake Boots
Euro Front Bumper w/ ACS Lower Lip molded
Fog / Air Ducts
E9x 18" Rims
Stoptech SS Brake Lines
TMS Underdrive Pully Set
Hotchkis Sway Bars
Eibach Springs
Borla Mid Pipes and Muffler
PF Subframe Bushings
TMS Subframe Reinforcement Kit
PF Rear RTABS
RE RSM's
Black Grills & Gills
LED Taillight Upgrade
RPI Air Scoops
D/A Software
20% Tint on all windows
Ok, I'm really in no hurry to sell. I love the car to death. It drives extremely well and is in outstanding condition. However, I have 3 vehicles and don't drive this nearly as much as I should. I ride the bike every nice day and when its crappy out, I take my truck out. As a result, the car only gets driven (on average) around 50-80 miles a week. Additionally, I'd like to use the money from the sale towards my next project, which I'd like to start over the winter.
I have the title in hand, so a quick sale is available.
There isn't much of a story to this car. I'm the second owner. He optioned it the way I would have. It has xenons, heated seats, reverse sensors, heater headlight washers,etc, but he left out the sunroof.. THANK GOD! This gives some more head clearance inside and also drops significant weight from the highest point (huge bonus when it comes to handling) I bought the car in VA and drove it home almost 4 years ago now. The car did get backed in to about 2.5 years ago. It was all cosmetic damage. There was absolutely no mechanical or structural integrity that was compromised in any way (heck, I drove it home from work, where it happened). In the end, it worked out for the better, as this was when I upgraded the front bumper. This was its only incident.
Otherwise, its been cared for by myself, JMK BMW and on the side by the head M mechanic at JMK (NJ forum members can vouch for his mechanical abilities. Just ask me for references if you want/need). Oil changes were every 4-5k miles. I just did an oil change and new wiper blades about 3 weeks ago. NJ Inspection was JUST done in June, so its good for 2 more years. Now, w/ the new NJ inspection laws, you wont have to worry about tint either!
The car took top honors at a concours style car show in Morristown NJ about a year and a half ago. (This should help give you an idea of the cosmetic condition). The only damage is a small (think half dime size) ding in the rear bumper. Note, you cant even see it in the recent straight-on rear shot posted below. Its really only noticeable if you're ~2ft away from it) and a slight (maybe 3/4") road rash on pass rear wheel (all 3 other rims are perfect). I replaced the driver side rain gutter/finisher b/c the rear window seal was dry rotted. This was not a cheap fix. The part alone is ~250.00. Inspection II was already done. Tires have more than enough life on them. I'd say 80%+.
Can include a Cali. Car Cover for it. Also have US spec trunk and diffuser to go w/ the car.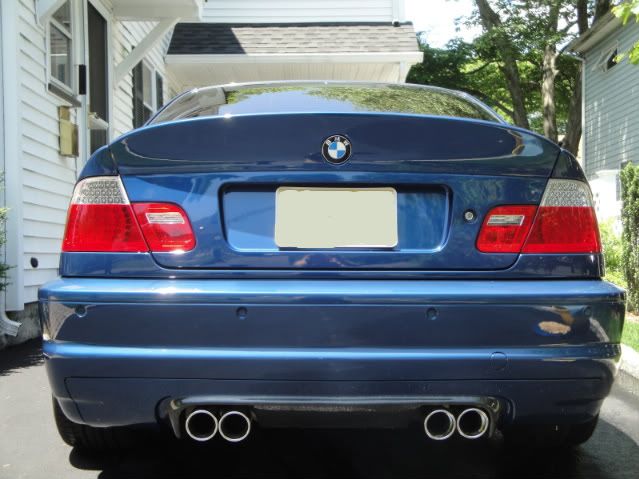 Older pics, but gives you an idea. Also, these were before tints and a couple other things too.
and a side shot of the car w/o the csl trunk.