Don't have to sell. But I am really on the fence of getting a 4x4. Thought I would post it up here first. If there are no bites I may end up trading it in. Location in
Fontana, CA 92336
. Willing to meet anywhere between San Bernardino and Azusa, Ca if interested in looking at it.
2008
Doublecab
Shortbed
TRD Offroad with rear e-locker
Automatic
53,xxx miles
Clean Title
Tow Package
Willing to sell with mods. Or I can put it back to stock. Only thing I cannot put back is the silver fender flares. They are bedlinered black.
Mods:
-Bedlinered black fender flares + grille
-Camburg 4" spindles
-Fox 2.0 adjustable coilovers
-Total Chaos UCA's
-Spidertrax 1.25" wheel spacers front and rear
-LED Interior Dome Light
-Wet Okole Seat Covers front and rear- not included. Unless you wanna pay. I will be swapping these for the new taco.
-Weathertech Floor Mats front and rear
-Rear OME shocks
-All Pro 3" Leaf Pack
-U-bolt flip kit with stock bump stops
-Black Badges
-Pop-n-lock tailgate lock
-EZ Down Tailgate shock
Tailgate not pictured but included
-KR Fab Rear bumper powdercoated texture black. You can slide the tire carrier anywhere in the bed and put the tailgate on if you want. It's compatible with the rear bumper.
-N-Fab spare tire carrier with 16 TRD-OR matching rim with Pro Comp x-terrain tire with lots of tread. Utilized bed rails to sit anywhere in the bed. Reversible as well.
-Bed Bar with one light mounted and wired with switch in bed cubby hole
-Wheels painted black
-Revenge Fab sliders
-6000k HID'd Fogs and Heads
-BHLM
-New set of 285/75/16 BFG KM2's willing to throw in.
Spent about $4,500 in mods.

Close
Private Party Value
Kelley Blue Book Private Party Value is the amount a buyer can expect to pay when buying a used car from a private party. The Private Party Value assumes the vehicle is sold "As Is" and carries no warranty (other than any remaining factory warranty). The final sale price may vary depending on the vehicle's actual condition and local market conditions. This value may also be used to derive Fair Market Value for insurance and vehicle donation purposes.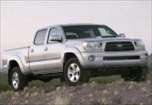 More Photos
Condition

ValueExcellent
$23,765
Good
$22,565
Fair
$20,665
Asking $22,000 with mods. $20,000 stock
.
Prices may go down depending on what happens when I go to the dealer. Feel free to make offers.
Pictures:
If you feel that I am too high on the price, it goes up