SCEPTER MILITARY FUEL CANISTERS (MFC) 20L / 5 GAL - COLOR FIELD DRAB
(LOOKS LIKE - FLAT DARK EARTH)
FOR SALE: $89.99 EACH + SHIPPING
SOLD
SCEPTER DEALERS NO LONGER SELL (post 08') MILITARY FUEL CANS TO CIVILIANS.


SCEPTER CORP HAS NOW DIRECTED ITS THREE U.S. GSA DEALERS THAT THE ACCESSORIES FOR THESE CANS (REPLACEMENT LIDS, NOZZLES, GASKETS) WILL NO LONGER BE SOLD TO CIVILIANS BY SCEPTER DEALERS.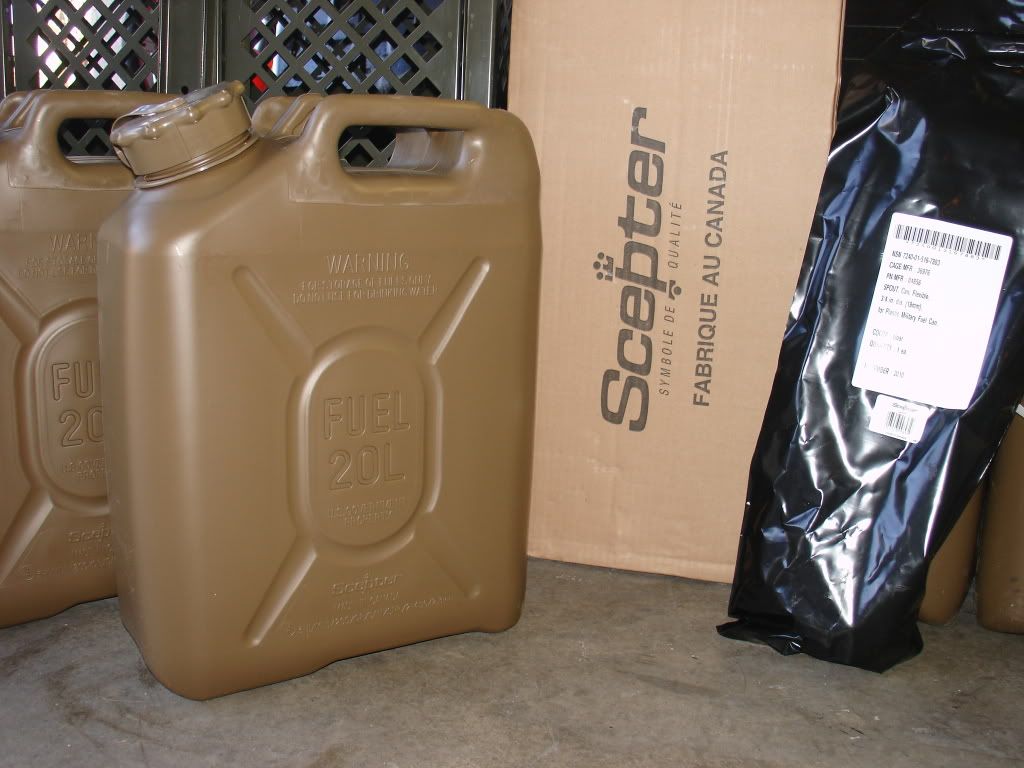 THIS IS LITERALLY THE LAST BATCH MADE IN 2008, MANUFACTURED DATE BELOW.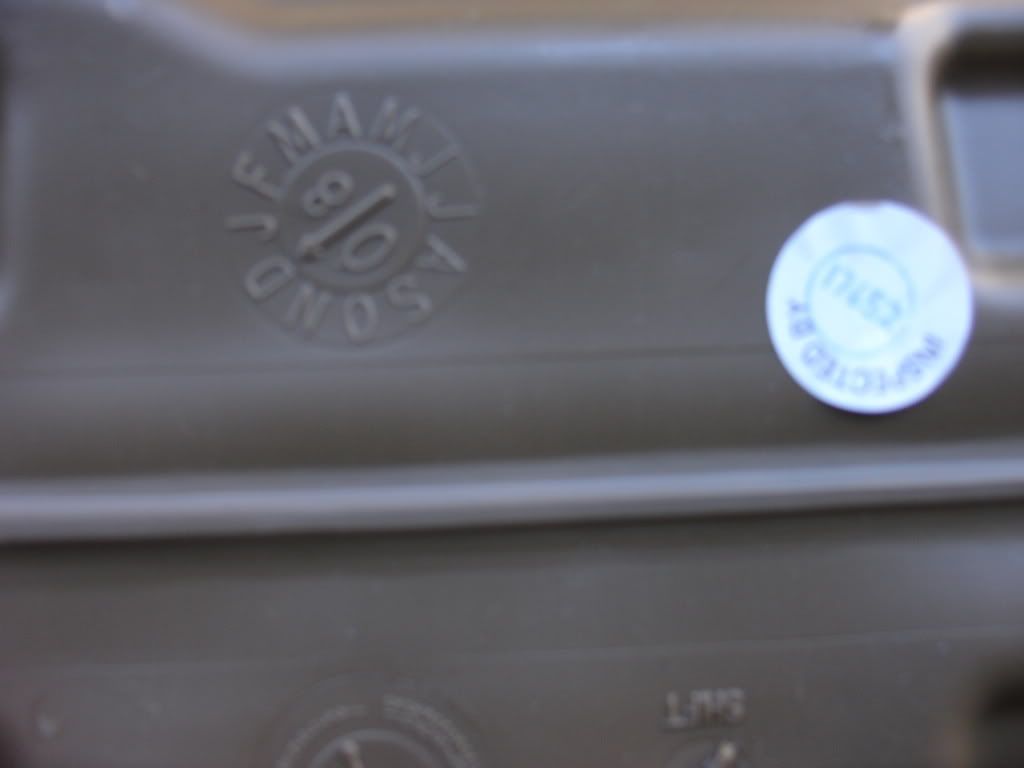 From Scepter: For combat units on the move, small canisters that can be carried and poured by hand and moved around a battle zone by front-line vehicles are a crucial link in the fuel and water supply network. Scepter has been building and perfecting commercial fuel cans for decades and has evolved that experience into a complete line of Military specification fuel canisters and accessories.
The Scepter Military Fuel Canister (MFC) was developed by Scepter to meet design and performance requirements set by the U.S. Army and Canadian Forces for leak-proof, rugged, safe, dependable and cost-effective plastic jerry canisters. Scepter has produced and delivered over one million MFCs. Vehicle and other OEM defense contractors can design equipment with carrying fixtures and brackets that are uniformly designed because of the standardized dimensions of the fuel canisters (and the Scepter water canisters).
Variations are available for gasoline, diesel fuel and kerosene, and each is identifiable by uniquely colored cap straps.
Similarly, Scepter has tailored inserts for various users allowing identification as to user and contents.
Gasoline storage in diesel cans will require the replacement of the rubber cap gasket with a Viton® gasket. *eBay has vendors that currently sell these.
NATO Stock Numbers - or National Stock Numbers - have been given to this MFC;
NSN# 7240-01-337-5269
.
SCEPTER MFC
SCEPTER FUEL CANS CAN NOT BE SHIPPED TO CARB COMPLIANT STATES.
http://www.nospill.com/States_Compliance.htm
Physical Characteristics:
Capacity, will hold: 5 G / 20 L
Height: 18.5"/47 cm
Length: 14"/35 cm
Width: 6.5"/16cm
Weight: 5.8 lbs./2.6 kg
Features of the Scepter Military Fuel Can
*Flat-sided and rectangular shape
*Burns in a fire, but will not explode
*Three integral handles; carry two cans in each hand
*Cap retainer straps are color coded to type of fuel
*Accepts pour spouts
*Fits standard pattern vehicle brackets for liquid storage containers
*Air-vent tube in neck keeps pouring smooth
*Inside threads accept adapters for stoves and heaters
*Air chamber at the top; the container will float
*Full line of Scepter accessories manufactured - pour spouts, adapters, etc.
*An economical and user-friendly fuel storage and transportation solution
*Easy-to-open twist cap can be operated while wearing environmental or NBCW protective clothing
CAN NOT BE SHIPPED TO CARB STATES, CHECK YOUR LOCAL LAWS.
SCEPTER MFC
They are new, as in, never fueled. They may show some small scratches or scuffing due to shipping. Multiple cans can be ordered but no bulk discount will apply.
The cans are FIELD DRAB in color with the same colored Cap Retention Strap, these cans are fully U.S.D.O.T. compliant.
If using PayPal please add 3% to the price (+$2.70 per MFC).
Local pickup is available, I am located in Las Vegas.
If you don't like the price I understand, the fact is these cans are extremely hard to get in brand new condition and that is why they are selling at a premium.
Very limited quantities are on the market, if you want new MFC's do not wait.
IM if you have any questions.