SOLD SOLD SOLD SOLD SOLD to JAMMDOGG. Thanks!
Hi There,
Selling my JVC KW-AVX706 DVD Receiver. Looking to get my interior back to stock and get this system into the hands of someone who could actually benefit from its capabilities.
Look here for specifications straight from JVC:
DVD/CD Receiver - KW-AVX706 - Introduction
Here are pictures of my specific unit:
View of the screen, scratch free and all buttons are 100% clean and functional. It also comes with the black trim pieces you see that allow it to mesh 100% with the FJ dash.
The hook ups on the back. You can see that it is capable of powering a very powerful system.
The label shot...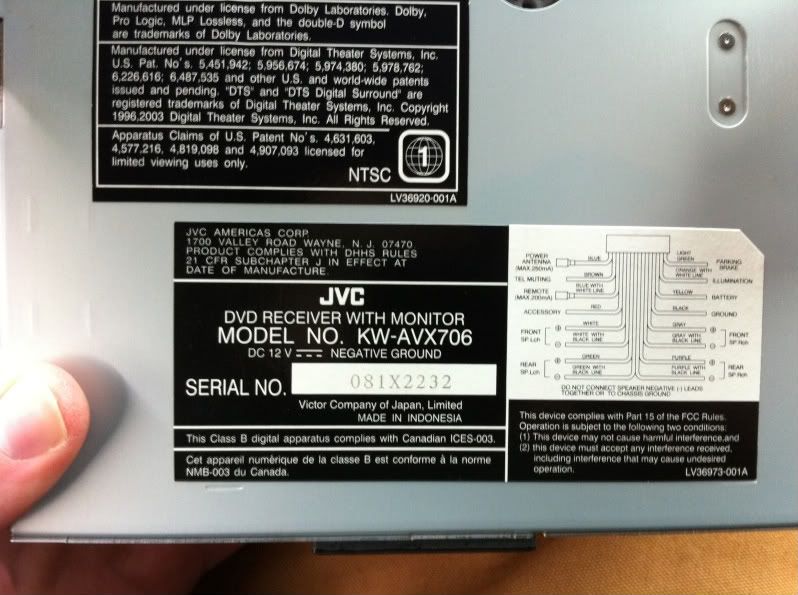 What it looks like installed. Very professional looking. No navigation feature, but it does play DVD videos and audio.
So, what do I want for it? I would really like to get a stock FJ stereo that has auxillary input capability (the stock AUX IN plug-in below your cigarette lighter) and SINGLE disk. I would take a six disk as well.
Price - $300 by itself. Or your stock FJ stereo plus $175 OBO. Please PM me with offers. I would like to get my truck back to stock.
:bigthumb:
I would prefer LOCAL PICKUP, but if you want to figure out shipping. We can do that.
A couple of details:
-For some reason the iPod kit only works with older iPods. I use a 3rd Gen Nano with it
-Full wiring harness will be included. I imagine that Tacomas and FJ's use similar wiring harnesses. So it should plug right in.