2009 Tacoma Regular Cab, 2.7 4 cylinder, 5 speed, 56k miles
Located in Indiana: 47665
Contact me here, or by email: g t r o t t e r _ 0 7 @ h o t m a i l . c o m
Let me start off by saying I don't have to sell, just trying to gather money for a house. Partial trades considered for street legal trucks, jeeps, or other "fun" cars. I am partial to Samurais, Toyota trucks/4runners, and fox body mustangs. I also like Terminator Cobras' and Mach 1 Mustangs' if you happen to have one, but please no " 800 hp ready to meltdown" cars. Basically, I want something fast that I can enjoy on a normal day to and from work.
17,000 OBO
"Mods"
4.88 gears front/rear
ARB air lockers front/rear
ARB HO compressor
All Pro
Hybrid Front bumper
Armor tech high clearance rear bumper
4xinnovations
DOM sliders w/ kickout ( not installed)
ICON
2.5 coilovers
All Pro Upper Control Arms
Old Man Emu Dakar rear springs
Armortech front skidplate
Armortech shackle flip( not installed)
BFG MT Km2 tires 255/85/16 on steelies
BFG MT KM tires 255/75/17 on TRD Sport wheels
UWS Low Profile Toolbox
Pro Comp Lights
other misc things I can't remember
and for those who don't know the prices on these parts when new, not including install on the truck:
builts diffs w/compressor was 3100 and change, bumper roughly 800, rear bumper is over a 1000, sliders 300, coilovers roughly 1100, uca's 550, rear springs 550, skid 300, shacke flip 100, tires a 1000(one set), toolbox 300, lights I can't remember. Spares would probably total 500. Believe me, somebody is going to get a great deal.
Spares
Front DS
left/right lower control arms
spare spindle
two spare CV's
Bilstein 7100 10" travel remote resevoir shocks
others I'm forgetting.
Keep in mind I would really prefer a partial trade. I can have title in hand in a week, just procrastinating on paying it off until I see what happens.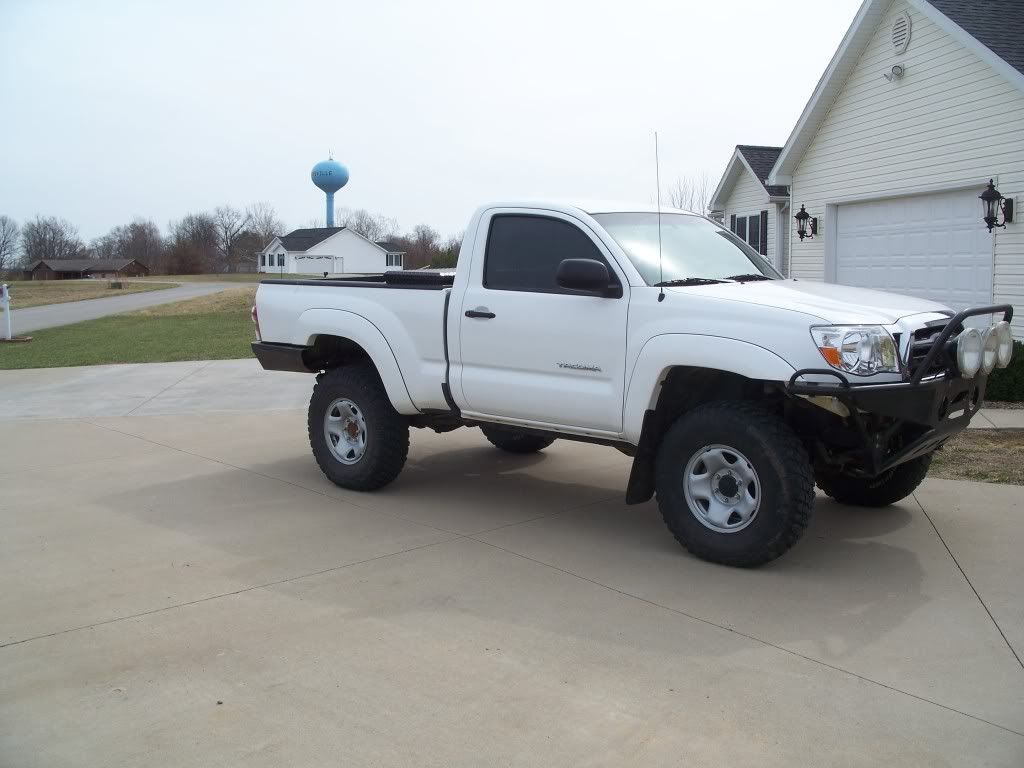 Side Notes: The lone mudflap has since been removed. UCA's and the sliders are not installed. I can have them installed professionally for the buyer if that is what they want. Truck is also getting new front wheel bearings soon.