Had it in my truck for a couple years now but tired of looking at it since i no longer wheel
http://www.trailduty.com/product_inf...products_id=83
Quote:
Ever wondered how far your vehicle is leaning? How close you are to the limits? The Trail Duty Tilt-Meter allows you to easily see your side slope angle at a glance.

The Trail Duty Tilt-Meter can be mounted anywhere in your vehicle, either using the stainless steel mounting hardware or 3M high bond adhesive tape provided, and can be adjusted to ensure the Tilt-Meter is reading true and easy to view.

The Tilt-Meter comes complete with;

Tilt-Meter
Adjustable Mounting Bracket

Unlike other gauges converted from marine applications, the Tilt-Meter is made specifically for off-road vehicles. They are in use by highway departments, road districts, parks & recreation departments, landfills, military, municipal & county governments, USDA Forestry Service and major OEM's.
Trail Duty Tilt-Meters use a precision boro-silicate glass tube filled with a special dampening liquid that will operate in temperatures ranging from -40ºF to +180ºF. The glass tube is tucked into the body for protection and to prevent dust and dirt build-up that could obscure visibility of the tube.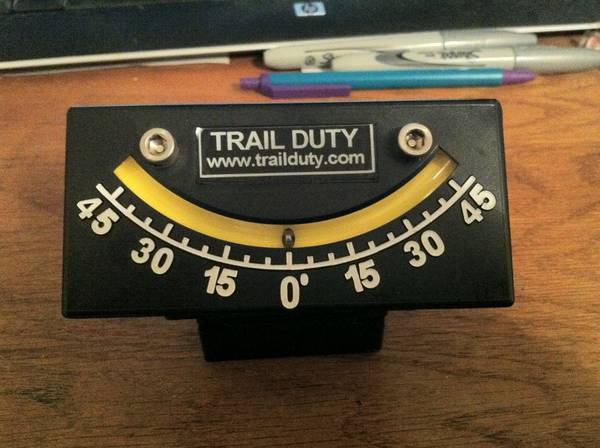 SOLD