I have a set of
Smittybilt
Nerf Steps for sale. They are black powdercoated. They are brand new, never been used. I only unpacked them to find out they didn't fit on my access cab.
I paid $330 for them and will let them go for $300 FIRM.
They will fit on a double cab short bed 05+ Tacoma.
I am looking for LOCAL PICK UP ONLY. I'm willing to drive and meet halfway anywhere within reason (you will pay for my gas)
I live between between Charleston and Huntington in WV. If you live anywhere close (I'm willing to drive up to an hour, but again you will compensate for my gas) to sell them. CASH ONLY.
I don't feel like unpacking them again to take a pic so here's one off of google.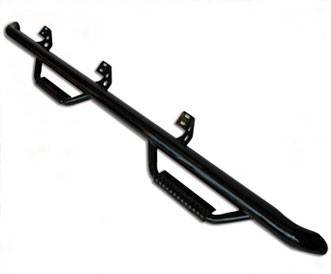 Again they are brand new, never used, black powdercoated finish. $300 FIRM.
Please PM me if you are interested.
Also, for serious inquiries, I am making a trip to Fayetteville, NC soon to visit my buddy stationed at Fort Bragg. If you are willing to wait a few weeks and are serious about buying them I can meet you around that area. Just PM me to set it up.
Thanks,
- Alex