***SOLD***

~~~FOR SALE - $8,750~~~
Fellow TW Members, offering up here first.
It has taken me a long time to sit down and type out this ad—but after much discussion with my wife and my neurologist, I believe it is in my best interest to part with my 2000 Imperial Jade Tacoma SR5 4X4 Xtra Cab, 4 cylinder, 2.7L 5-speed
manual
transmission see note below. I originally bought this truck for my son, but he is now a married father, and I a grandfather, so I helped him buy a good family car… a 2010 Camry SE.
I have a clean Texas title on hand—I am the sole owner.
Registration and inspection are very current: Texas Annual Vehicle Registration good through January 2013, Texas Vehicle Inspection good through February 2013.
As some of you may know (I've discussed in previous posts), I have lost much of the feeling in both my legs and hands this past year due to severe spinal cord/nerve damage exacerbated by five unsuccessful back surgeries; and although I can adjust [somewhat] while driving an automatic (I also have a 2011 Tundra CrewMax), operating a standard/manual has become difficult, and frankly, may even be dangerous with my permanent and deteriorating condition. So, [very] sadly, I am selling my Tacoma
. I can't stress enough how much this vehicle has meant to me, and not unlike a trusted family pet, I want it to go to a good home. I know that's a bit melodramatic for a guy my age, but I'm being terribly truthful—and that's why I'm offering it first to my fellow TW'ers—my fellow Toyota truck enthusiasts.
The truck has 190,093 miles as of this date and in excellent condition. There are absolutely no mechanical or electrical defects whatsoever, has a clean
AutoCheck
report (which I have on hand), and has never been in an accident, even a minor one. It drives wonderfully and nearly rattle-free—very tight for her age. It has significant upgrades, which are detailed below.
I am asking $8,750 for this Tacoma, which is in-line with both N.A.D.A. and Edmunds re-sale values (I do not give Kelly Blue Book's valuation much credit nowadays since their parent company is now BoA), and considering the positive modifications made to this vehicle
. I think my price is reasonable, and I am in no hurry.
I will consider all offers, to include partial trade for guns (I'm a gun guy!), amateur high-end digital camera (e.g., Nikon D7000 or Canon T3i), or other items.
I also want to get some 33X12.5R18 (or slightly larger) mud or all-terrain tires for my 2011 Tundra too! So, maybe you have a tire "hook-up" and I can deduct actual retail value from the total price of truck, possibly bringing down price to as low as $7,000 depending on brand tire).
Please don't be offended if I decline… I know my truck's value and I'm no chump.
It has all power options and creature comforts (minus electric seats), plus factory flip-up moonroof, flip-out side windows, and sliding rear window. It has a very cold A/C and the heater is exceptional. Frame has been inspected and is rust-free; treated at time of original purchase and underbody re-coated at 90K. I am the third owner—the second owner is a dear military friend of mine. Interior wear and tear are quite normal for its' age, the biggest issue being a torn center console/armrest cover. Please remember this is a 12-year-old vehicle that has been used as a daily driver and driven on tame off-road conditions, therefore normal wear and tear should be expected.
FYI, I have not done the deck-plate mod and beyond installing the accessories, I have never messed with any wiring in this truck… it's all stock.So, now that I'm done with the mea culpas, the Tacoma has been modified as follows:
Drive train
- Re-geared to 4.56 –
Yukon
gears (Want to know about gas mileage? I'm getting about 19 city, 22 highway… is better with top/shell and
Yakima
LoadWarrior off, but I usually have them on.
-
ARB
Air Locking rear differential
-
Marlin Crawler
Clutch Pack @ installed at 180K (replaced original clutch)
- Brake pads and rotors replaced at 162K miles
- Sweet-ass manual locking hubs!
Engine
- 3RZ-FE, all stock, and runs perfectly. Japanese-built and one of the best engines Toyota has ever made—a solid and predictable performer for years… wouldn't surprise me if this engine eventually surpassed 400-500K miles without a rebuild or major repair.
- Synthetic fluids (Mobil 1),
K&
N air and oil filters
,
and/or Toyota/Nissin fuel filters used since first owner
- No modifications or repairs of any sort
- All routine/scheduled maintenance performed on or ahead of recommended schedule
Exhaust
-
Flowmaster
40 series w/ 2.25in pipe, recently painted black with 4 coats VHT header paint… sounds great for a 4cyl
Suspension
-
FabTech
adjustable coils w/Dirt Logic shocks – Front (included is the manufacturer's coil/spanner wrench + instructions)
-
Bilstein
(5100's) shocks – Rear
-
SkyJacker
leaf springs (4 leafs, each side)
- Overall, it has about 3-4 inches of lift, leveled for the weight of the ARB bumper
- Stock 15 inch alloy wheels with
BF Goodrich
A/Ts 33x9.5 – and according to
Discount Tire
's tread gauge about 50% tread remaining… had it checked 2 weeks ago when I had tires rotated. Sorry—no matching spare
Body
-
ARB
Bull bar complete front bumper, integrated working turn signals, winch ready
-
Smittybilt
6000lb shackles (2 - red/black)
-
BudBuilt
skid plate (a frickin' BEAST!), recently re-painted and new BudBuilt decal added (I have an extra decal as well… Bud is great!)
-
Rhino
-lined bed, recently re-texturized and then re-painted by myself.
- Quarter-windows and shell windows are tinted.
- Very minor trail damage/pinstriping—no bodywork of any kind has ever been done to this vehicle. A couple of small dents, but hardly noticeable.
- A little paint deterioration, but typical for age of this truck
- Recently cleaned and polished headlights with a 3M Headlight Restoration kit. A big difference (I recommend this kit).
- Biggest flaw is a small dent in rear chrome bumper (I backed into the corner of my garage—no laughing!)… I was going to rip the POS stock bumper off anyway so I never replaced it.
Accessories & Extras
-
Reese
tow hitch, rated for 3500lbs for this engine
-
New Vision
(A.R.E. like) color-matched Fiberglass Topper/Cap w/sliding windows… held on with 4 rail clamps—not screwed on or permanently mounted—and can be removed easily by two people. I repainted the top part of the shell recently due to paint deterioration (Texas heat and sun are brutal)—looks very clean.
-
Yakima
roof rack (bars, Control Towers w/locks & keys, and rails)
-
Yakima
LoadWarrior basket w/fairing and an
unused Yakima cargo net
-
Yakima
foam bar pads (2)
-
AVS
Ventvisors on doors
-
ARB
on board air compressor with one open port for air tools, etc.
-
Super Lift
TruSpeed speedo recalibrator
-
Cobra
19 DX IV 40 Channel CB Radio (+ instructions) and Wilson's Little Wil antenna (I have not tuned with SWR meter)… radio has never been turned on without antenna connected. Works fine for not being tuned in any way. I have not permanently mounted the CB, so you can decide where you want it for yourself.
- *
Bracketron
cell phone holder on dash
-
Realtree
floormats, front only
- Quik Fist clamps for Mag-Lite
- *
Camo Form
steering wheel wrap, with spinner (I have nerve damage in my hands also, so it helped me get a good grip on the steering wheel)
- *And, of course, Star Wars® Yoda bobble-head on dash, re-named "YOTA" by my daughter. I know—original but I'll give her credit.
- *And, I'll throw in all the decals for free, even my bad-ass bloody
Zombie
hands!
- Haynes Repair Manual for 1995-2000 Tacoma – used, of course.
- Almost new 5L container of Mobil 1 synthetic oil - opened
- Spare Duralast universal joint – unopened
- Spare K&N oil filter - unopened
- Spare Luber-Finer fuel filter – unopened
- I do not have the OEM jack (lost at some point) but I have the spare tire and jack crank handles
* I'll remove these items on request prior to delivery.
Audio
- All stock and original
Plus, I have a slightly used Truck-Bedz Expedition Series mattress and carry bag that was made and purchased for this style truck/bed that I will also include as a part of the sale—a $189 value.
All discussions regarding sale will be done first by PM, then by phone; too many possible sale scenarios to detail in this post. I will not ship this vehicle. Purchaser must be able to pick up vehicle in Central Texas (I will drive a reasonable distance from Austin/San Antonio to meet buyer—Dallas or Houston is a possibility).
I'll require a $500 deposit via PayPal to hold vehicle for a reasonable period to be discussed. Final payment must be made by cash or certified/cashier's check from a reputable (A.K.A. name brand) U.S. bank or credit union.
A bill of sale, Texas title, and any historical documents will be transferred at the time of sale. Other details can be discussed between parties.
TRUCK WILL BE SOLD AS SHOWN…
I WILL NOT PART OUT
PRIOR TO SALE.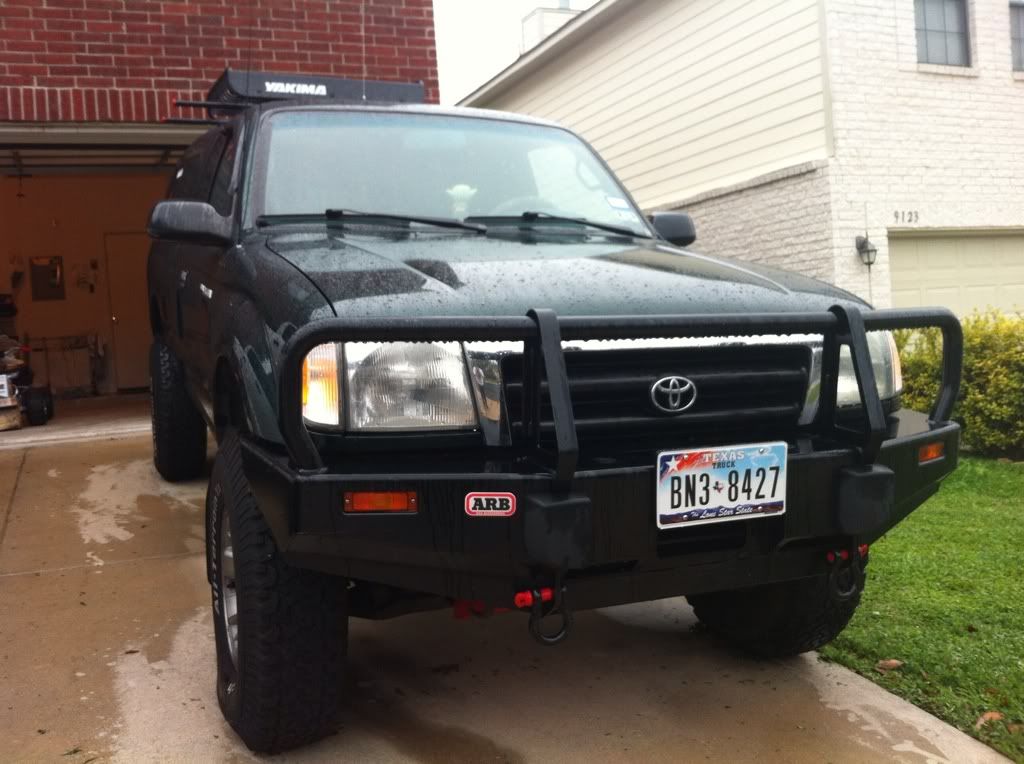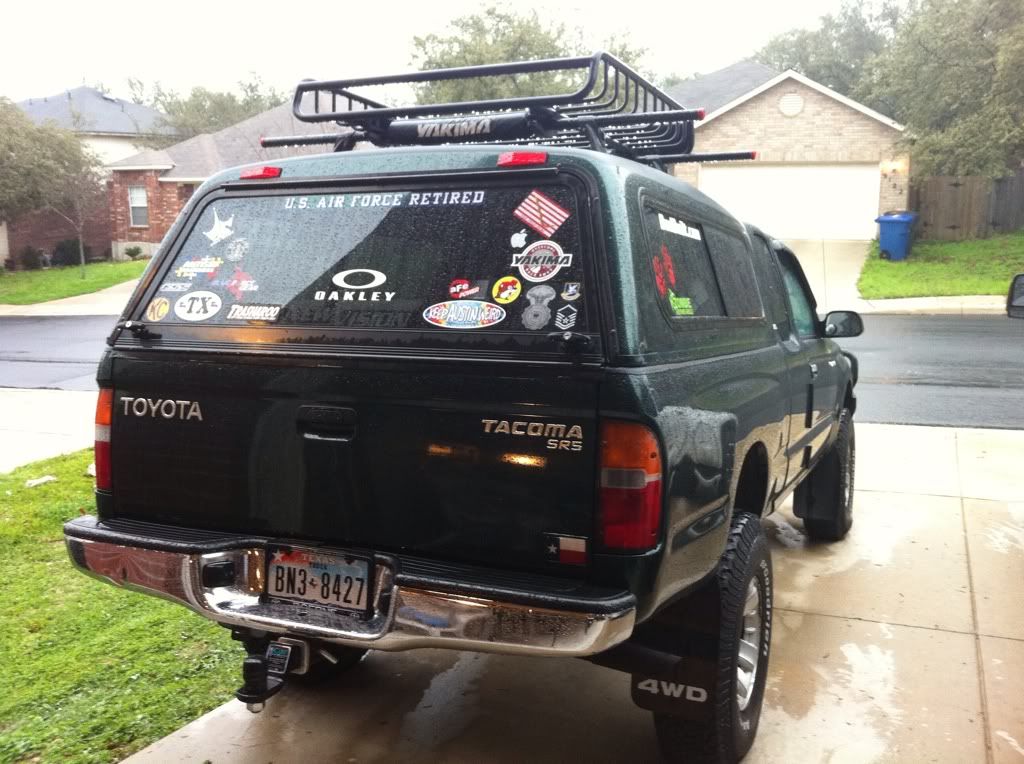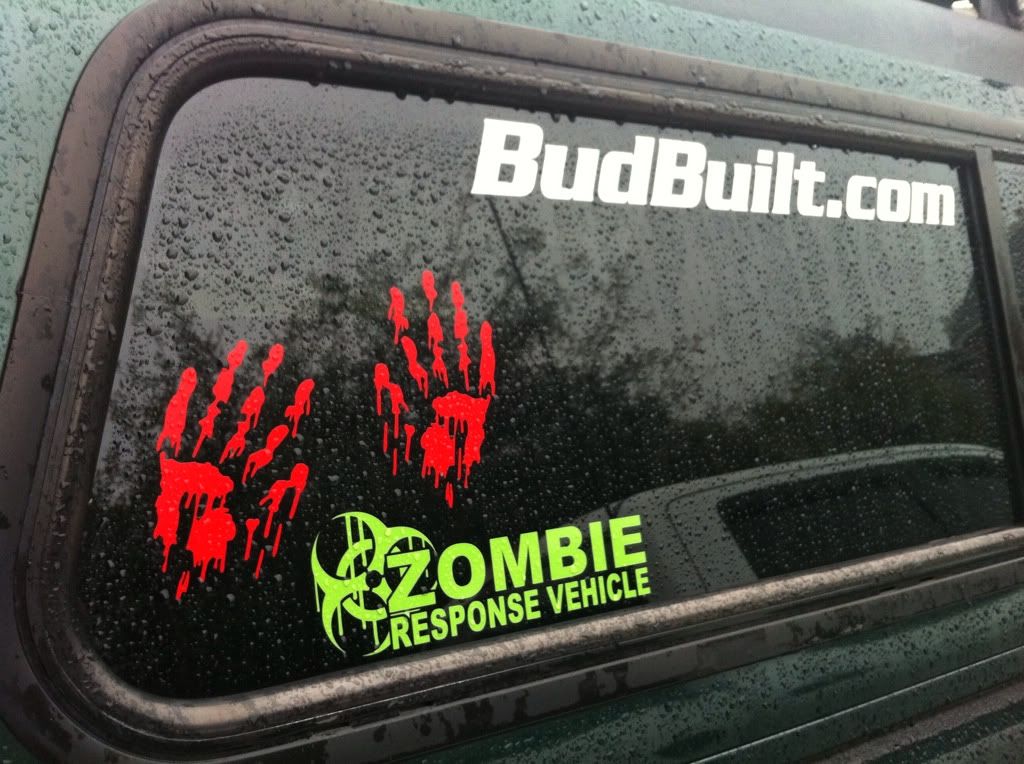 UPDATE 3/1/12: Today, I was asked by a member about the RPMs were at ~70mph. I took the taco out and took a pic. It's running ~2500 @ ~70mph for those who may be interested.