Now taking orders on
led-offroad.com
TW discount code TW2012
***must PM me before using code to ensure you are a member
I have recently made myself a LED light bar and am now offering them to you guys. I would like to do it a little different then most companies by making them to order. So basically you pick the power and size of the light.
Heres how it would work. Hopefully this isn't too confusing.
You can base your light off the light output you want, and the size of the light (square or rectangle)
-Each Led "unit" is 1 1/2" x 1 1/2" housing three high power, high quality 6500k Leds.
-Each unit is 1100 lumens
-Each unit draws .75-1 amps at full power
-Each unit has its own lens. Allowing you to do different lens configurations such as long beams in the middle and wide beams for the outside
These are not those cheap chinese Leds, they are made with the highest quality (and most expensive) Leds i could find
So say you want a 4000 Lumen light, a rectangular case would have to be at least 6" long, but if you want you can have it be 8", 12", square or whatever fits you application best
The case i have developed to house the Leds is Bomb proof, weather proof, dust proof, scratch proof etc.... It is made from 3/16" steal plate (no cheap plastic) and can be powder coated any way you'd like. The lens is Lexan. The case sits on a stand that allows the light to flip 360 degrees and the mounting holes will be drilled to your specs.
Custom Pricing
The price will simply be base off the number of units you want, Cost of the case will be added after.
1-4 units- $70 each
5-10 units- $65 each
11-20 units- $60
21+ $50 each
Pre Made Pricing
2"x2" pod- 1,100 lumens- $100
4" bar- 2,200 lumens- $175
4"x4" pods- 4,400 lumens- $275
6" bar- 4,400 lumens- $300
3,300 Lumens-$215
8" bar- 5,500 Lumens- $350
4,400 Lumens- $315
10" bar- 6,600 Lumens -$415
5,500 Lumens -$365
Larger lights will just be consider custom
Each light will come with all the mounting hardware and a water proof connector
Life time warranty as long as the light is not opened (i have ways to tell). I will have a website up within a few weeks although TW will always get the best pricing.
10"x3" 12 unit (13200 lumens)
Here is an 10" light bar with four Led units. Powder coated with a black texture.
Sorry for the bad pictures, it is very hard to take good pictures of light.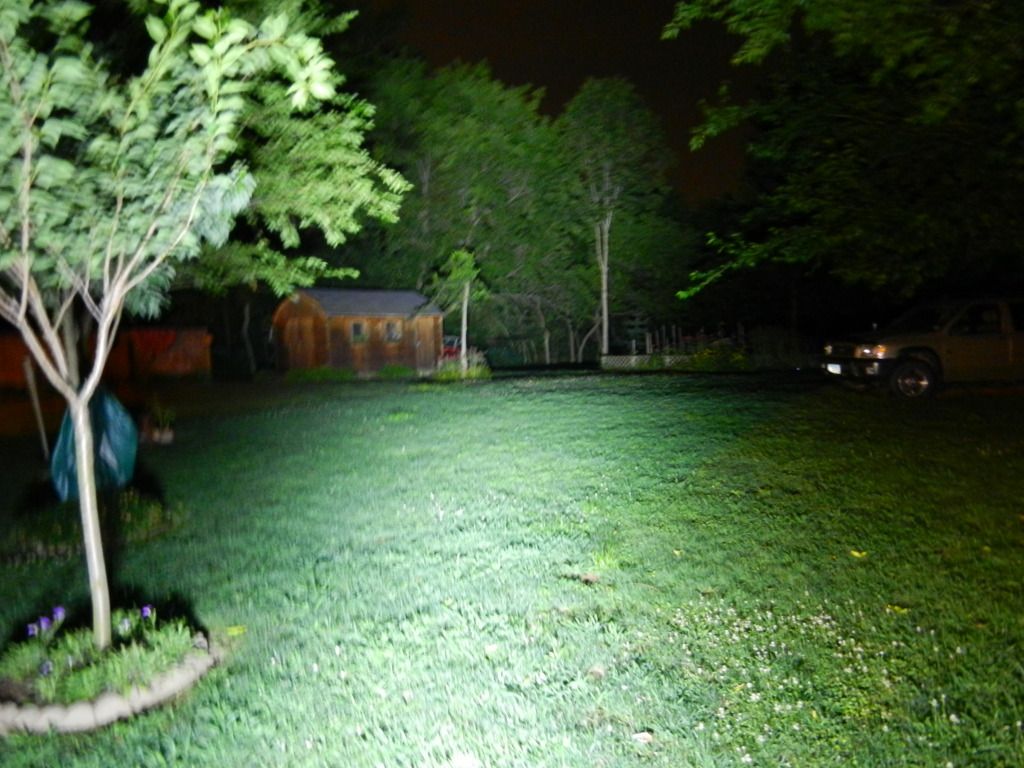 Ok so here are some pictures, I took these two lights out to take pictures of because they are the biggest and smallest lights I've made.
Here we have a a single unit 2"x2" pod (1100 lumens .75-1 amp) with a flood pattern. This was designed to be a fog light but i just have the light sitting on the hood of my truck so its not the best example.
Now here is a 12 unit 3.5"x10" bar (13200 lumens 10-12 amps) with a flood/spot combo (4 flood lenses and 8 spot). Since the truck is on the side of the road half the beam is off into the woods.
These are properly exposed/unedited pictures
Internals (10" 13200 lumen light)
Group buy Ending Friday July 27
I will be offering 15% off if we reach 15 orders or more by the date above. 20% off 25 orders or more. I will take a deposit of half at the time of your order. Then the day your light ships i will send you an invoice for the final payment, the discount will be included in the final payment