Pics taken from this past weekend 8/12
6/30/12 - Here are some pics I took over the weekend. Keep in mind even though the Z is a bit dusty, still looks great! Also, in 2 of the pics the hood is still cracked open, its not a gap.
Pic below shows a gap in the hood because the hood is slightly open.
Price lowered: $33,000
Miles on the car still very low 5,689
Ad:
Cars for Sale: 2009 Nissan 370Z Touring in Foothill Ranch, CA 92610: Coupe Details - 299327908 - AutoTrader.com
Youtube video taken by request for someone on 6/30 -
http://www.youtube.com/watch?v=B3xHC...e_gdata_player
Youtube walkaround video taken several months ago:
MOV03170 - YouTube
Car located in Mission Viejo, CA area (Near Irvine)
Vin: Jn1az44e99m400929
Just to clear up any questions regarding the status of the car:
1) I removed the prototype dark headlight because it was leaking and replaced them with new OEM headlights.
2) I added the stock black touring seats because they felt much more comfortable and better quality then the nrg racing seats. Plus with the racing seats I lost the seatbelt function.
3) I had two AIT front bumpers, I sold one of them so the original one is in perfect condition is still on the car
I still have the custom painted carbon fiber spoiler which I could add on to the package for $100 more.
Modlist:
MOD LIST:
Body Kit:
•Custom Nismo Rear Bumper ($350)
•AIT Front Bumper ($350)
•1st Hot Wheels Side Skirts ($399)
•ONE OFF Custom MRGT fenders ($1500 if we hand made them production)
CF Crazy:
•Carbon Creation CF Spoiler (Custom Painted) ($649)
•Carbon Fiber Vented Hood ($799)
•1st Carbon Fiber OEM Hatch (Custom Painted) ($699)
•Carbon Fiber A-Pillars w/ custom paint (One-off) (~$350)
Custom Bodywork: ($3000)
Color- Custom Lamborghini Gallardo Gunmetal Paint (One-off)
First Shaved door handles on 370 w/ Relocated Door-Latch
•Shaved Rear and Front Emblem Badges
•Shaved Fender Side Blinkers
LIGHTING UPGRADES: ($600)
•Low beams JDM Techone Ballast Pure White 6000K H7 H.I.D. Bulbs
•Chrome Stealth Turn Signal Bulbs
•Super White Wedge Bulbs for license plate
•Rear Taillights:Custom Smoke Medium Coat
ENGINE UPGRADES: ($2000)
•Greddy Spectrum Elite Exhaust System
•Injen Cold Air Intake System
VEHICLE CHASSIS UPGRADES: ($2800)
•KW Suspension Variant 3 Coilover System Fully Adjustable
•Eibach front and rear sway bars
WHEELS, TIRES, AND BRAKES UPGRADES: (~$5000)
•One Off MRW Candy Red Brake Caliper less then 5 miles on this setup
•Drilled and Slotted Rotors (<5 miles on them)
•Z1 SS Brake Lines
•Forged Custom 19'' Volk Gram Light 57F Pro (Discontinued)
•Volks Carbon Fiber Center Caps
•Gunmetal Face
•Size: 19 x 9.5 Front (2.5 Inch Lip) 19 x 10.5 Rear (4 Inch Lip) Tires: •Tires: 245/35/19 Front 275/30/19
Hun Rings: •ICW Hub Centric Wheel Rings (Front & Rear)
•Rays Engineering Stem Caps
•Project Kics 20mm Spacers (rear)
INTERIOR UPGRADES: ($200)
•Razo shiftknob silver
•AMS Adjustable Short Throw Shifter
AUDIO (~$2000)
•Arc Audio KS6000 6.5" Component Set (2)
•Arc Audio Cross-over (2) Tweeters:
•Arc Audio Amplifiers:
•Arc Audio XXD4080 4 Channel Amplifier
•Arc Audio XXD1500 Mono Amplifier Subwoofers (Lows):
•Arc Audio KS 10D4 10" Subwoofers (2) Wiring/Connectors:
•
Scosche
0-4 Gauge Wires
•Scosche Inline Fuse Distribution Block
•Scosche Connectors, Spades, Grommets
•Custom False Floor Enclosure
•Complete Trunk Dynomat
•Custom Carbon Fiber Di Noc Wrap enclosure
•Stealth Style (OEM Trunk Carpet sits flush)
Most recent pic: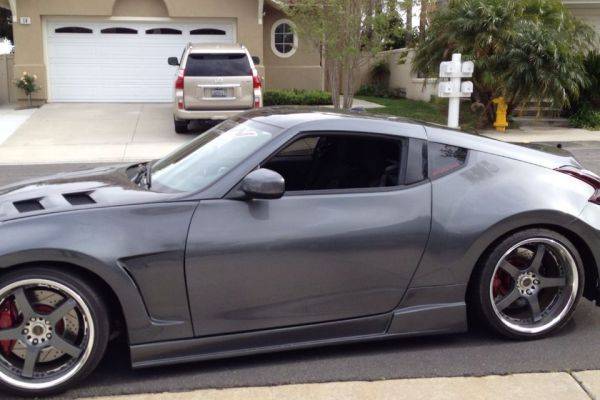 If interested, best/quickest way to contact me is via email djcuetip at gmail dot com
More pics