I know there is a few on here offering this service. I was hoping to become a official vendor, and contacted the webmaster to learn how but have not heard back yet. Im guessing I did not contact the right people, so if someone could point me in the right direction I would be grateful.
I wanted to offer my work, vinyl decals, and T-shirts, to TW members because I have received nothing but great help with advice and other stuff on here. I organized a trail run called Dirt Mcgirt 2013 this spring and had a great turn out. This is the kind of support and friendship I appreciate in a Forum such as this. I have held out offering this service till now, out of respect for Sockmonkey who was doing great work as well. I see he has moved on and I decided it was time to offer my products.
So here are examples, p.m. with questions, The vinyl has a 7 year guarantee from cracking and fading outside life, and infinite inside life. I can do all kinds of custom work large to small, and I promise to be fair on pricing.
REVISED FOR PRICING REASONS:
BEDSIDES WILL BE $18.00 FOR THE PAIR THAT INCLUDES SHIPPING AND PAYPAL FEES.
UP TO 4" SIZE ROUND OR SQUARE $ 3.75 INCLUDES SHIPPING AND PAYPAL FEES.
4'' - 7'' $5.50 INCLUDES SHIPPING AND PAYPAL FEES.
SHIRTS ARE $13.50 SHIPPED, WORKING ON A MOAN AABE SHIRT NOW!
CUSTOM WORK IS ON A AGREE BASIS FOR FINAL PRODUCT, AND I KEEP IN TOUCH WITH THE BUYER TO ENSURE THE DESIGN AND PRICING IS EXACTLY WHAT THEY ARE LOOKING FOR. I HAVE DONE A FEW CUSTOM DECALS ON HERE AND KEPT IN CONTACT TO MAKE SURE THEY GOT WHAT THEY WANTED.
BULK RATES ARE DISCOUNTED ON TOP OF THE 40% TW DISCOUNT IM ALREADY QUOTING ON HERE IN THE ABOVE PRICING. I CHARGE A LOT MORE ON
EBAY
AND MY REGULAR BUSINESS BASED CUSTOMERS.
CONTACT INFO:
Adam W. cell- 607 -280-9223
email
stksce@yahoo.com
or
cnyvinylandgrahics@yahoo.com
website: cnyvinylandgraphics.com , under construction till monday.
I SUGGEST YOU LOOK AT THE LINK BELOW FOR SOME IDEAS.
DIRECT LINK TO SOME STUFF IN ALBUM:
http://s1161.photobucket.com/user/ad...y/vinyl%20work
Multiple color orders come in layers but peel as one decal and apply as one decal, YOU DO NOT HAVE TO LINE DECALS UP SEPERATELY.
see examples below: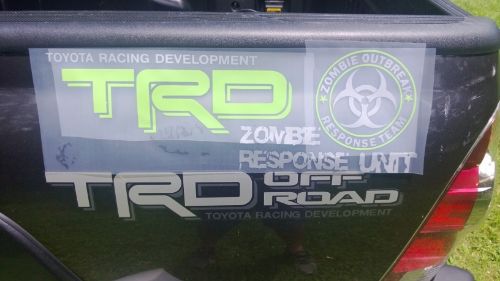 TRD HAWAII in black reflective like cop cars have