LOCALS GET DIBS!!!
I will ship on buyers dime.
Recently moved and found a bunch of crap I will never use.
Prices do not include shipping. Locals will get first dips.
$20 - OEM Intake filter
Practically brand new. Was on the truck for maybe a week and then I got an aFe. I have no idea how much they are at the dealer so if my price isn't right let me know.
$50 - Carpet floor mats. (They do not say Tacoma or TRD)
These were on the truck for the drive home to my house where I had WeatherTechs waiting for me. I bought my WeatherTechs before I bought the truck. Once again, no clue how much these go for but please note they do not say TACOMA on them. They might even be generic knock offs. Who knows?

$75 - OEM 4x4 Mudflaps (Must have CV's to run these
)
Slight scuffing from rocks and curbs. They have been off the truck for more than a year. I will not say I have all the hardware but I will include what I have.
Now the random stuff I didn't know I even had until I moved...

$50 - Shift Riding Shoes (Size 10)
In original box, worn a total of probably 3 times. Bottoms don't even look touched. I quickly grew out of my sportbike phase and haven't touched these since.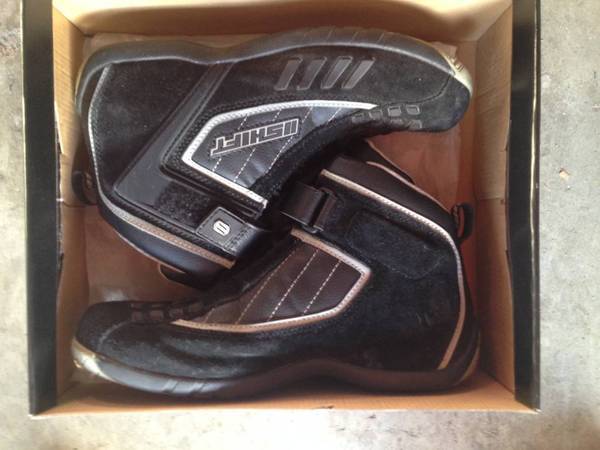 $1,000 (putting a price just to keep mods and trolls happy)
I was planning on selling my paintball kit but now it's just a feeler. The trigger spring is either too soft or too firm which is causing it to have some issues but I will have it fixed at Evolution Sports here in Redlands, CA.
* Tippman 98 Custom
* Stock Barrel, Flatline Barrel, Proto 12" or 14" barrel
* E-Trigger, Cyclone Feeder/Hopper, Stock Hopper
* 2 Co2 tanks (hydro good until 2015)
* Empire E-Vents mask (blue), throat guard
* Small (2) pod holster & Huge (7) pod holster
* all pods have paint in them, it is quite old but a Tippman will fire anything.
I have no idea how much this would go for. It will come with a dufflebag that it all (minus gun and mask) fits in.