To avoid confusion, I now charge $150 flat per grille, which does not include any shipping or mesh. Please purchase the mesh from customcargrills.com because they are cut to shape perfectly. I still do not colormatch due to CA Regulations. Unless you send me extra mesh, I do not do the triangles. Thank you.
Please see this group buy for Pre-Made satoshi inner grille inserts!!!:
http://www.tacomaworld.com/forum/gro...ml#post2921987
UPDATE: I just used up my last sheet of mesh. Because im doing this more on the side now, I will no longer carry an inventory of mesh, it's just too expensive. I will still be doing this service but you will need to order the mesh from customcargrills.com and have it shipped to me. Thus, the fee I charge will decrease by the cost of the mesh. I will be charging $110 + shipping for a satoshi grille. Thanks!
They are available here:
http://www.customcargrills.com/prodd..._Toyota_Tacoma
UPDATE: Due to moving to a new neighborhood, I am no longer offering paint/colormatching. One reason is my recent understanding of the restriction in California for using non-water-based paints. Another reason is I moved into a nicer neighborhood, away from a college campus so I need to maintain the respect and trust of my neighbors.
I will still offer basic satoshi services, which includes rattle-canning the inner black surround, but I cannot paint the main surround to your factory color.
Due to my new job, I can no longer guarantee a 3-4 day turnover as I may be required to work overtime without prior notice. Thus I prefer local customers or long distance customers that are flexible with my work schedule. Thanks!
***DISCLAIMER: My work is not perfect, and I do not guarantee perfection. Below are examples of complaints from past customers that you can expect. I will be updating complaints as they come. I encourage all potential customers to examine complaints that I have posted up here and throughout this thread before deciding whether or not to utilize my service. I DO NOT guarantee any sort of refund, but I will try my best to give you the best product and accommodate reasonable requests
***
from anonymous:
Quote:
Originally Posted by
anonymous
Hey aaron, thanks for doing the grill. I just wanted to say I am a little dissappointed in the grill, I sent pics and as you can see the black surround appears to have fingerprints on it where it was handled to soon? I hate to say anything but its very noticable. I guess the only way to fix it would be to repaint it? Also there is a good amount of overspray around one of the triangles. What's the best way to remove that? I have seen other grills you have done and they appear perfect!
My reply:
Quote:
Originally Posted by blackhawke88
hmmm have u tried wiping off the finger prints on the black? I didnt handle it until it dried, so im guessing its just oil on my hands when I was attaching the mesh. If wiping it doesnt work, you can just tape up that general area and hit it with
homedepot
rustoleum flat black protective enamel, which is what I use, it should blend in with the rest of the black. As for the overspray in the triangles, it is hard to tell from the pictures, but you should be able to wipe the overspray with some q-tips dipped in some thinner to get it off. If you are careful, some fine grit sand paper should get it off too. The factory clearcoat is really hard for paint to stick to. I hope this helps.
Aaron
...and no reply from customer since...this was back in April 29
From another: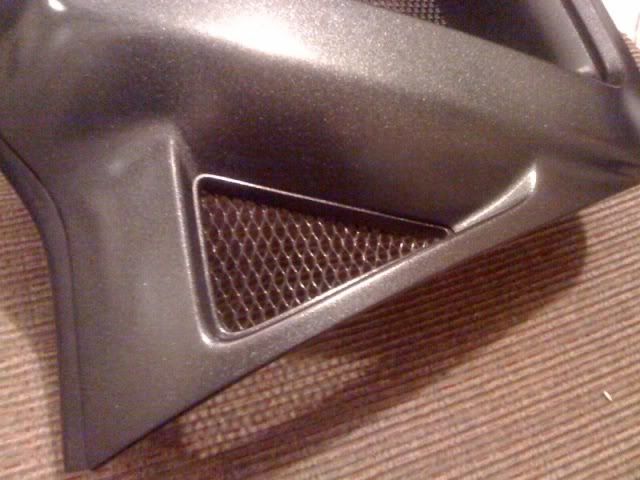 I leave the country on April 21 and will not be returning until July. If you want your grille done, please do it ASAP and make sure it arrives no later than the Wednesday before April 21. If you want yours colormatched let me know by the end of this week.
Check out the color match group buy:
http://www.tacomaworld.com/forum/gro...group-buy.html
Hey guys,
I've noticed the interest for Satoshi grilles have sky-rocketed and a lot of people have really sick grilles. I have made two Satoshi grilles so far and have gotten quite good due to the learning curve. I did a cost analysis and figured that if someone were to buy all the materials to do the grille, it would come to approximately $132: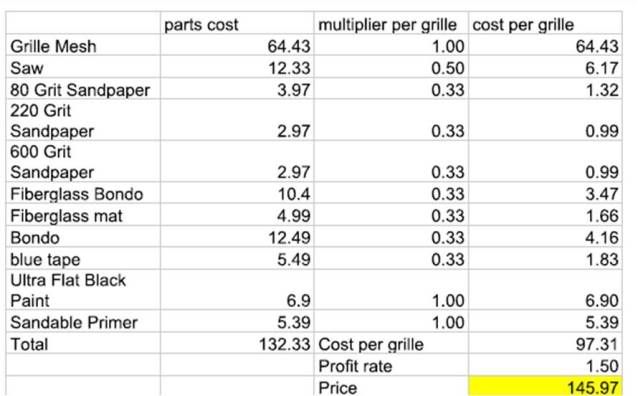 If you make more than one grille, certain materials' costs can be spread out between approximately three grilles, thus, due to the laws of eonomies of scale, the more grilles one makes, the lower the cost.
Thus, I want to see if anyone is interested in having me make satoshi grilles for them for around $13 more than what they would spend if they were to make one themselves. Other costs would of course include shipping to and from me, if applicable.
Shipping has historically been from $65 to $70 USD from me to the East Coast (Florida and Alabama).
Turn around time is three working days, starting the day I receive the grille, grille mesh, and applicable factory paint. I only order the materials when I receive the money for them. PLEASE DO NOT SHIP YOUR GRILLE TO ME UNLESS YOU HAVE ALLOCATED AND TRANSFERRED ALL NECESSARY FUNDS TO ME AND HAVE LOCATED ALL NECESSARY ACCESSORIES. Some accessories such as emblems may take a long time to ship so please consider having them shipped to you so your grille isnt sitting at my house waiting for an emblem.
I just shipped out a satoshi grille that I made for Spootypuff. Hopefully, if I did as good a job as I think I did, he can vouch for me.
Color-matching you grille:
Due to a lot of members asking for the price of a color-matched satoshi grille (for those of you who have chrome grilles), I have also worked out a price those:
$225 + shipping
. The increase in cost over regular satoshi grilles come in the form of factory color-matched paint which is over $50 shipped to my door, clearcoat + compensation for my time and overhead.
Some members have also been asking me if I can keep a running inventory of pre-made satoshi grilles and ship them out in exchange for profit and the purchasing member's grille. However, unlike black head light mods, each member's grilles are different in terms of color. If I kept an inventory of pre-made satoshi grilles in every color, it would be too expensive because I would need to purchase 8 grilles, each costing over $170 from Toyota.
Some pictures (TOYOTA Emblem optional):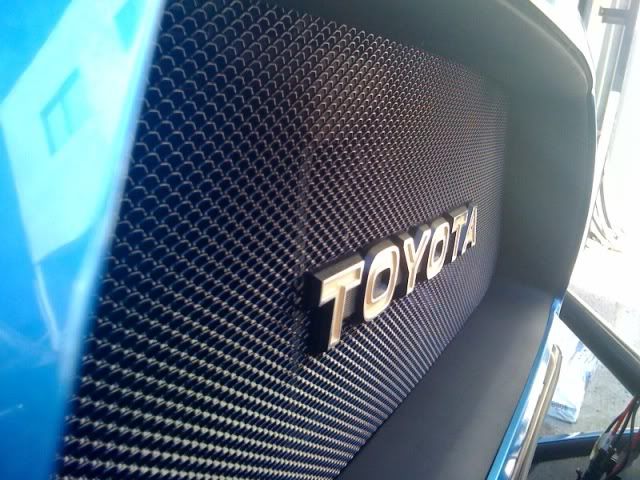 BSP with triangles corners satoshi'ed: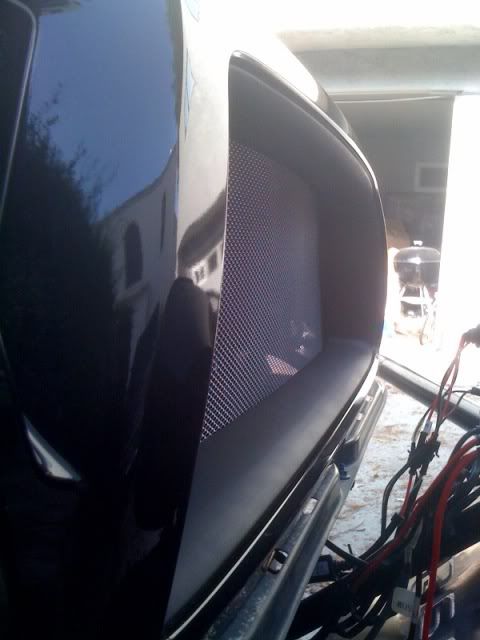 Factory Color Matched Satoshi Grilles (Where I paint the grille surround to a color of your choice):
Radiant Red with triangles and custom colormatched emblem: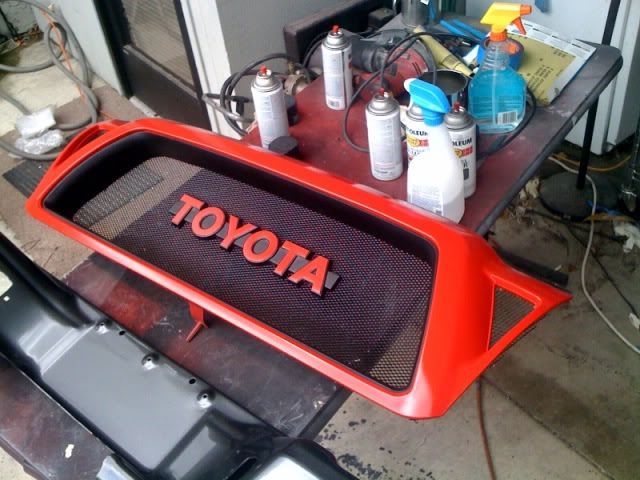 White on white with triangles: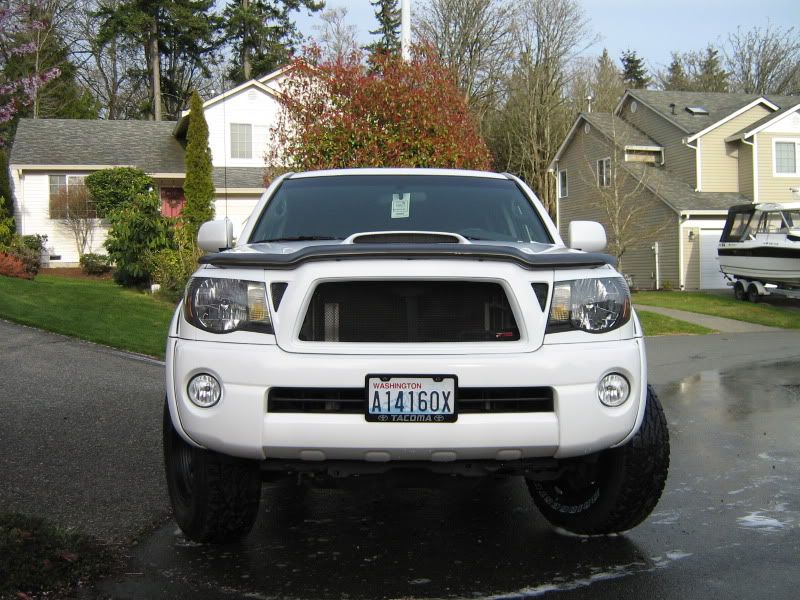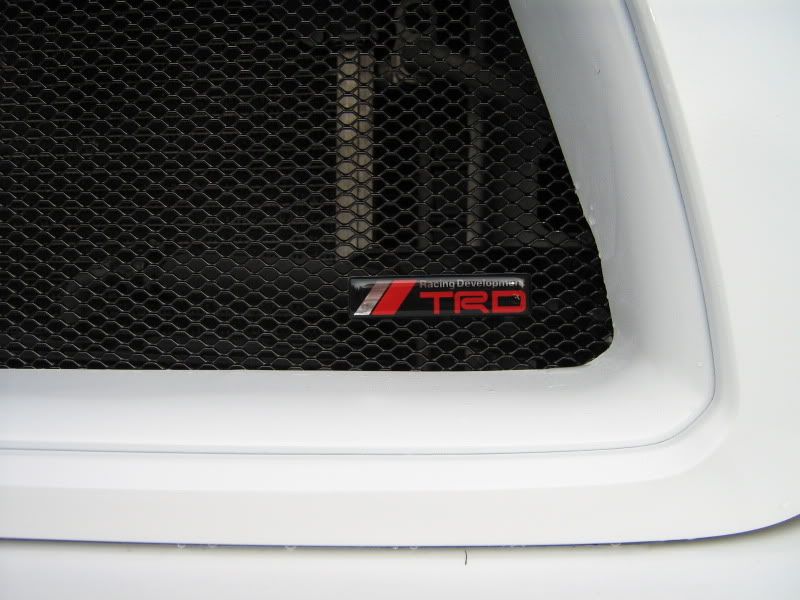 Black on black (mesh was not done by me, only colormatch and satoshi):
Magnetic Grey Metallic (MGM) on MGM, colormatched, with triangles satoshied (unpolished):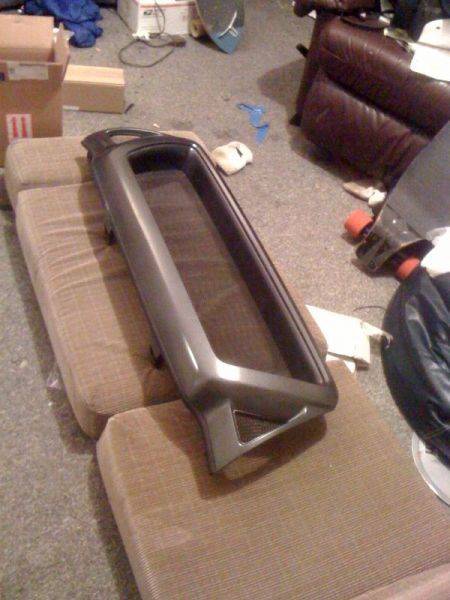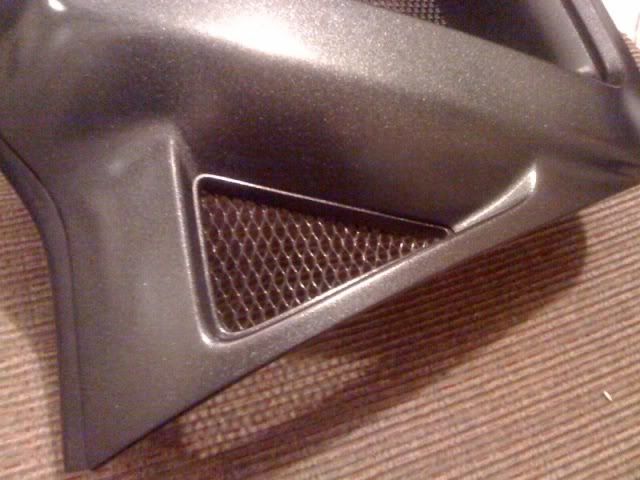 Colormatched Silver: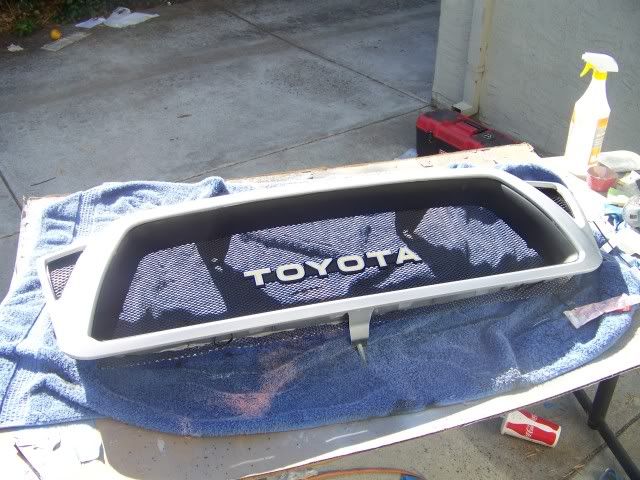 Silver on silver satoshi with triangles: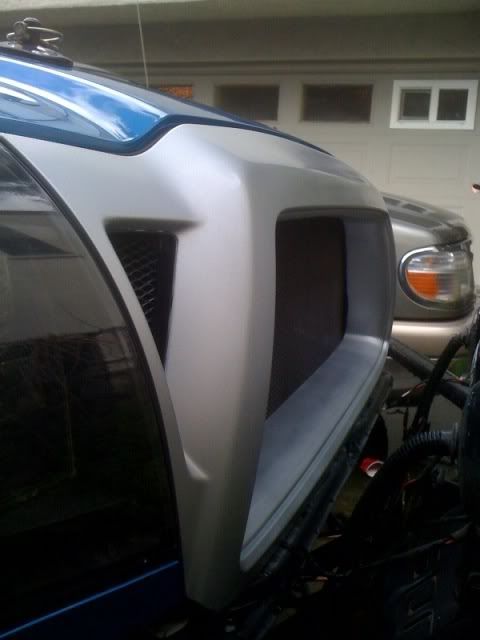 White on white satoshi: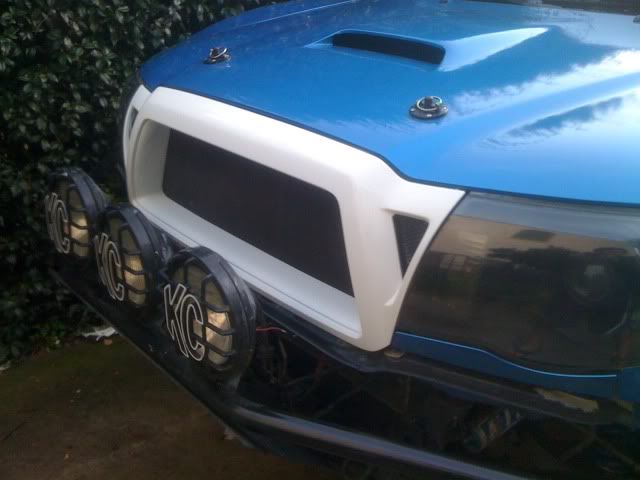 Painted BSP with triangles:
Flat black surround satoshi with custom red TOYOTA emblem: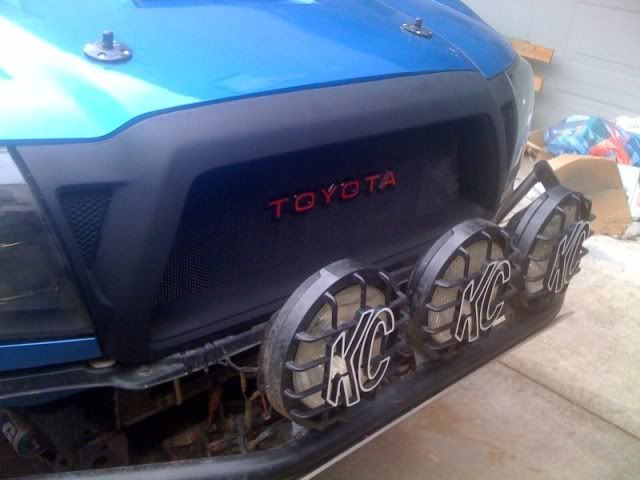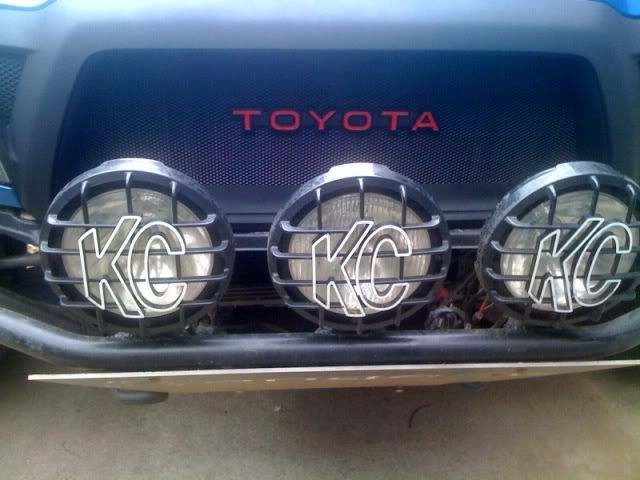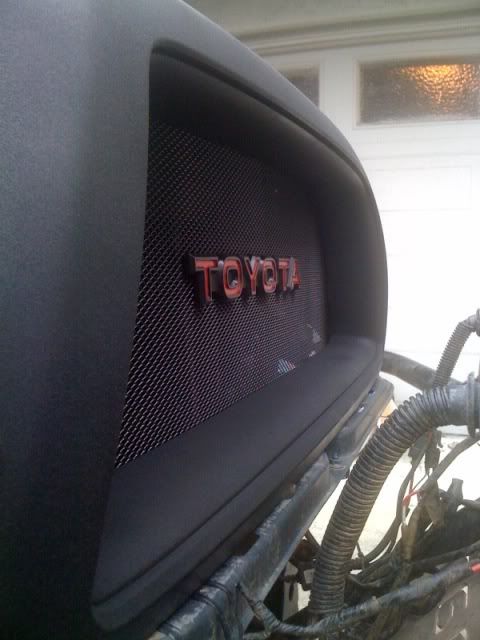 Super white on black satoshi: