I can hear it already... "here we go again"
I am selling my Tacoma so that I can get 4 door. I need to be able to haul people around for work, and for some reason my wife won't let me steal her RAV4.
I am not trading it in because I am buying from a private seller (no dealership to deal with
). I love this truck, and I am not hard pressed to sell it. As I will be paying cash for my next vehicle. That being said, make me an offer.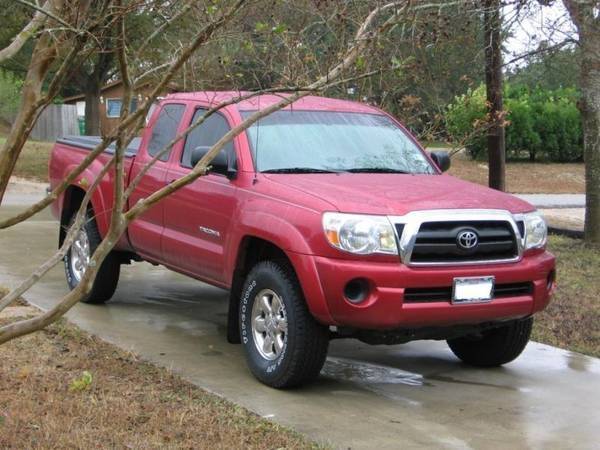 For Sale:
2007 Tacoma AccessCab
PreRunner (4x2)
SR5 Package #2
Cruise Control
Color Keyed Fender
Chrome Grill
Tinted Rear Windows
SR5 Seats
2.7L 4 Cylinder Engine
5 Speed Manual Transmission
Factory Upgrades:
Tow Reciever w/ Class III Hitch
Chrome Aluminum Wheels
Wheel Locks
Spare Lock
Sound Shield
Vehicle Lusterization Package
Fabric Guard
Leather Wrapped Steering Wheel and Shifter
Dealer Upgrades:
TRD Bilstein Suspension at 30,000 miles
New Clutch Throw-Out Bearing at 28,000 miles
New Brakes (rotors and pads) at 25,000 miles
Owner Upgrades:
Access Limited Edition Roll-up Tonneau Cover
(sold separately for $300)
35% Tint on front windows (Texas Legal)
30% Tint on upper windshield (Texas Legal)
AFE High-Flow Airfilter
36,000 miles. 20-24 MPG average. Mobil 1 Synthetic Oil. All Maintence Records on hand. Tires rotated every 5,000 miles.
I am asking
$18,500
which is less than what I owe on it.
I lowered the price so I don't have to trade it in...