FS: Feeler... JL Audio CleanSweep CL-SES for
90$ OBO + shipping.
Not sure if anyone on here would be interested but I bought this
JL Audio CleanSweep CL-SES
for my truck and I never ended up using it. I have taken it out of the box before but
it is brand new.

This is NOT the CleanSweep CL441DSP. The CL441DSP is used to equalize the sound that comes from the factory stereo when you have a amp and subs or speakers. It also allows you to run an aftermarket amp with your factory head unit. I don't want anyone to get mixed up between the 2 like I did.


CleanSweep CL-SES
Source Expander Switch
Reads as follows on the back of the box:
-
Expands any single Aux Audio Input to accept up to
three stereo sources (ex ipod, xm radio, etc.)
- Ideal for use with the CleanSweep CL441DSP or
any
aftermarket source unit.
- Provides a level-trim control for each source to aid in achieving equal sound levels between sources.
- Advanced CMOS switching for pristine sound quality and reliability.
- Automatic Mode: uses signal-sensing to switch between source units.
- Manual Mode: uses the included remote push-button to switch between the sources.
- Differential-balanced inputs provide superior noise immunity.
From JL Audio Website:
This gives you the freedom to install your choice of audio sources, without resorting to weak sounding FM modulators or cassette adaptors. The CL-SES can be used to expand the auxiliary input capabilities of the CleanSweep® CL441dsp or any head unit that provides an auxiliary line-level input, including many OEM head units.
I believe our OEM on the 2nd gen tacomas don't have a aux line-level input but I could be wrong. Will work with aftermarket stereos.
Here is the link to the JL Audio website;
http://mobile.jlaudio.com/products_cleansweep.php?prod_id=388
Here's some pictures: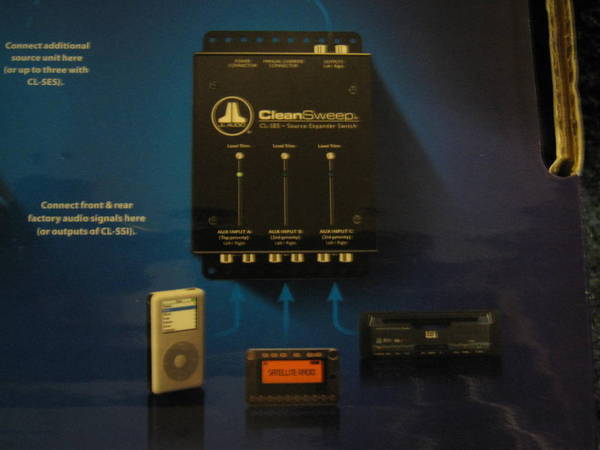 I accept paypal. PM me if you have any questions.