I am selling my current pioneer premier 790BT HU w/ the iPod + cable.
Unit controls iPod very well and comes with a remote control which I am afraid I am going to miss as I use it a lot.
Can also play mp3s cd's in the disc drive. BT audio compatible. BT hands free calling works great with the connected mic. You can voice dial over the system as well. Microphone included with this. I believe you can hook a sat tuner to the unit as well I just never have.
If you have a second Gen tacoma this comes with a
scosche
dash kit as well so all you should require is the harness to plug and play.
Unit has pre-outs for front / rear speakers as well as subwoofer amp.(see pics
Asking $230 OBO and this will include shipping. If you would like to pick up locally I am in the Sacramento area.
You get the Unit, dash kit, microphone, remote control, and 40GB ipod and cable all in perfect working condition, and instructions. I still have the original box for this. Ipod battery is somewhat old but works just fine when plugged in. I went to the apple store and they said they would replace the ipod with a brand new same model 40gb ipod for 59+tax. If you would like me to upgrade that for you then add 60 bucks to my price otherwise you can have the ipod as is which works fine when plugged in.
Full unit specs can be found here:
http://www.pioneerelectronics.com/PU...H-P790BT?tab=B
Some personal likes:
The iPod lists are displayed on the screen in three lines. You can select playlists, artists, albums, or just view all songs pretty simply. Unit has full subwoofer control. You can turn it on or or adjust the level of the subs power. Custom equalizers, Comes with different visualizers for the screen, Blue looks good with the orange dash and buttons, Bluetooth hands free calling is awesome as you can hear ppl through your speakers, BT audio works great if you want to play something from another source. Overall a great HU!
Thanks
JT
Pics of Unit:
Installed: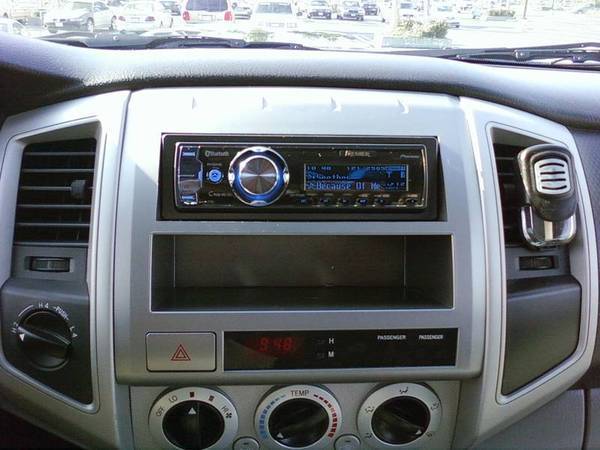 Unit with dash kit, mic wire, ipod+cable, and wire harness to unit only.
Unit with iPod:
Rear of unit: