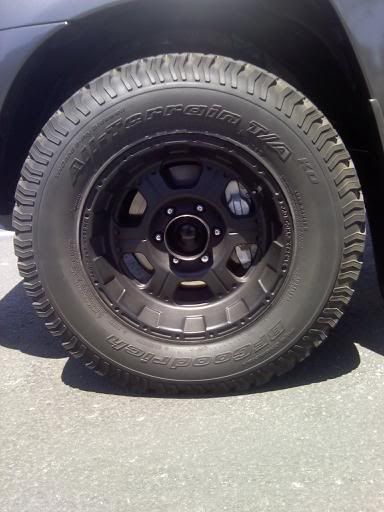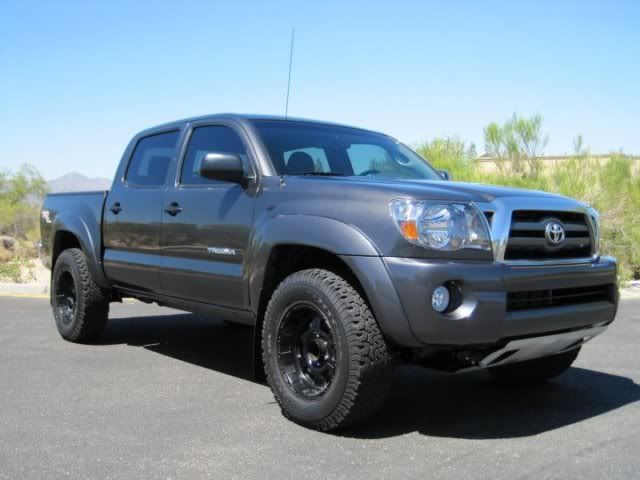 Thinking about selling my wheel/tire set up that I have. This is for 4 wheels with BFG All Terrains which are 265/70r17. There is about 9/32-11/32s left on all four tires.
I also have a NIB wheel that I purchased to use as a full size spare but never got around to doing it. No tire on this spare wheel that will be included.
I do not remember the exact specs of this wheel. I will measure the spare tomorrow to get the backspacing and width of the wheel.
These wheels fit my stock 1st gen with minor rubbing which I solved by some trimming of the inside of the wheel well. They fit with some minor rubbing on my 2nd gen. The company that mounted them when I traded my 1st gen in, Rim1Customs, put on some really thin spacers up front, and shaved some some paint off the inside of the wheels to clear the calipers. (talking mm's here). Tires were rotated every 5k and have even wear on them. You may or may not need to have them road force balanced.
No dents/bends in the wheels. Couple minor knicks(sp?) around the lugnuts.
UPDATE!!!!!!!! 6/23
I will be making this a FOR SALE thread in a few days with an actual ASKING price. Once they are off my truck I will clean them and post photos of all four wheels/tires.
These will not come with the TPMS but they will come with the locking lug nuts. Included also will be the full size spare wheel w/center cap that is NIB.
I messed up by responding peoples messages in the wrong order they were received when I went through my inbox. I apologize for this.