WARNING TO ALL TACOMA WORLD MEMBERS
This is a warning and a heads up to all TACOMA WORLD members and Toyota lovers in General!!!
Bring your Toyota Home! Bullshit!!!!!
This girl and her poor XR have been to hell and back. After an accident by Canadian Blood Services and further damages in another fender bender (details to remain blank...so called friend).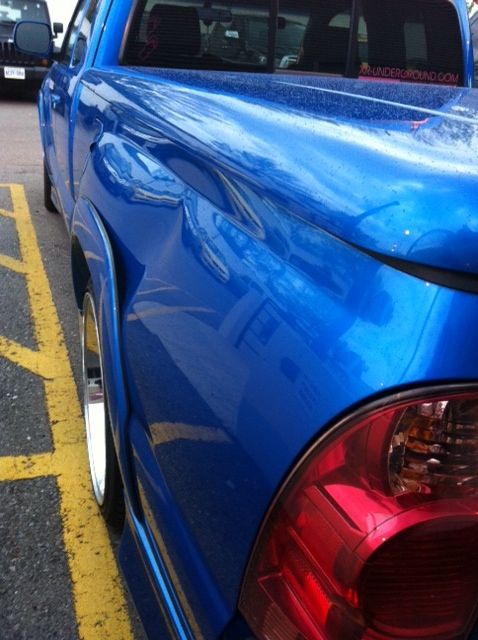 I took my beloved truck to Brimell Toyota's Body shop. A body shop with some bad reviews (but all shops have them) but mostly good. An amazing number of fantastic reviews from the car show community. And for those that don't know..... Yes I show my truck, have won a few awards.
So the truck was damaged. Brought the truck into the body shop. A few weeks later it was fixed and read to go. I even paid extra to have the hood repainted (wanted to remove the bug defector). So with only a few hours before I have to leave for X-fest East (huge meeting of xrunners )

First thing everyone notices....the paint doesn't match
Well truck went back...... great body shop agrees to fix it....bring it back Wednesday after thanksgiving....... well poor me goes to a wedding and gets to be part of the 400 car pileup...... no I was not charged.... no I was not at fault..... and yes someone else was charged (always have a dash cam)
this also doesn't show the damage down the side of the truck,...... could of been a write off if I hit straight on. But no I decided to try and avoid and save my truck
So truck isn't that bad looks worse then it is
Now Since that lovely event..... and those previous I am left with a truck that now "is being fully painted" or so they say!!
Well to this day I have now had my truck in and out of brimell toyota..... had to fight that my truck isn't highly modified....and Toyota built an x-runner..... had to fight and tell them how to order parts for my truck.... also have a crazy amount of problems including but not limited to
1. 3 colors of paint on the truck
2. Parts of truck not painted
3. Outstanding fit and finish issues
4. Lately they carpet cleaned and details.... but flooded the truck. Going to have to buy new carpet, my amp was ruined, underglow ruined
5. money owed for parts thrown out that were still good
6. Money owed for billet grille and cold air intake
7. Fenders that do not fit right
8. Steering wheel off 90 degrees after alignment
9. and the list goes on
SO PLEASE EVERYONE!!!!! STAY AWAY FROM BRIMELL TOYOTA'S BODY SHOP