Understand they're busy over at
Demello
, I have sent an email and a PM to Jason but no response so hopefully y'all can answer my questions: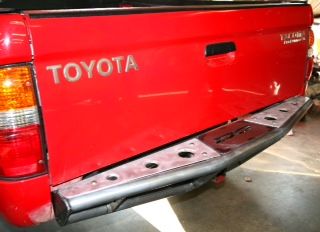 1) Are there existing license plate mounts?
a) If so, can you flip up the license plate to access the 2 in. towing
receiver? Similar to a vertical door hinge.
b) If not, (why not?) would it be fairly easy to fab mounting spots?
2) Can you use the stock spare tire access point underneath the tailgate
via the supplied stock 'turn style rod'?
3) Last ?: Has anyone had any trouble mounting this bumper? I am hoping
bolt-on truly means bolt on. Not like the rock crusher sliders needing
cutting/drilling/welding.
Thanks TW