This is my first DIY thread so I hope this is helpful to everyone...
DE-BADGING:
To debadge the taco you need a few things...
Fishing Line I used 6 lbs. test
Blow Dryer
Goo-Gone
Windex
1. I cut the line into about 3 ft lengths.
2. I heated up a section of the badge. I kept heating the spot till when I touched the metal I couldn't keep my finger on the door for more than a few seconds without discomfort.
3. Take the cut line and run it along the back of the badge. I used a sawing motion which helped out a lot. When the fishing line broke I knew that I had reached a section of the badge that needed to be heated up.
Then just repeat step 2 and 3 till the badge comes off.
Then with the goo gone spray the stuff left over that is stuck to the door. Using your finger nail scratch the stuff off. Then spray the goo gone again and using a rag and elbow grease get the residue off.
Finally I just used windex and sprayed the area instead of waxing the area like some people do.
To paint the taco badges...
DON'T TRY AND PAINT THEM WITH THEM ON THE TRUCK!!!!!! IT DOES NOT WORK!!!!!
That being said you need to first debadge the vehicle and get these materials...
The first can is adhesion promoter. It makes a chemical reaction with the plastic badges so that the paint will have an easier time sticking to the surface. I did 2 coats of that waiting about 2 minutes between the coats. (Basically just follow the instructions on the back on how to use it)
The second can is Krylon Fusion paint for plastic. This can is black but it comes in tons of colors. I did about 3-4 coats of this. Waiting about 2 minutes between coats. (Basically just follow the instructions on the back on how to use it)
The third is Goo-Gone which is what I talked about in the debadging section but you don't use it for painting.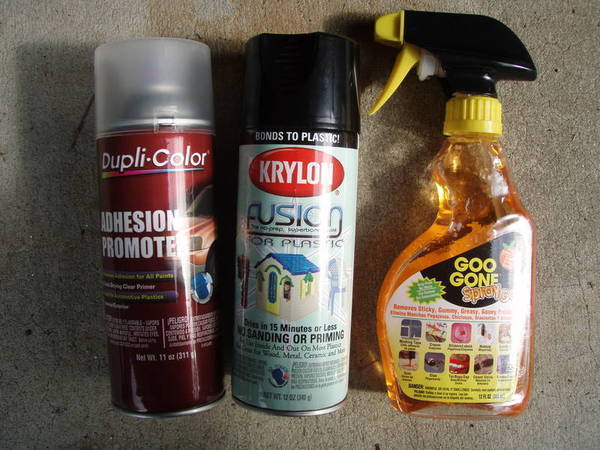 The procedure for painting is...
1. Remove badges and wash them. I just put them in a bucket of water with car wash in it.
2. Spray adhesion promoter. (2-3 coats) Wait 5 minute before next step
3. Spray paint the badges. (3-4 coats) Wait 15-20 minutes before touching and rebadging.