So I saw an Advert in one of my weekend automotive shows that I watch about Duplicolor Tire shine. Now whats supposed to be different about this stuff is that once you spray it on its dry to the touch. I thought this was pretty interesting so I figured the next time I was in my local auto parts store I would pick some up. Well Months went by and I made several visits to a few different parts houses not specifically to buy this product but looking for it while I was there but nobody ever had it. So I decided to make it a point to look for the stuff one weekend while I was bored so I went to
Advanced auto parts
and they didn't have it so then I went to
autozone
and they didn't have it so then I went to NAPA and they didn't have it and finally the last place I had to check I went to Pep Boys and they had it. Only 2 cans though. So I bought them both Just in case I liked it. I went to my local care wash and wouldn't you know there pressure washers were out of Tire Cleaner. So I scrubbed them the best I could with the time I had while also trying to squeeze in a quick Wash of the whole truck. then I went home and sprayed this stuff on.
This is what the can looks like.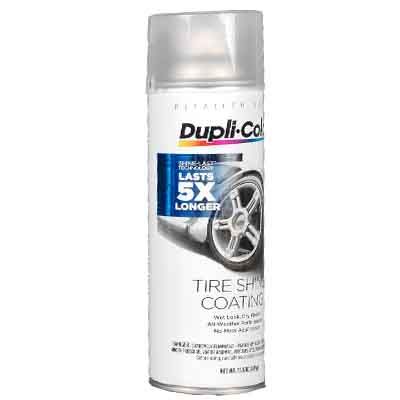 And this is what my tires looked like after I sprayed it on and it had a chance to dry.
After a minute the Tire was completely dry to the touch and had this Decent shine to it. Its not super shiny like some of the products out there but this product won't sling off onto your paint the first time you drive down the road and its also supposed to be able to maintain this shine for a lot longer then the other products out there. so I figured I would throw a post up here and then see how long it lasted. I also might take a few pics a week or two out to show how its holding up.