Hey Fellas I got the Okay from the main man TCBOB to sell some products on here and post prices.
DTF has gone full time and will be producing more work than even and we are moving into a larger shop soon and have a CNC plasma table on the way. All of our bumpers are 1 3/4" H.R.E.W. steel tube with a D.O.M. option (for an additional charge) I always suggest DOM due to the extra bending/shear strength. All plate work is computer cut and guaranteed to fit your vehicle.
I offer (2) types of bumpers for the 2005-2014 Tacomas
(A)
Bumper type A (Fits 05-14 Tacoma)
Requires no mods direct bolt on (can be cut for stock or fiberglass fenders)
Tow hook is still functional
Type B Requires cutting off the stock lower cross member on the red line (it can be welded back in if necessary) (Fits 05-14 Tacoma)
We only use frame horn uprights (No more tube)
D-ring mounts
Mounting plate
Light Hoops can be added to any bumper for a $75 additional charge.
Round style for round lights
Square for LED bars which I can get you a good deal on if your interested
Type A 540
Type B 640
DOM +$100
D-ring tabs +$60
Light Hoop +$75
Shipping is around $140 in the continental US
I offer (1) type of bumper for the 2012-2014s specifically
Type C Requires cutting off the stock lower cross member on the red line (it can be welded back in if necessary)
Type C 650
DOM +$100
D-ring tabs +$60
Shipping is around $140 in the continental US
Due to high demand I have designed a stealth skid for the 05-11 tacomas under the name Type D
Type D Requires cutting off the stock lower cross member on the red line (it can be welded back in if necessary)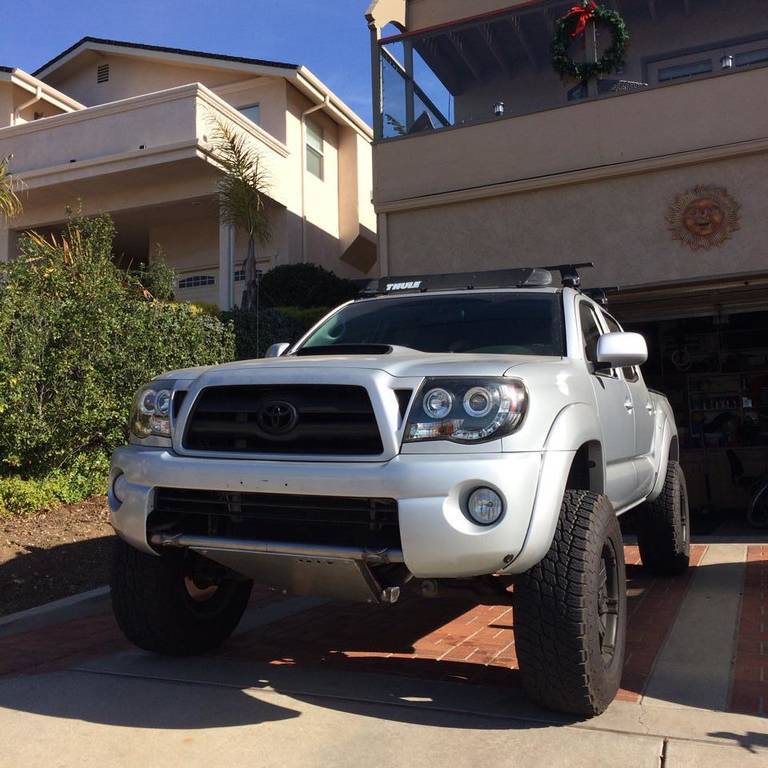 Type D 590
DOM +$100
D-ring tabs +$60
Shipping is around $140 in the continental US
I currently accept cash, paypal, and soon credit cards
Disclaimer *** like all aftermarket bumpers these are for off road use only ***