We have cut off the entries as of 9:00AM, Pacific Time Friday 04/29/2011.

We've drawn a winner...Taco76087, congrats!

As promised....here are the details for our latest contest.
This one is for 1st Gen Tacoma owners only!
So please, only enter if you own a 1st Generation,
6-Lug
Tacoma. Keep it fair to the guys who have been waiting patiently for some 1st Gen goodies!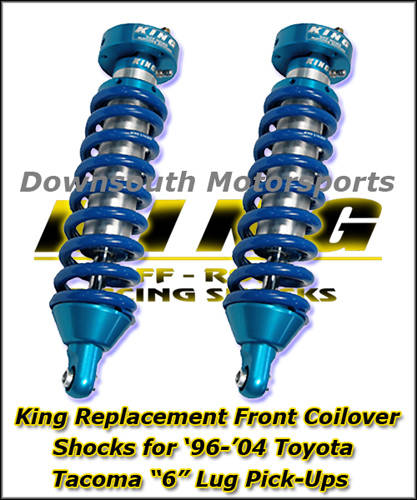 Details:
After reviewing all the PMs, emails and posts on TW...we concluded that coil-overs was the most sought after prize. So here you go, a brand spanking new set of KING coil-overs. We have these same ones on our shop truck, and they're awesome!
Winner will be announced on April 29th, 2011
To Enter:
Send us a PM with the title '
KING contest
'. Please include your name, phone#, email, and the year of your Tacoma. It's that easy.
Rules & Disclaimers:
Open to any TW members who own a '96-'04 6-lug Tacoma, or '96-'02 4Runner. For our friends in Canada (or any non lower 48 States), you are welcome to enter the drawing, but you will need to pay for the shipping and any customs/duties on your end.
One Entry Per Member!
Any multiple entries will be thrown out of the drawing. Please no emails, as we will direct you back through TacomaWorld to enter.
Please feel free to contact us with any questions...
Good luck to all!!
Marco & Sonny