Just made this today, awesome. Here it is, right out of the oven.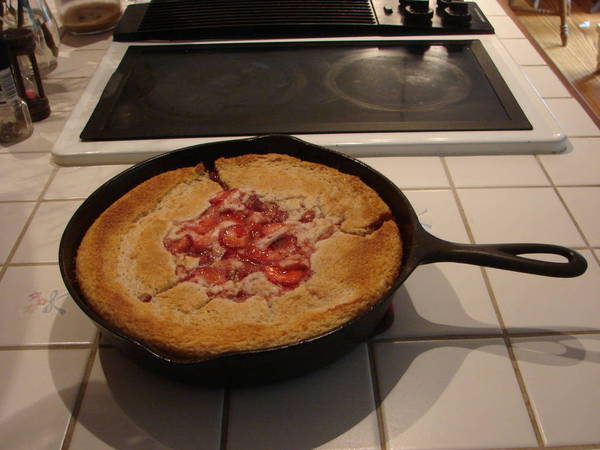 Old-Fashioned Strawberry Skillet Cobbler
1/4 cup butter, 1 stick
1 cup milk
1 cup flour
1 cup sugar
1 & 1/2 tsp baking powder
1/2 tsp salt
1 tsp vanilla extract
1/4 tsp ground cinnamon
1 & 1/2 cup strawberries, chopped
Preheat the oven to 400 degress. In a 8 inch cast iron skillet melt a stick of butter.
Meanwhile in a bowl whisk together the flour, sugar, salt, baking soda, cinnamon, vanilla, and milk.
In the hot skillet pour the batter into the melted butter and top with the strawberries. Put the skillet in the preheated oven and bake for 20 to 25 minutes, until it is golden brown.