I spent countless hours searching different websites like garage journal and the likes when I was trying to come up with a good solution for my need of, not only a good storage option for my topper, but also a way to mount and remove my topper at any given time with using only one person (me) and relatively quickly.
Let see what the members of TW have come up with to tackle this problem
.
Here's mine
It started like this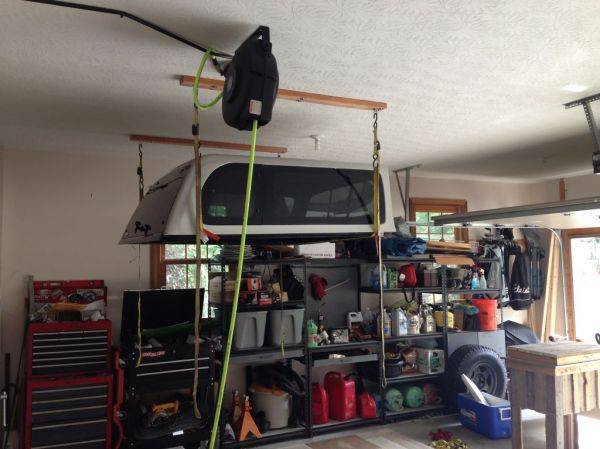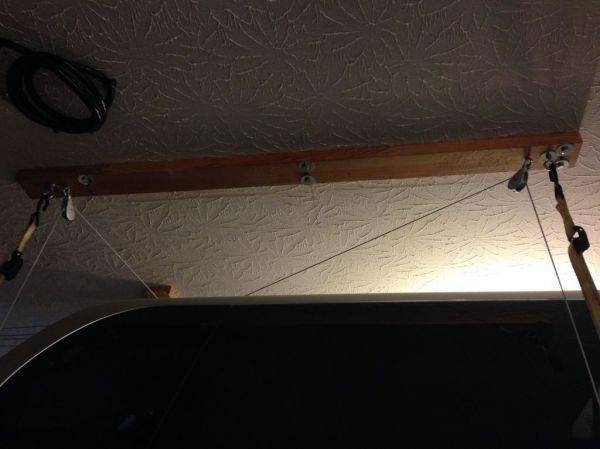 You can see from the pic that I just cut 2x4's the length to span three rafters, measured and pre-drilled, and lag bolted the 2x4's with 5/16"x 4.5" lag bolts. For the eyelets I used 1.5" threaded eyes found in the hardware aisle, with some washers and nuts countersunk on the ceiling side. To countersink I used an appropriately sized spade bit in my drill. At this point I was still using straps and bungee cords for the topper to rest on as well. It was hoisted by ratchet straps which was quite annoying and time consuming. I eventually found my motorcycle cinch straps and used them which made it much faster.
I then decided it was time to finally get the
HF
winch mounted up on the wall and automate this process. Here's a pic of the winch mounted.
I used a scrap 2x12 I had laying around as the base. You may, or may not need this but I didn't feel that mounting the winch and uni-strut to the wall stud with just one lag per, would do the job in the long run. The 2x12 is secured to the wall with 2 lags each side (4 total), and then the uni-strut is secured to the 2x12 AND through the 2x12 to the wall stud. On the left side there are 4 lags total which penetrate to the stud, and the right there is 3 (I sheared one off with the dewalt impact) The lags used were again 5/16"x 4.5" paired with 5/16" flat washers. Along the length of the uni-strut that wasn't atop the wall stud, I secured using 2.5" lags with washers. The winch isn't moving.
As for the rigging, I picked up some pulleys and such and went to town. This was the part which I was really baffled by for the longest time. I couldn't picture in my head how it would turn out so therefore I just never went for it. After countless more hours scouring the web, I decided to just buy the stuff and go for it.
There's a pulley at each corner.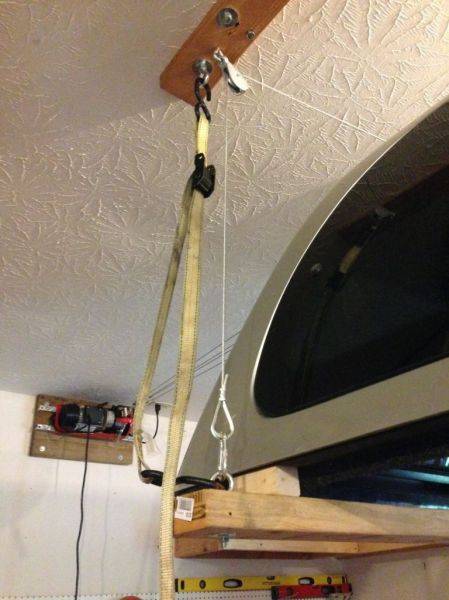 and a routing block to keep my winch rigging all parallel.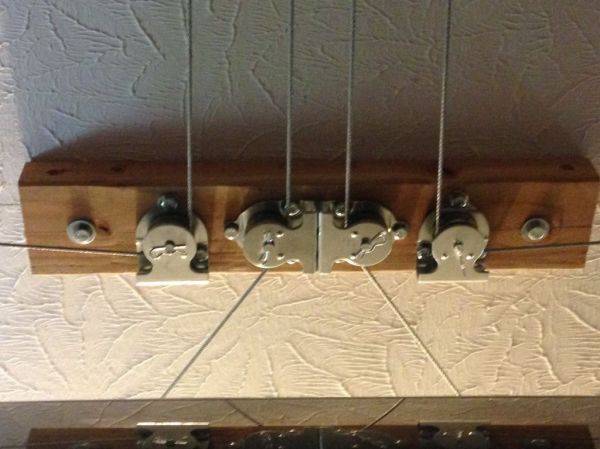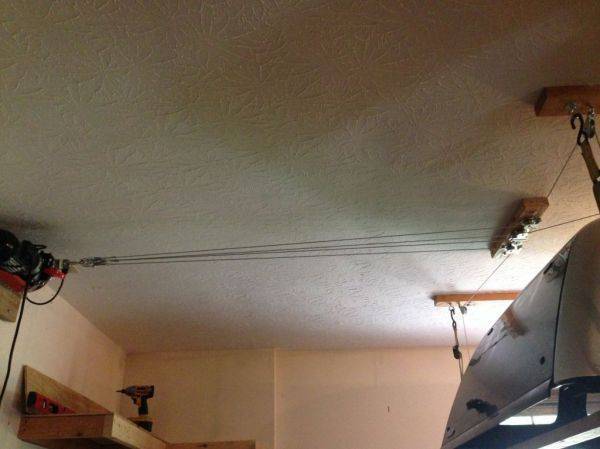 Here's what it looks like at the winch. Each rope is for a different corner. Starting from the left is PS rear corner, PS front corner, DS front corner, DS rear corner.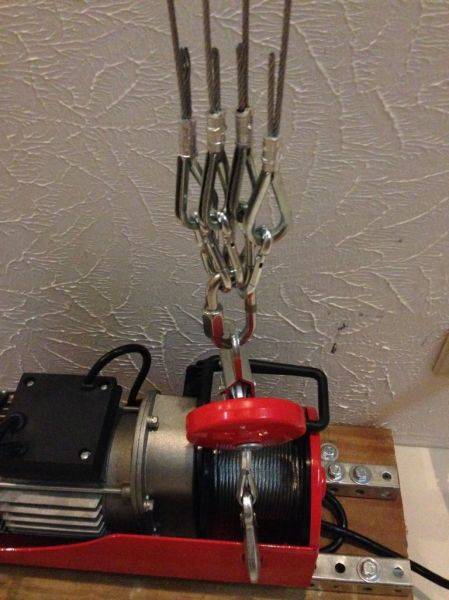 I cut some more 2x4's for the topper to rest on. The topper shouldn't rest on the flange so I measure and cut some spacers made from 2x2 material so the topper would sit on the outside edge, instead of the flange.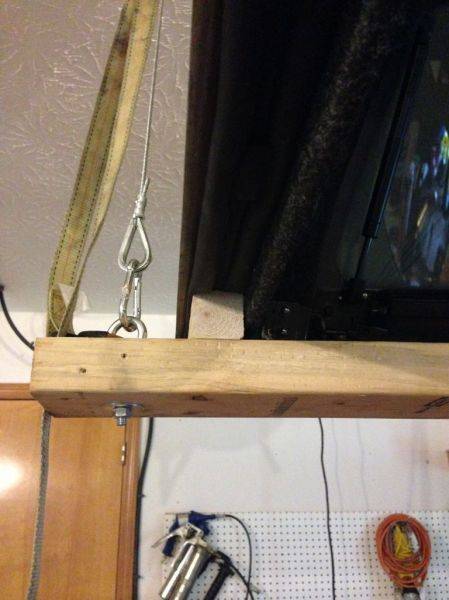 Here is the finished product.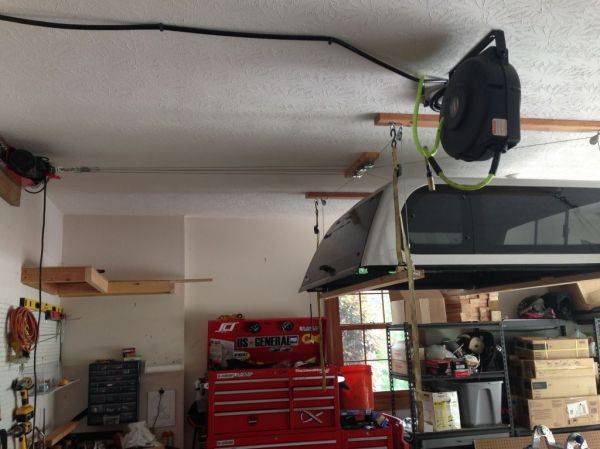 I don't have any pics of them but I'm making additional hangers to replace the yellow straps in the pics. These hangers will be made out of the same wire rope and will be non adjustable. I will have the same quick clip/ carabiners on the ends for removal. These will be used as the hangers so I can release the tension on the winch brake and the topper will hang from them.
Parts list.
HF 120v 400lb electric winch
5/16"x 4.5" lags
5/16"x 2.5" lags
5/16" flat washers
6' uni-strut from
lowes
100'-3mm wire rope (HF)
8- 1/8" Wire Ferrules
8- 1/8" Wire rope thimbles
Swagging tool
4- 2"x 4"x 8's
8-threaded eyelets with two fender washers and two properly sized nuts for each (think sandwiching the 2x4's)
4-pulley blocks from Lowes (ones on the routing block)
4- 100lb pulleys from HF
There's probably more that I'm forgetting but for the most part...that's it.
There's mine in a nutshell. If you have any questions or anything, feel free. I'm no rocket scientist but I'll try to help. There are any number of solutions out there and any number of ways to do the same thing. Experiment, learn, and have fun. I had a great time making this with my wife in the background saying "all that just so you can raise and lower it?" She has no idea......ha.
What do you guys/ gals have?