well.......havent had much time to do anything in the garage since we moved in, but its getting there little by little. already had a few stackable tool boxes...and gonna get one more set, but one wall is coming together for now. went today and got a bench and bench drawer(5 drawer cabinet) from
sears
. last night...i went and got a 7 tool dewalt xrp 18v kit from
home depot
. still gotta get a good size cabinet...then i'll be pretty much finished with storage stuff. already put up shelves in there a month ago. the main things left to do are meter the garage separately and rewire everything...add more overhead lights, pipe in my wood stove and buy/install my compressor. oh yeah....gotta add a beer fridge too. as soon as i get it all done......we can start having mod days!!
here was the start about a month or so ago........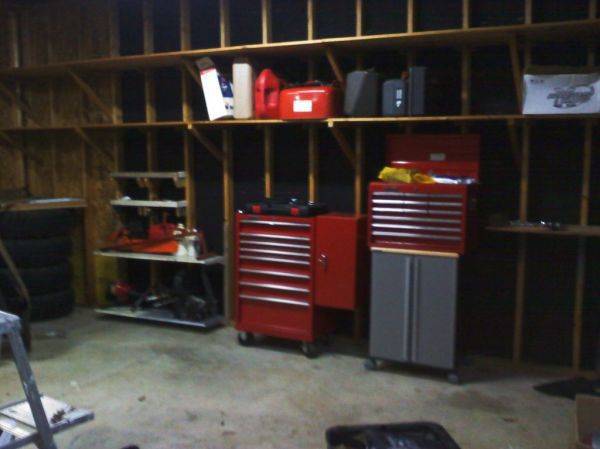 eventually i will insulate it...but im not too worried about it for now. and i will post better pics as i get more stuff done in there. my bench and cabinet will go to the right of where the grey cabinet are now.