(This happened on the 10th, but I'm just now posting because I only just got to visit my car in the lot to take a picture.)
The Honda got totalled. Rear-ended. Was sitting at an intersection, waiting to make a left turn. Two cop cars flew by with sirens going, and about two seconds after, I got slammed from behind. Seatbelt (yes, I was actually using it!) saved me from going through the windshield, I'm sure- or at least hitting it. Lady that hit me said she was startled/distracted by the cops that flew by. I believe her, even though it's a dumb reason. She got the ticket, of course.
I was kinda stunned, still sitting in my seat after it happened. Then I noticed that my lucky hat (the one I was wearing the day the engine fell on me) was not on my head, so I started searching for it. Someone outside started hollering that there was gas on the ground all around my car and that I should get out before it exploded. I opened the door, stuck my finger in the liquid pooling on the ground, licked it, and told 'em it was oil. (Apparently a bottle of oil in my trunk got blown open.) I resumed the hunt for my hat. I found it under the passenger seat- strange place for it to end up. By the time I found it, the ambulance and police were there- not the two that technically caused the accident, though. Before I could even look back at my car to survey the damage, they had me in the ambulance. They checked me out- said I was fine, it seemed, but that I should not go to work in the morning. (I did.) The lady who hit me was fine too, but her '07 Pontiac Vibe wasn't. Her bumper was shoved back a quarter of the way, everything all nice and crumpled.
My back/neck hurt for a few days afterwards, though I didn't hurt at all until the morning after the accident. It was so bad the first few days that I couldn't finish my usual workout. Had a headache for most of two days, but it's gone now.
Gonna buy Senor Hondos (the Civic) back off of the insurance company. Wanna put it back on the road, but I'm not sure that chain-snatching it will work at this point... :P Most likely going to have to buy a new Civic when the insurance company feeds out the money, and I'll use this one for parts and sell what I don't need. They won't give much, I'm sure, since it's a raggedy-ass '91 Civic. I paid $900 for it when I was a high school sophomore- there's no way they'd give me more than that. But I definitely need a 'new' '88-91 Civic- I used this one on the newspaper route. No truck or van is going to work on a paper route, since a route is terrible for gas mileage (and front end wear), and Honda is the most reliable thing I've ever owned, so I don't want any other car. Can't kill Hondas- unless you wreck them, that is.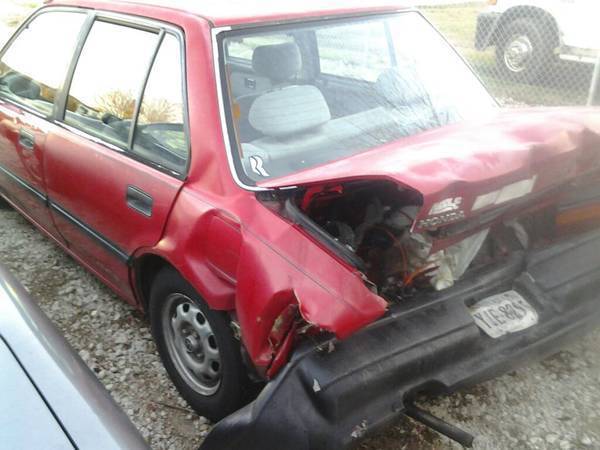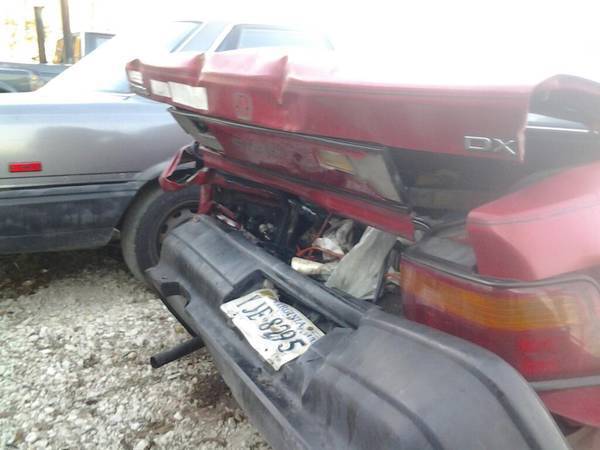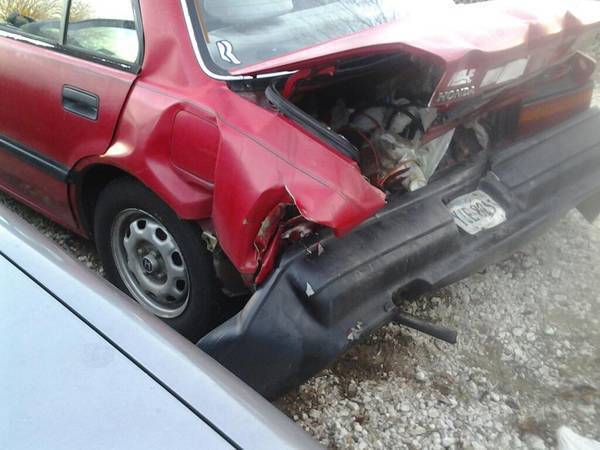 I think it's hilarious that the tailpipe it still in the same position it was pre-accident. That sucker has been held on by two C-Clamps and a lot of duct tape for four months now.