Thanks to Rob (Evil Monkey), I've been working with
Aeroforce Technology
to get the Interceptor gauge to work with the Tacoma.
While the process is still ongoing
, I thought I'd share a little bit about it as well as some photos. Here's what the gauge looks like as well as my install . . .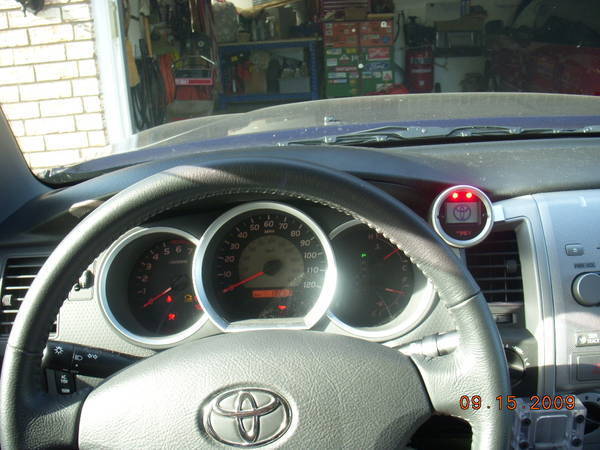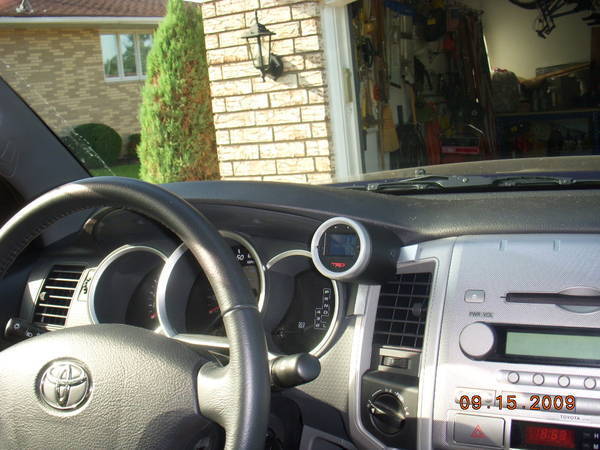 I'm sure most of you are aware of the ScanGaugeII, which is a single product aimed at many different vehicles. The Aeroforce Interceptor gauge is vehicle specific so that there is no setup of engine size, fuel capacity, and the like. You just plug it in and it knows everything, all you have to setup is what you want to see. You can check my profile for which model Taco I have but that is the vehicle we've been setting this gauge up around. I don't know about a 4-cyl model available yet. I do know that they have it working for an FJ, whether that's still in-process or not, I don't know.
Anyhow, here's a
few
of the comparisons I've made in the 2 weeks that I've been testing it: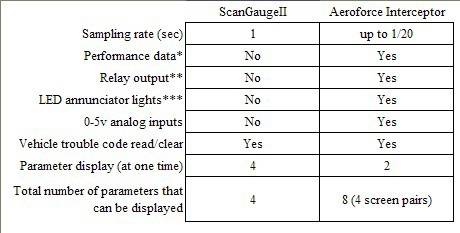 *Performance data such as 0-60mph times, 1/4 mile times and the like can be recorded and reviewed.
**The relay output can be used to output a signal once a parameter reaches a given value or falls below a given value. The easiest example would be, once the coolant temp reaches 200°F, send relay signal to turn fan on.
***The LED annunciator lights can be used as warning lights and/or shift lights. They can be warning lights that something has reached a given value or shift lights for example at a given rpm. They can be used to warn about any one given parameter (with a few exceptions).
Remaining items to be completed
:
I know in the past many have requested the transmission temp and that is possible with this gauge but it is still being troubleshot by Aeroforce ~ it is not operational as of yet.
MPG - instantaneous fuel economy is something I haven't found on the gauge yet but it is stated as a parameter that can be shown. I'm still working with Aeroforce to find it - maybe it's just me.
Here's a short clip (not shot by me) about the gauge:
http://www.youtube.com/watch?v=l3F6CV49Rew
As I said earlier, this development is still ongoing (at least for the Taco) but the major hurdles have been tackled. Aeroforce did a lot of work to figure out the Toyota "language" and communicate with it.
Stay tuned . . . updates to follow.
Paul