Hey All,
I'm currently in the final stages of an AR-15 build, and the last thing I have to do is assemble the upper and have a muzzle break pinned and welded to a 14.5 inch barrel (to follow all NFA rules).
I'm in the Ft. Benning / Columbus area. Does anyone know a quality armorer or gunsmith that I can use to have this work done? I've already sent an email to the Army Marksmanship Unit, but haven't heard anything back yet. I'm just trying to find all the options.
I know how to weld (TIG, MIG, acetylene, ARC). Has someone on here pinned and welded their own muzzle break? Perhaps I should just try and find a welding outfit that will let me rent their equipment?
Thanks for all help and advice.
Hunter
Sorry for the bad iPhone picture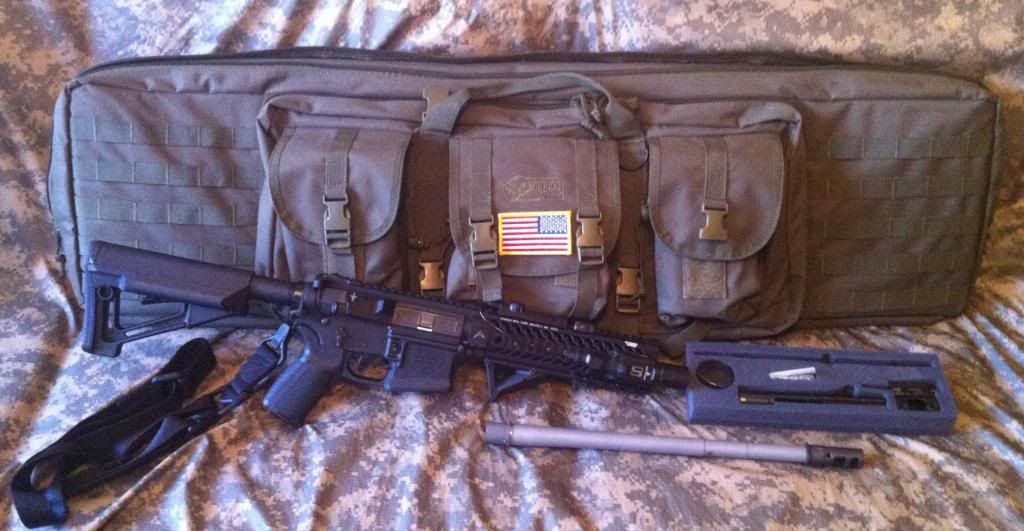 Upper:
Vultor MUR-1 Upper
BCM Gunfighter Charging Handle
Noveske Afghan 5.56MM Barrel - 14.5" (special 1.9" gas block seat)
SureFire MB556K muzzle break
Adams Arms Mid-Length Piston Conversion Kit
Samson 9 inch quad rail
FailZero 5.56MM Bolt
Lower:
Noveske Gen II Lower
Noveske H-buffer
Magpul Ambidextrous Sling Adaptor
Magpul STR Mil-Spec Carbine Stock
CMMG AR-15 Lower Parts Kit
Troy Industries Ambidextrous Safety
Geissele SSA-E Two Stage Trigger
Magpul MIAD Mission Adaptable Grip
Magpul B.A.D. Lever
Add-on's:
Troy Folding Battle Sight Set
Magpul AFG2 - Angled Fore Grip
EOTech EXPS3-2
SureFire X300 LED WeaponLight
SureFire XT07 Remote Dual Switch for WeaponLights
Magpul MS3 sling
SureFire SOCOM556-SB Sound Suppressor (eventually)