The Nitro Gear Group Buy is Closed
Sierra Expeditions
is pleased to announce that we will be carrying the Nitro Gears products. As part of launching this new product line we have been authorized to do a group buy promotion by Nitro Gears/JT distributor in Cashmere, WA.
Sierra Expeditions
is offering introductory pricing on Nitro Gear sets.
It is tax return time.....Now is a great time to get a great deal on a set of gears and install kits.
Nitro Gears offers a great product line to fit many different makes and models of vehicles -
Toyota, Ford, Jeep, Dodge, Chevy/GMC, and Samurai
.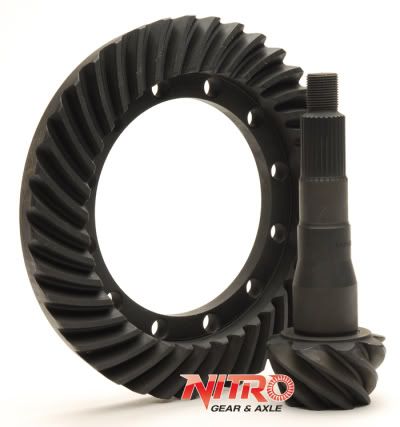 http://www.nitro-gear.com/
Group Buy Details:
The Nitro group buy is
ONLY
for ring & pinion gears & master install kits for front and/or rear housings.
To request a quote please answer the following questions:
Make, Model & Year of Rig
Do you have factory lockers or not? (front diff & rear diff) - please specify
Current gear ratio
Desired Nitro gear ratio
Shipping zip code if outside of lower 48
All Toyota axles will be quoted with solid spacers. AZ customers pay Uncle Sam tax.
Shipping
Front & Rear axles $30.98
Rear axle only $15.98
Note on shipping - Nitro will shipping everything to SE on a pallet to AZ....then we will work fast to get everyone's order out. Plan for 2 weeks after we post up that Nitro has sent our group order out.
Group Buy Ends March 9th, 2011 @ 11:59 pm MT
If you are interested in participating in this group buy, please PM me with what you want answering all questions, and we will reply with pricing, and you can sign up or pass at that point by PM.
Quotes are given out Monday thur Friday. PMs received during the weekend will be stored and pricing will be given next business day (Monday)
Official List of those participating:
MarineTacoDriver
-------------------------------------
Today is the last day for the Nitro Group buy.
Please PM me if you want a quote....
I will be doing 2 more quotes......Please have your quotes in by the following time:
- 3:30 pm MST (quotes will be given out sometime in the afternoon)
- 11:59 pm MST (quotes will be given out following morning)
Decisions must be made if you want in on this gear buy by 5 pm MST March 10th Thursday for all of those who have been quoted.
Thanks!