If you want a stage I kit, I have 10 of them ready to ship, so pm me directly and I will forward the payment info over to you
Much success in the first and second GB so here comes the third one as the second group buy orders shipped out earlier today
Before reading on! At the end of this post, there is a list, if you wish to join the list pls copy the list, add your name and order and reply with the list in your response
The stage II kits fit the 1st gen taco but! They will not be fully lit unless the ignition is "on":
http://www.tacomaworld.com/forum/gro...ml#post3360547
The first group buy orders for the LED kits have been shipped out…since the waiting list has 10 people on it already, I decided to start the second group buy thread! In this group buy, the 1st gen taco kit may be available to everyone, depending on the tester from the last group and his findings.
Once again there will be a stage I and stage II kit.
Stage I is one dome light and and two map light BULBS
Stage II has the same dome light and two map light PANELS
Panels are significantly brighter.
The pricing goes as follows:
Basic stage 1 kit=$30.90 shipped
Stage II kit: all white=$40.90 shipped
Stage II kit: (insert custom color for map panel here)+white dome light=$42.90 shipped
Stage II kit: white map lights+(insert custom color for dome panel here)=$44.90 shipped
Stage II kit: selected color choice other than white=$45.90 shipped
Once the group buy list is completed and closes, the payment requests will be sent out. Paypal is preferred but money order is also acceptable
Tacoma kit in silverbullet07's tacoma!
Quote:
Originally Posted by
SilverBullet07
Hello again, the following picture are using the interior LED kit that LJ24 offers.
-In advance I do apologize if some picture aren't quite focused, I shut the flash off to take these pictures and my camera had a hard time.
Picture 1:
This picture is showing the brightness of just the 5SMD LED map light (which is in the basic kit) on the passenger side of the vehicle, No other lights where on in the car.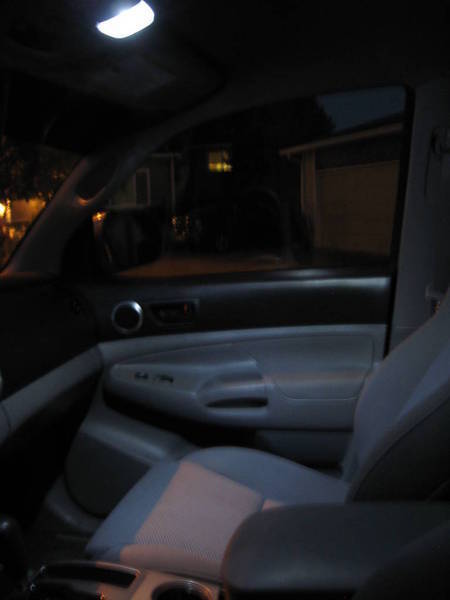 Two 65SMD LED map panel lights: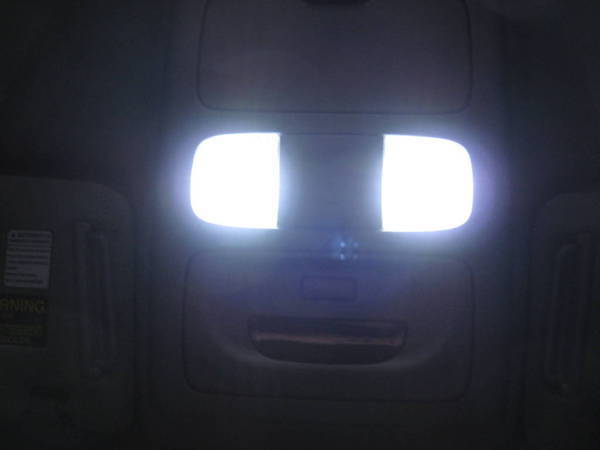 The following group of pictures is showing the brightness of the 24SMD 5050 LED dome light, and two 65SMD LED map panel lights (both passenger and drivers side now).
Front: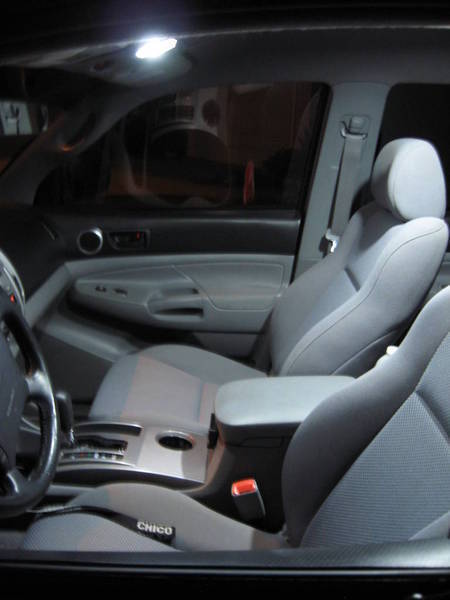 Back: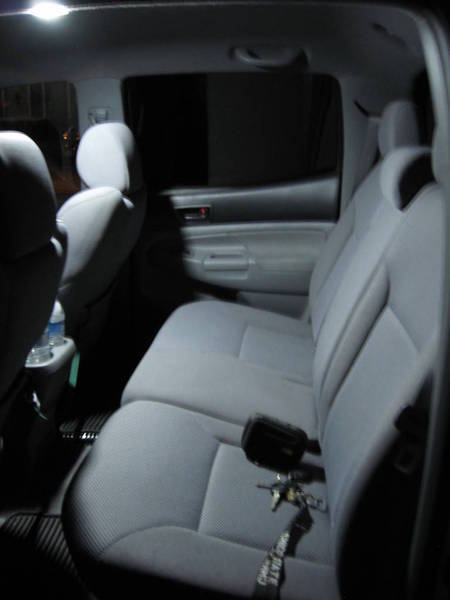 From Outside with Windows Down: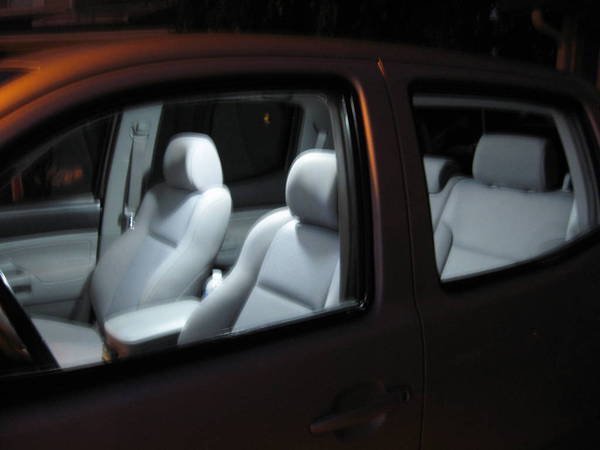 From Outside with Doors Open:
Front View Through Windshield:
Last but not least is the License plate lights: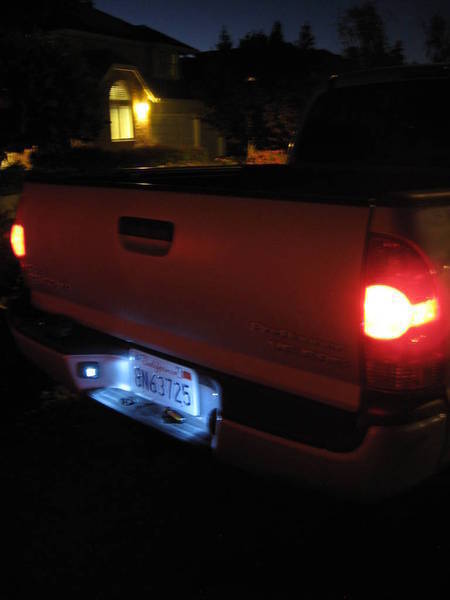 -Hope this helps anyone who wanted to know the brightness of LJ24's LED interior kit. If anyone has any questions for me just shoot me a PM, pictures really don't do these LED's justice they shit on the OEM lights.
BLINDED BY THE LIGHT....
There can be more than 25 people on the list but the list will close on august 20th at 11:59 pm!
Here is the list that was moved from GB#3! Copy and add your name to the list
1. georgeandkanoa Stage II kit (red)
2. chaztoyo - Stage II kit (white) possibly LP & 4rd brake light
3.elizer - stage II kit (white)
4.deerslayer75 - stage II kit (map & dome blue) LP's and 3rd brake light (red)
- stage II kit (white)
5.Texoma--StageII kit(red) and any other lights like lp's n brakes
6. T4C0CH40S - Stage II kit: (RED) Dome, Map and LP Lights.
7. St. Swervus- Stage II kit: (cool white)
8. Ktripp: stage II kit
9. ktripp(again): stage II kit
10. seminolepride991: map lights only?
11.
12.
13.
14.
15.
Also, if the list gets to 25, I will have a raffle for a free kit(after payments are accepted) so that the winner can get their kit for the price of shipping!
Thank you Tacoma World!