Just got instructions from the vendor:
Quote:
Here's how the GB will work.
I send the promotion code to the emails on the spreasheet.
Customers go to www.advmonster.com and add the items to the cart that they want to purchase.
Customer puts in the promotion code during checkout to receive the 20% discount.
Shipping is calculated and added.
Customer submits payment.

A couple of notes:
Customer must register on ADVmonster
Group Buy is limited to 25 customers for the first round.* Will have another round based on responses through the 25th.
Code is active till 5/31/12
One code use per customer.
Payments accepted, Paypal, Visa or Mastercard

Once payment is cleared we ship via USPS priority mail, customer will receive notice of shipment with tracking number.

Let me know if you have any questions.

I really appreciate you putting this together.

Thanks
Group buy has officially started today (May 11) and will end on May 25.

PM me with your name, email, and how many lights you want.

Once we have reached 20 confirmed units, I will forward the info to the seller. He will then email each of you with a discount/promo code to be used during the check out on his website. The code will apply a 20% discount on ALL items in your basket/cart.

I will accept PMs until May 25, at which the group buy will be closed. Thanks.
Hello All,
I was recently introduced to the ADVMonster lights by a member on here in the Long Travel BS thread (supermoto). These lights are pretty big in the motorcycle world, but a few guys run them on their trucks and they are really good lights:
* Wide Beam
* 3600 lumens
* Cree XM-L T6 LEDs
* 2.4 amps (28 watts) @12v
* aluminum housing
* Length: 70mm , Diameter 55mm
* Black durable coating
* o-ring sealed housing
* one meter wire lead
* includes flat mount mounting option - (stainless)
* shatter resistant lens
* Sold Individually
I have had these lights for a couple months now and I can say these are by far the brightest lights on my truck.
Each light is 3600 lumens and sells for $100 on their website:
http://stores.advmonster.com/-strse-...off/Detail.bok
That is $0.028 per lumen. Compared to Rigid Industries Dually D2 light that is $199.99 and only has 2600 lumens, which is at $0.0760 per lumen, which is almost 3x more expensive.
In other words, you are getting more lumens for half the price.
If we get 20 orders (each light), then ADVMonster is going to give us a 20% discount, which means it will be $80 per light. That is $0.022 per lumen.
Let's factor that into a Rigid Bar. Lets take a Rigid 30" light bar which retails at $999.99. The Rigid 30" bar is rated at 11850 lumens. Let's say Rigid sells that bar at the same $/lumen as ADV monster. That means the bar will only be $263.33.
This also means you only need to get four of these ADVMonster 60 series lights to have MORE raw lumens than a 30" Rigid bar!!!
The next cheapest option for lumens are those kragen HID lights, but they are almost the same $/lumen, but HID lights are way more prone to failure, as most of you know. LED vs HID:
- LED lights get 100% brightness almost immediately upon turning on, HIDs need to warm up
- LED lights have less parts to fail and have way longer life, vs HID lights that have ballasts, bulbs that can fail, and a lot sooner
- LED lights can be turned on and off multiple times and quickly without killing their life, which is why strobes use LEDs now. HIDs go out really fast if you turn them on and off a lot
- LED lights are lighter and smaller, so you can run way more of them without weighing your truck down. HID lights are heavy and cumbersome, and you need to find places to mount the ballasts
The reason I am Holding this group buy is because I want to pick up at least four more lights for myself. The seller has agreed to a 2 week time frame for the group buy.
20 lights minimum, then it is 20% off all lights ordered within the 2 week period.
We are still working out the details and options, such as amber protective films, heavy duty mounts, shipping, etc., but this is to let you guys know that it is happening.
Once the details are finalized, I will update this thread with the instructions.
Some photos: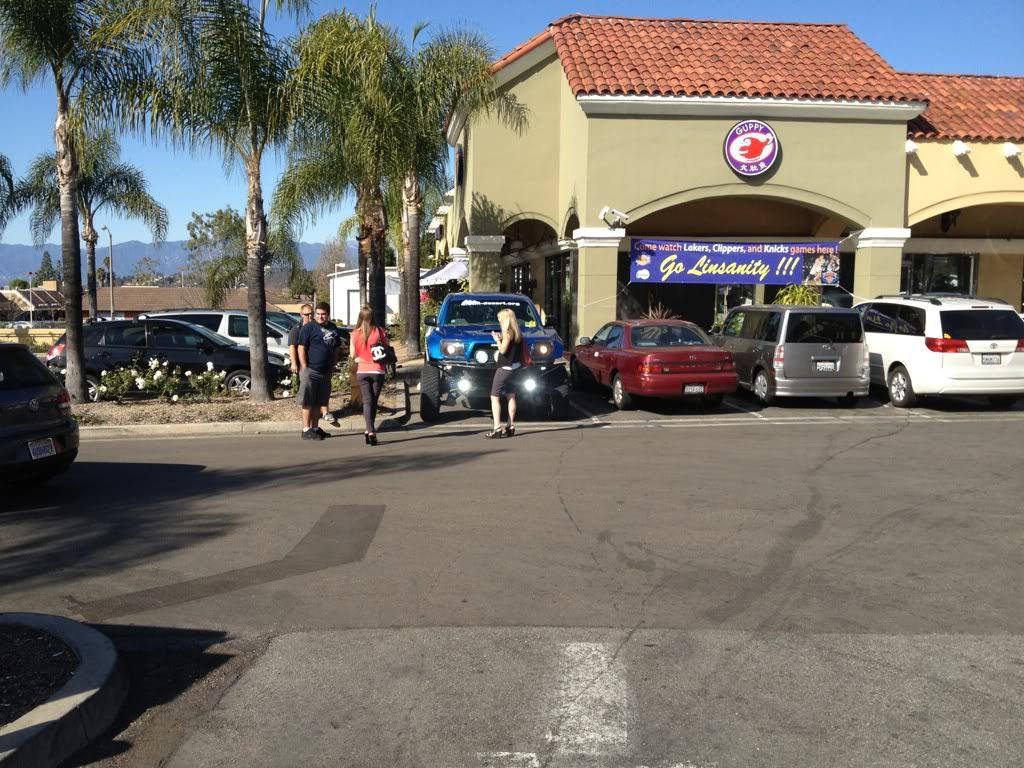 videos:
This me turning on my lights in stages. Last stage is the ADVMonster lights:
http://s577.photobucket.com/albums/s...t=cdf1afbc.mp4
This is a video of the lights on my truck. The ADVMonsters are the lowest mounted two lights:
http://s577.photobucket.com/albums/s...t=d46f8ae1.mp4