Okay TW, here goes..
CLOSED
I'm able to get some great pricing on synthetic Amsteel winch line, I guarantee that you won't see these prices anywhere else.
Like many other group buys that I've seen in the past on TW, pricing will be dependent on the quantity of line ordered. Basically, my supplier doesn't regularly stock 3/8" Amsteel - so it is much more cost effective for me to purchase a 600 foot spool and pass the savings on to you.
Just to be clear, I'm not trying to compete with any of the major winchline manufacturers. This will most likely be a one time deal; mostly just want to hook some TW members up with what I feel is a great deal on synthetic winch line.
I can offer the line pre-spliced, or just cut line. Honestly, with a little bit of practice and technique, anyone can do the tuck and bury eye splice in synthetic line. Although, many of the manufacturers will lead you to believe otherwise..
So here is how pricing will be broken down:
3/8" Synthetic Samson Amsteel
$1.75/foot
Bear in mind that I can only offer ONE SIZE (3/8") and ONE COLOR (We'll go off of what the majority of people want)
I can also offer thimbles as well, I'll be able to get some more pricing info if there is interest..
Good: SS Eye Thimble
Better:
Best: ~ $15
Here are two of my splices: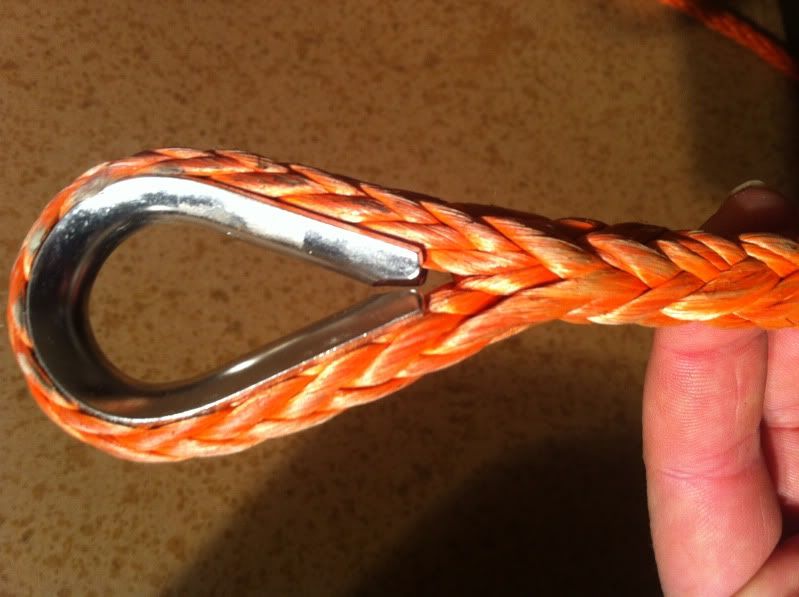 Payment:
Individual orders will be invoiced in full, with flat rate shipping rate of $15 included in final price. Payment will be expected in full.
Splices will be executed in accordance with Samson's authorized splicing techniques; as well as stitch-locked with Dyneema 2.2mm seizing twine.
Due to the amount of interest, and my decision to invest in a new Stainless Steel splicing fid - I will charge $5 per eye splice.
Preferred payment is via PayPal, my e-mail is:
Jeverich@gmail.com
This is my first time doing this; so any suggestions/comments or complaints are totally welcome.
Looking forward to making this happen!
Will be shipping in flat rate boxes (IIRC $15) from 98248
CLOSES January 12, 2013 ------------