We're here to offer everyone an introductory price on some new LED lighting at killer pricing!
Relentless Off-Road Fabrication has picked up a line of off-road LED lighting, which we've dubbed Rampage LEDs! We are now running these lights on all of our own trucks and have been very pleased with the performance and we are now excited to share them with everyone else!
The discount is only active from 3/15-4/5
See below for details on how to get the prices listed.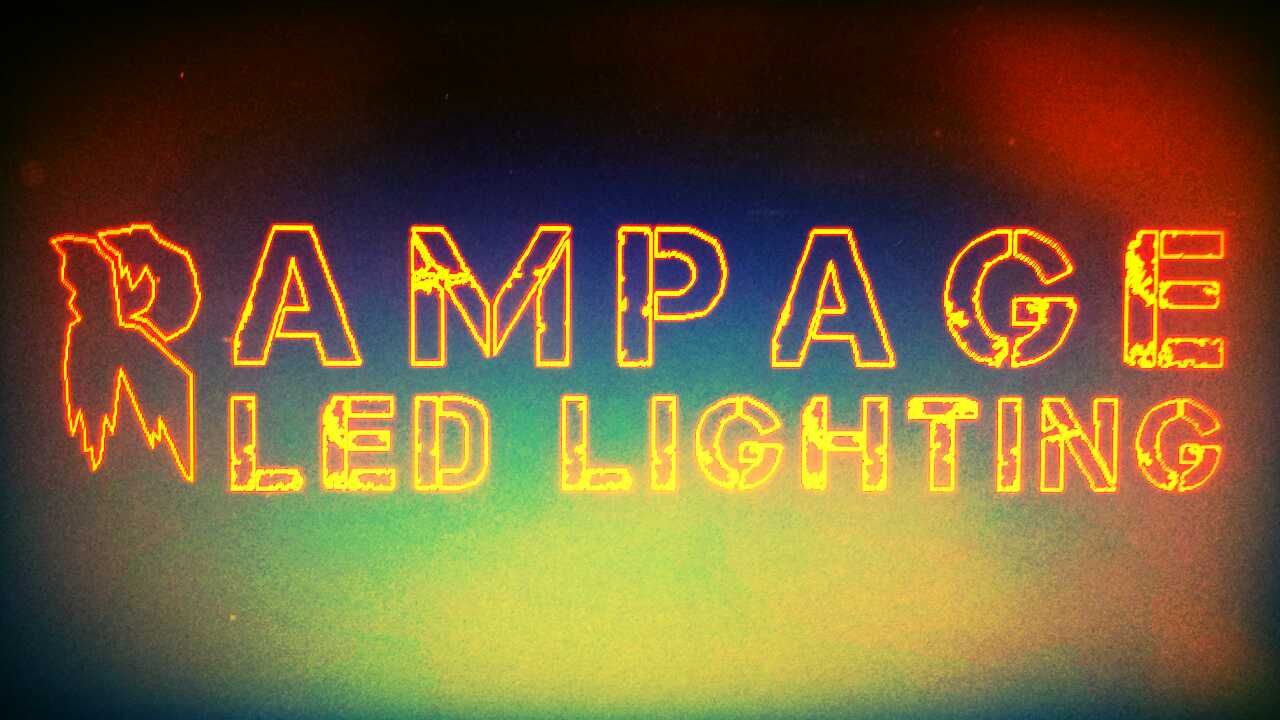 LED bars are offered in 6, 12, 22, 32,42, and 52" lengths with dual rows of USA made Cree LED elements NOT the cheaper Epistar chips that put out less lumens! Lights are all housed behind a polycarbonate lens, in extruded and cast aluminum housings depending on the light.
We also have access to the newest radius light bars that curve to help match the roof of the truck or grille and also spread an intense light pattern. All straight bars come in combo flood/spot (60*/10*) patterns; the radius bars are spot only.
We also offer small 3x3" pod lights AKA the Qube series. They're available in 4 LED(Qube2) or 6 LED(Qube3) configurations, and in spot and flood patterns, and flush or standard mount style. They're great for auxiliary lights off bed racks, as rock lights, or in bumpers for driving or backup lights too. Qube lights are sold in pairs, and wiring harnesses are optional.
Pricing:
Dual row, straight bar (all light's COMBO beam pattern):
DR12 List $149 GB: $119.20
DR22 List $239 GB: $191.20
DR32 List $329 GB: $263.20
DR42 List $419 GB: $335.20
DR52 List $509 GB: $407.20
Radius dual row LED bars(spot pattern):
RDR30 List: $379 GB: $303.20
RDR40 List: $469 GB: $375.20
RDR50 List: $559 GB: $447.20
Qube light pods:
Qube 2(flood) List: $59/109pr GB: $47.20/$87.20pr
Qube 3(spot) List: $69/129pr GB: $55.20/$103.20pr
F-qube 2(flood) ListL $59/109pr GB: $47.20/$87.20pr
All bars are 20% off list price and feature a free wiring harness with switch for
light bar
orders over $200 during the group buy! Shipping is calculated based on location when checking out from my online store. All orders must be placed on the online store at:
http://www.relentlessfabrication.us/...sort=priceDesc
Use code "timeforarampage" at checkout to receive the discount.
If we reach 50+ light bars sold of each type (radius, straight, Qube), then there will be a $10 shipping credit for all orders within the style that reaches the quota. What that does for you... if you order a radius 42 and a set of Qubes and both series reaches quota... you get $20 back!
All orders to ship ground via FedEx/UPS
~~No international shipping, sorry!!~~
Lights are not kept in-stock at this time but will be ordered at close of group buy as I have to buy in case-quantity. Please allow approximately 2-3 weeks for delivery of lights after close of the GB. At the moment I have (4) RDR42" bars coming toward the end of this month, 2 are already spoken for but 2 will be up for grabs and also a case of (6) DR22" combo pattern light bars. All orders placed in GB are final and non-refundable or returnable for refund. Thanks.
I will keep a running tally of the number of orders in the bottom of the OP of this thread as they come in so everyone knows when the shipping credit might take place.
Roof mounting brackets are being developed for the 42" LED bars for 2nd gen and 1st gen Tacoma's(possibly 3rd/4th gen 4runner in near future as well), though we don't intend on offering brackets for the 50's as they're too wide to run on a Tacoma in our opinion(wider than the roof). Roof mount brackets to be added to our site and can be included with 42" light bars at a reduced price only added on to GB light orders. Roof mount tentative pricing for GB to be $49/set including powder coat. Brackets made from 12ga steel, CNC cut, brake formed, and includes dimple died holes for extra rigidity and a BA custom look!
DR42 on prototype roof mount:
Illuminated shots of DR42 on roof mount
Street lights and stock headlights only(yes, they're on!
)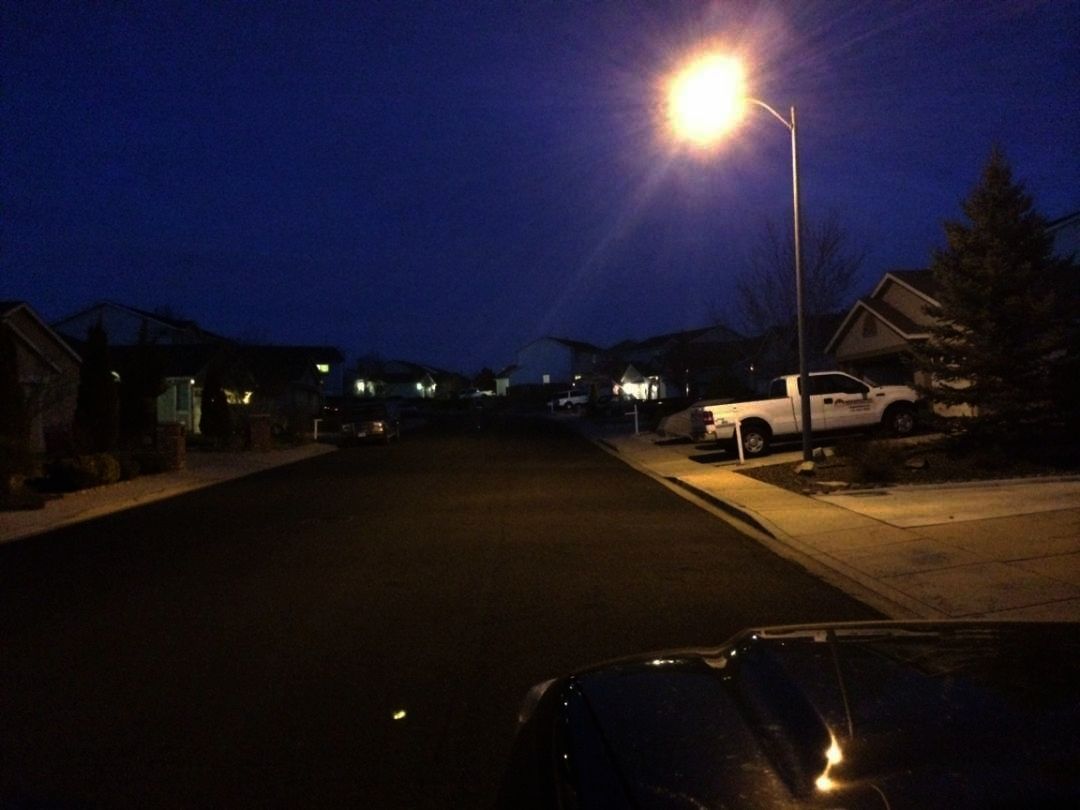 With DR42 combo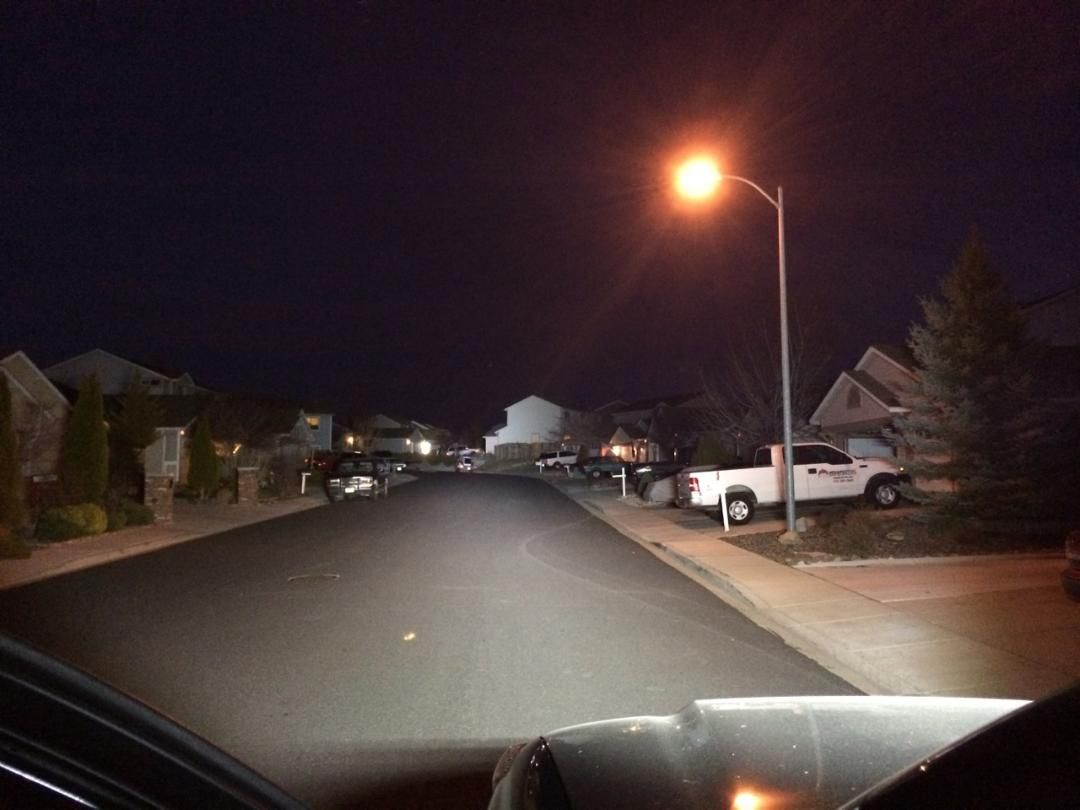 Light bar specifications:
All bars are IP67 rated for protection against intrusion of water, dust, etc.
Light output approx. 6000K color (bright white, slight bluish tint)
All LED elements are USA-made Cree 3 Watt LED chips; bars are assembled in China and imported.
6" bar: 2880 lumens
12" bar: 5760 lumens
22" bar: 9600 lumens
32" bar: 14400 lumens
42" bar: 19200 lumens
52" bar: 23040 lumens
Qube 2: 1440 lumens (4Wx4 Cree chips)
Qube 3: 1620 lumens (3Wx6 Cree chips)
F-Qube 2 Flood pattern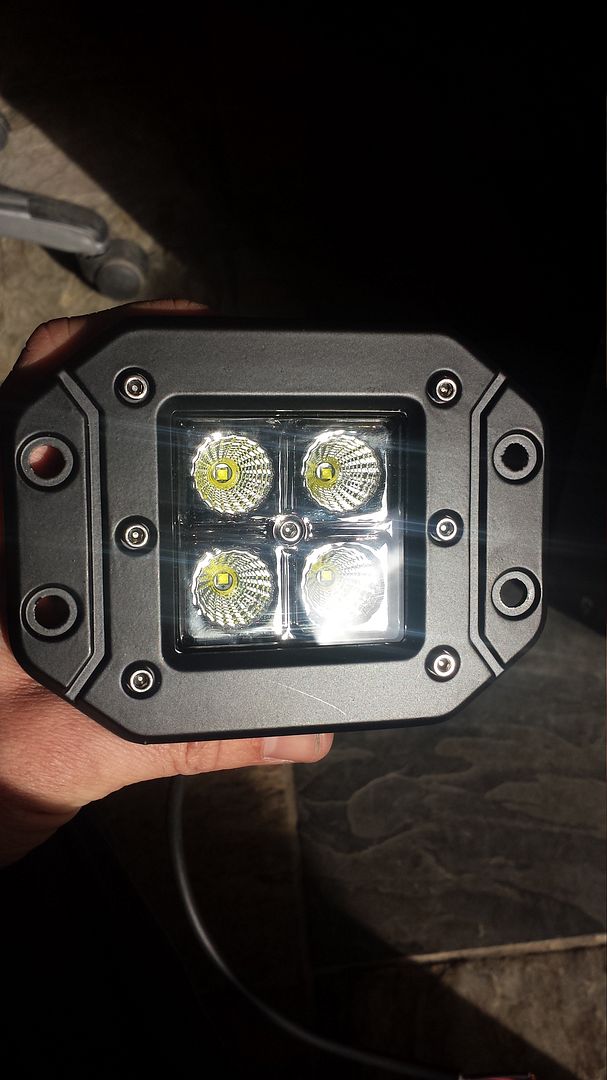 Qube-3 Standard mount/spot pattern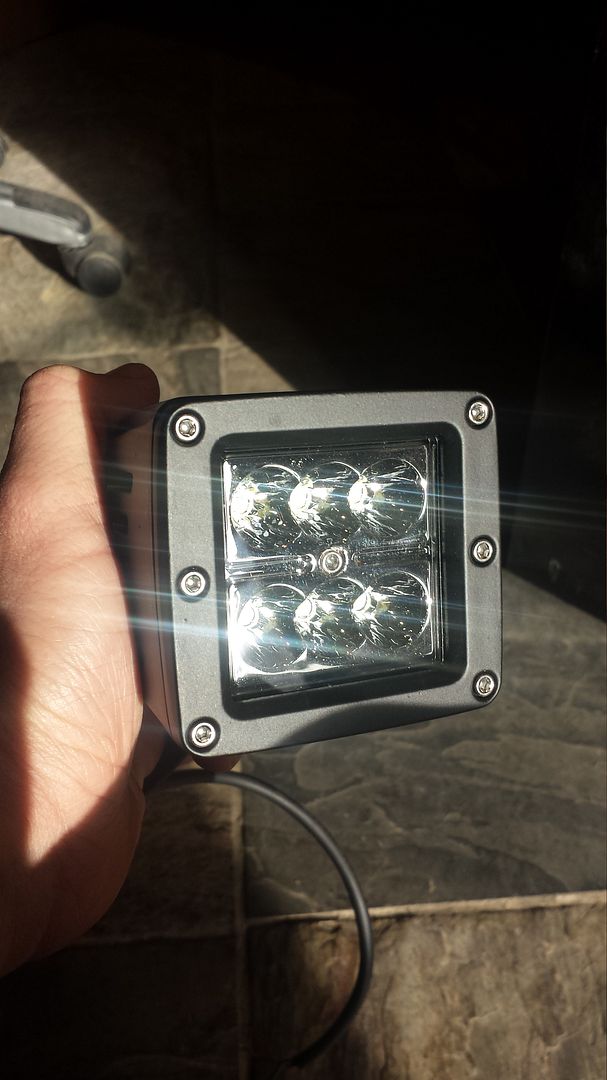 Qube-2 standard mount, Flood pattern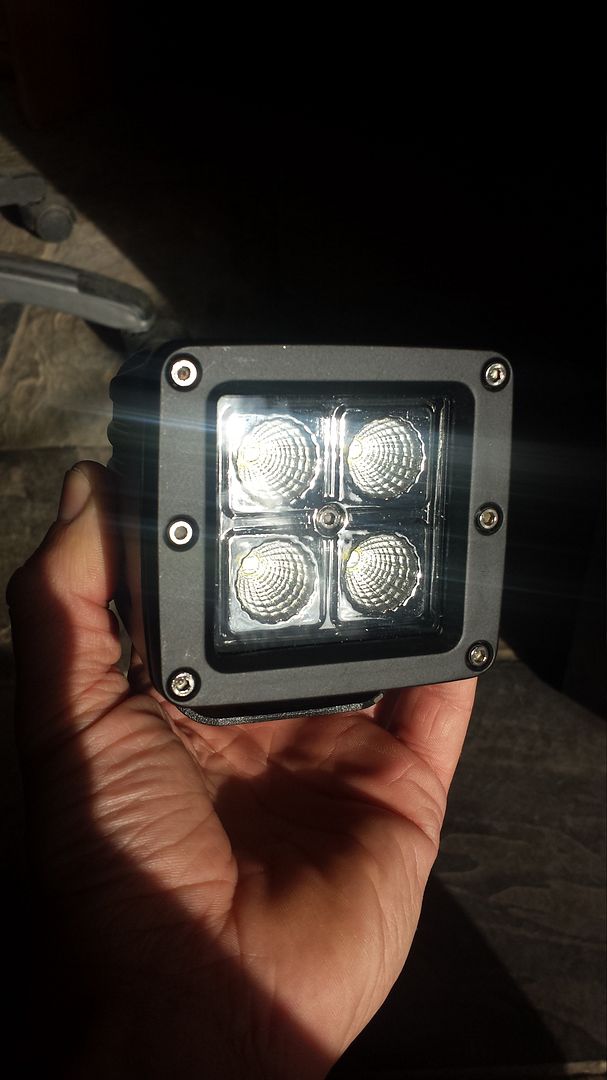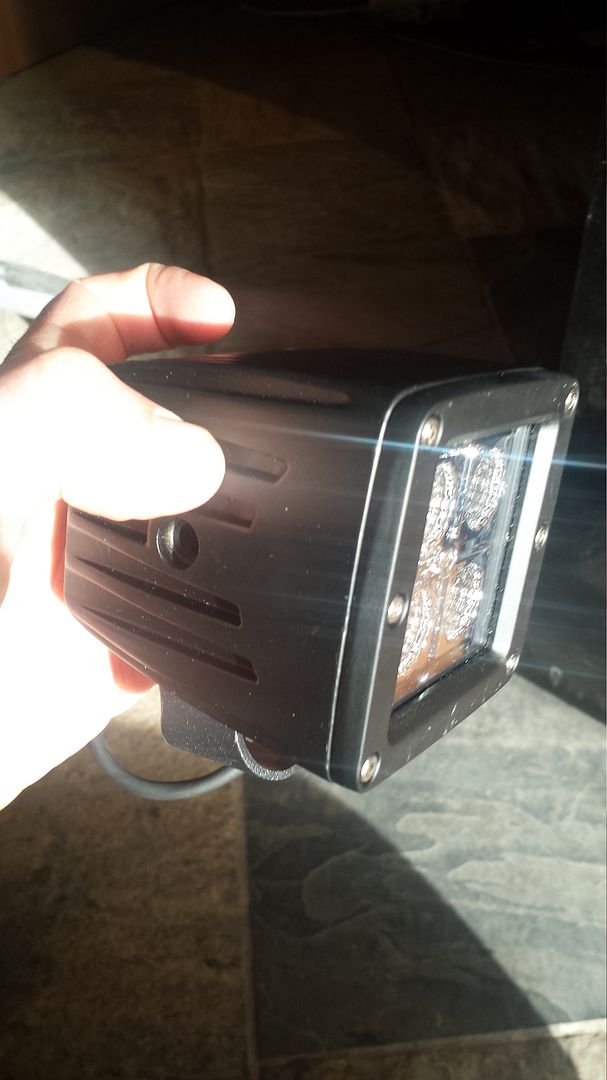 RDR42 radius bar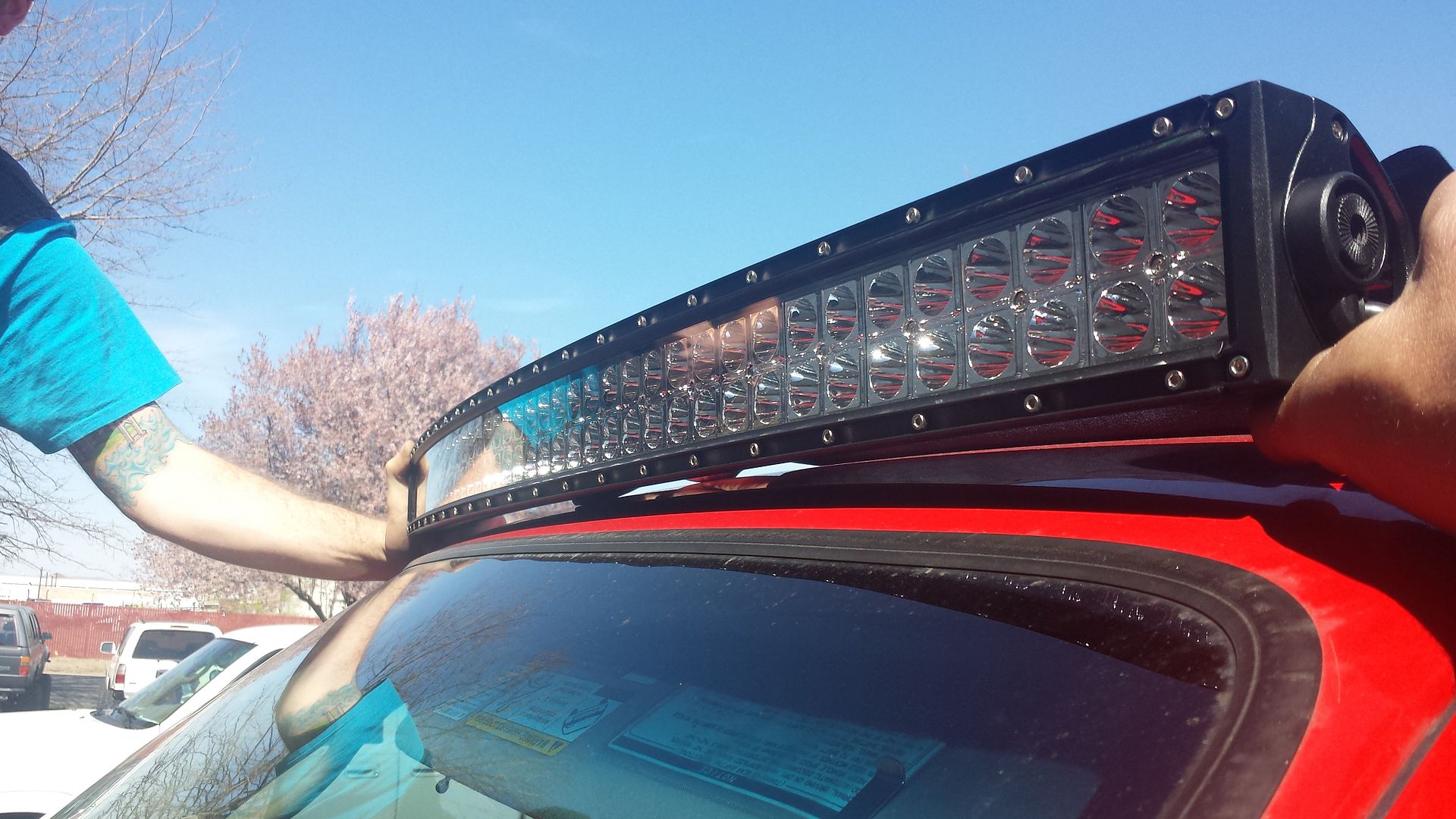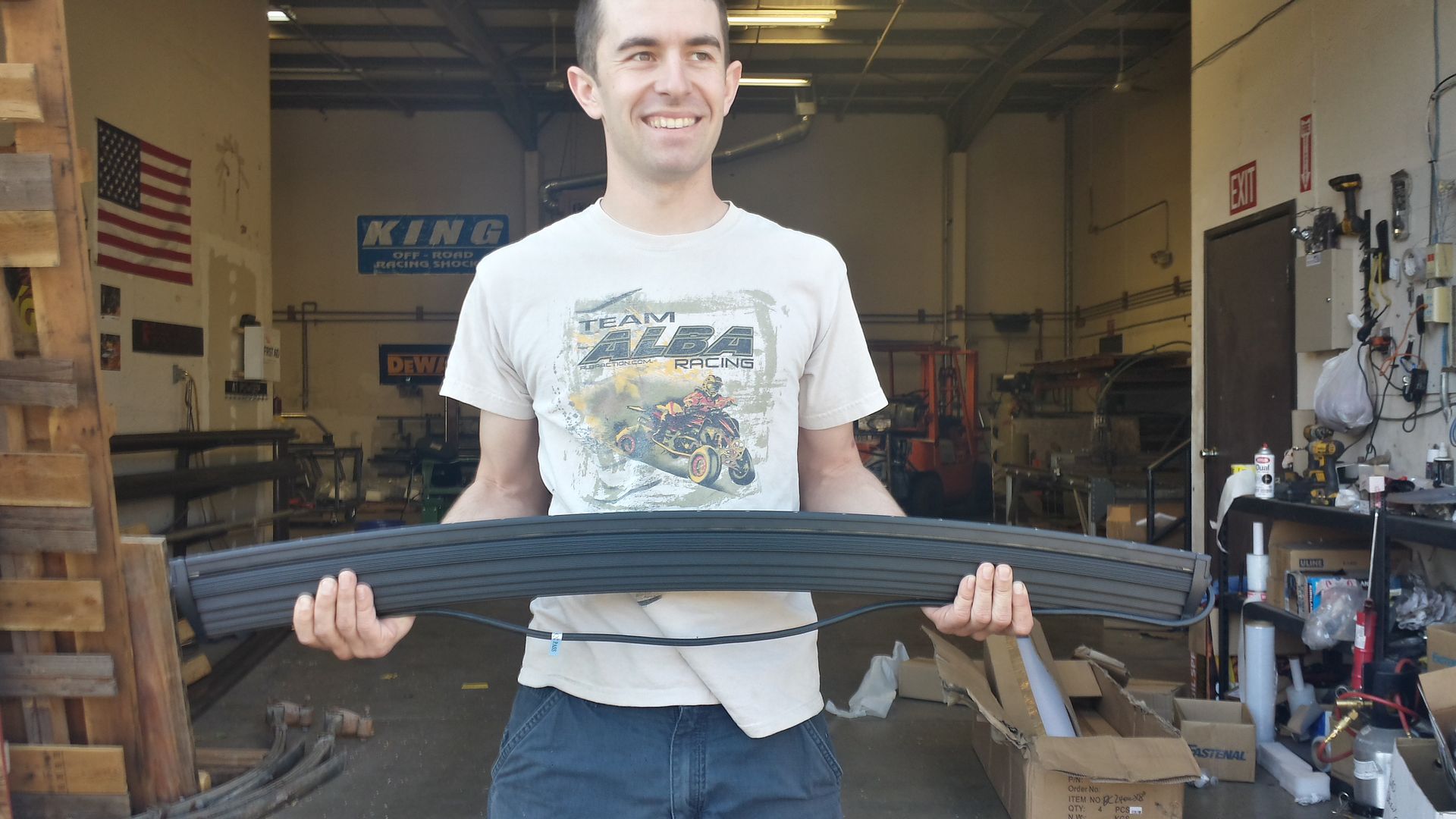 DR22 combo pattern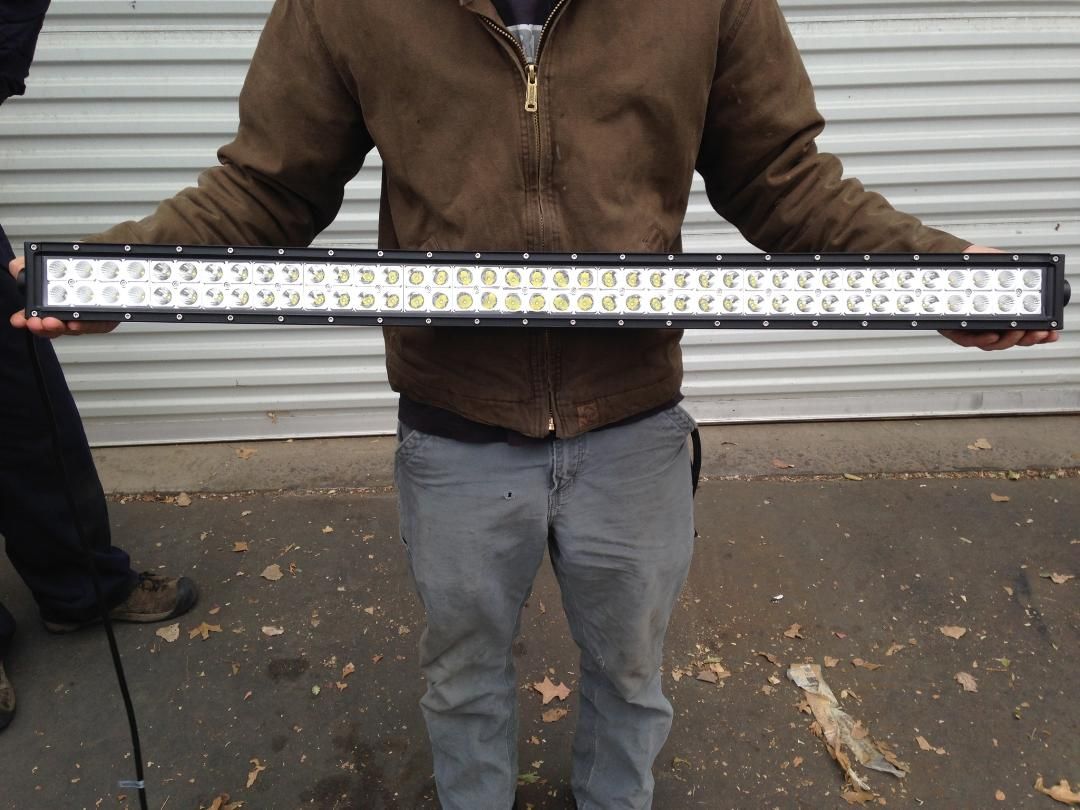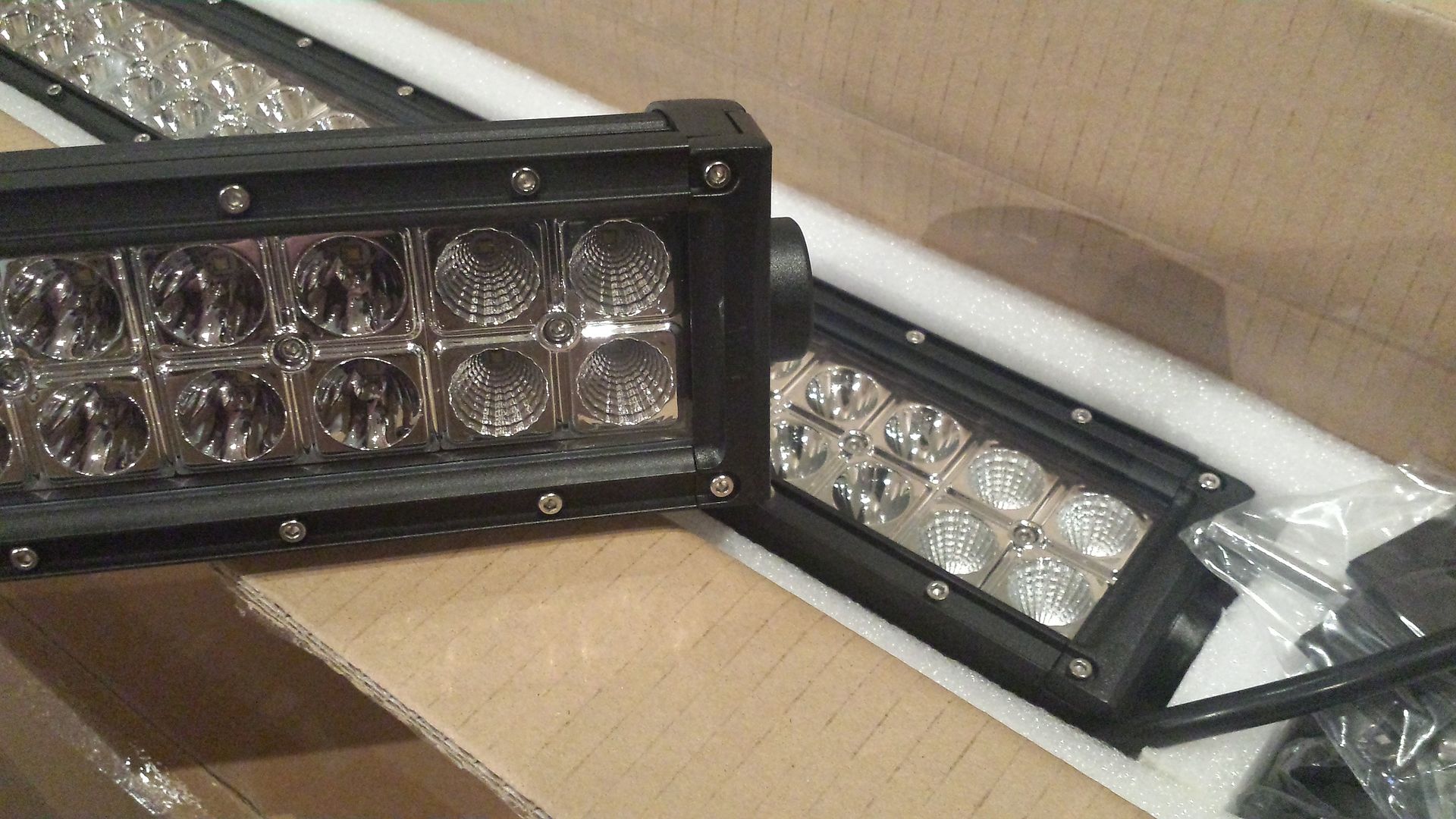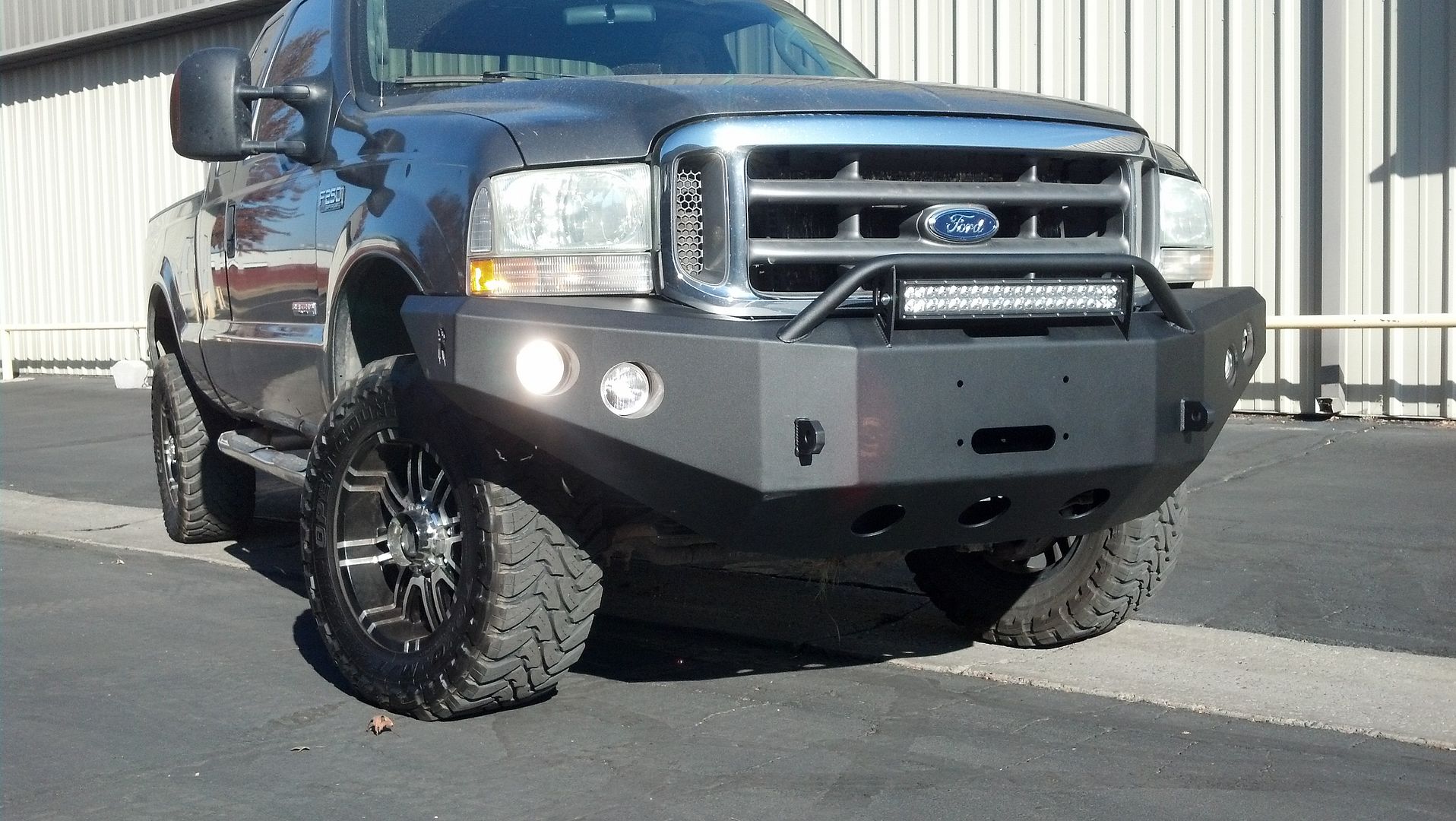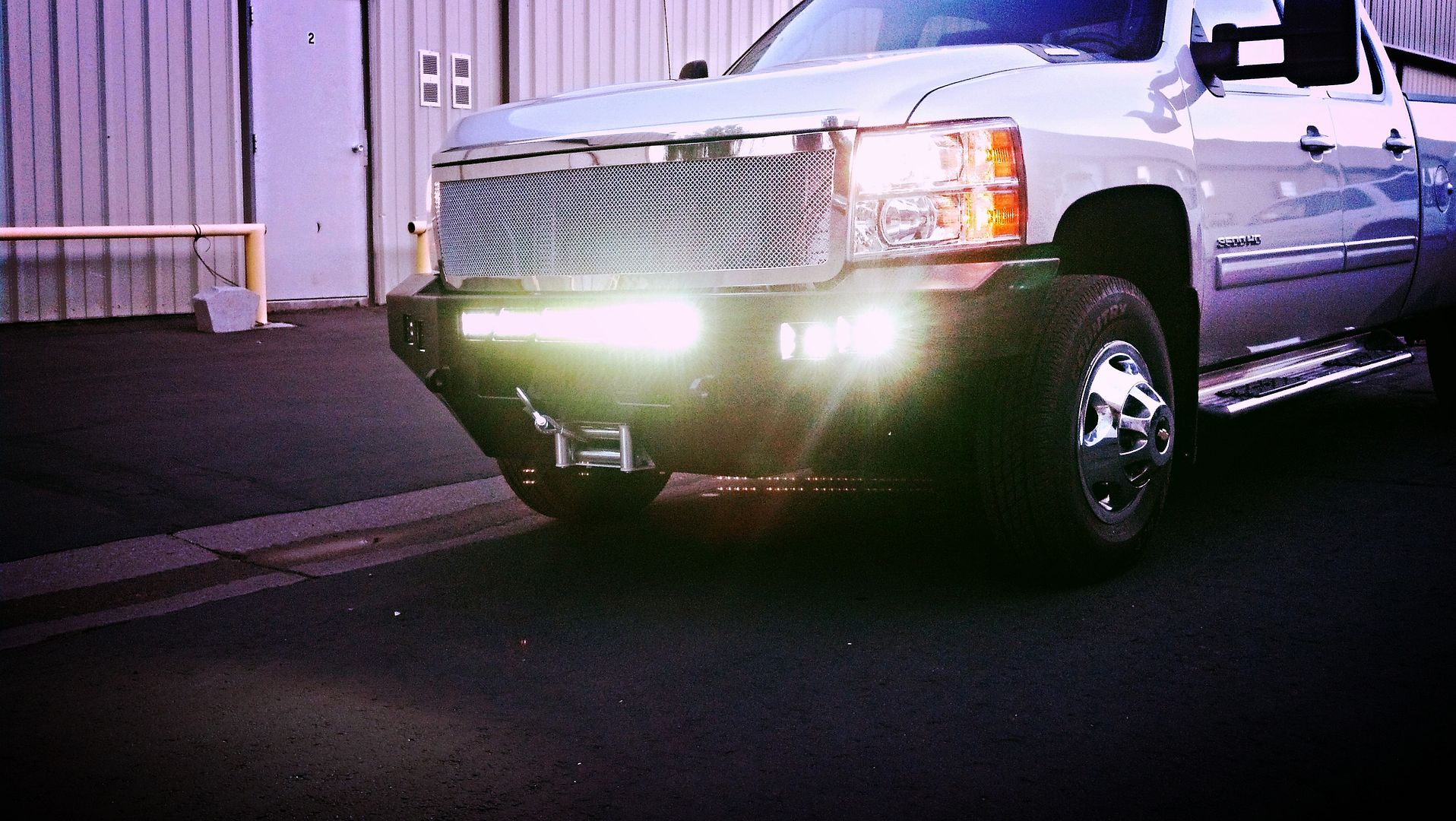 DR22 trail shot on an employee's Jeep TJ
DR22 output comparison, mounted on my front bumper.
Pics in order: stock low beam, stock hi beam, and finally the DR22 LED bar. My stock lights have been upgraded to Silverstar ultra bulbs too.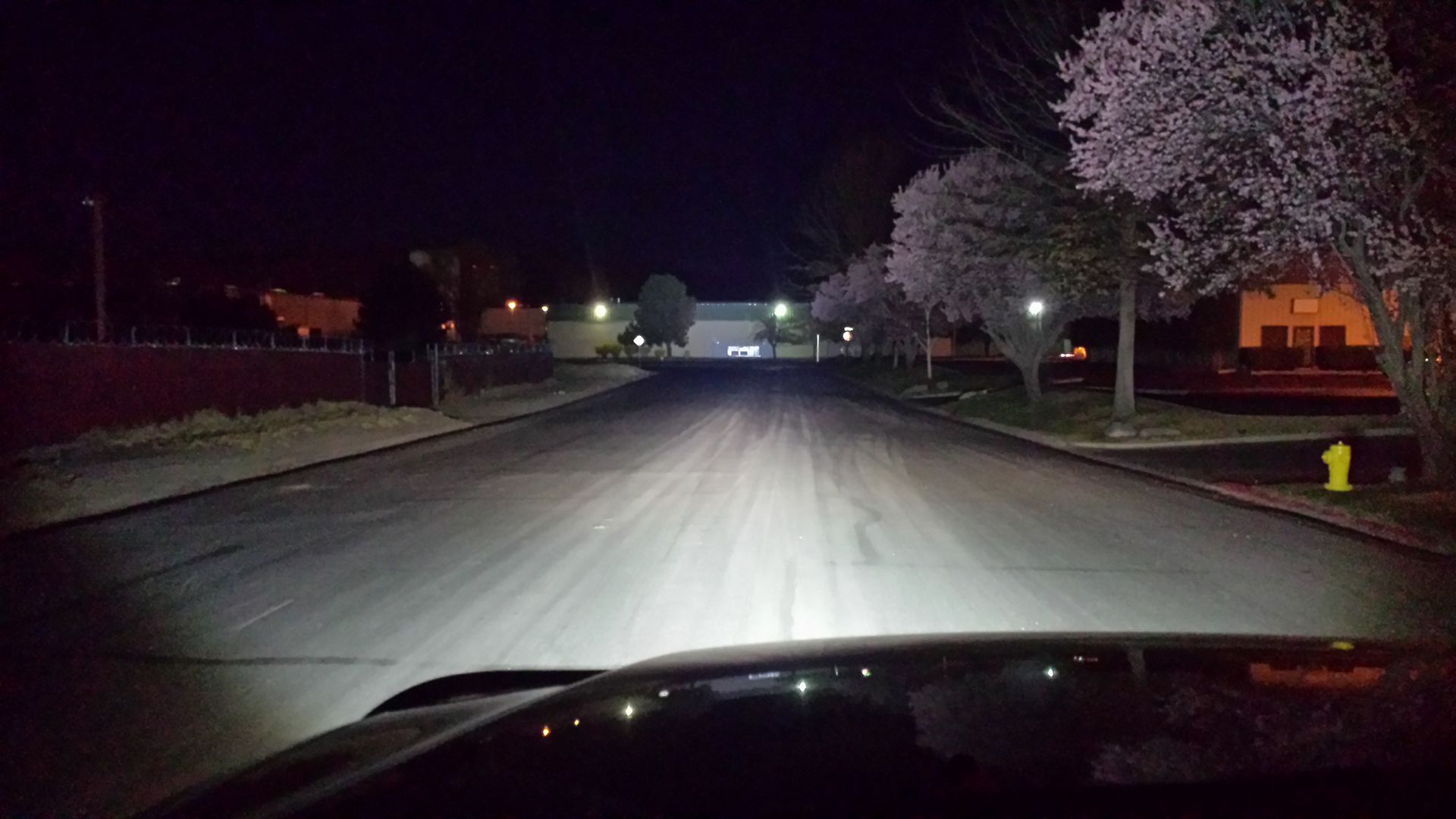 Current orders:
1. RDR42 (myself)
2. RDR52- Nathan A.
3. DR52- Joe P.
4. DR32/DR12- Matt W.
5. DR22- Zane B.
6. RDR42 w/roof mounts- Matt-M
7. Qube2 Flood pair- Jason B.
8. DR22- Tom E.
9. DR12/Qube3 pair- John S.
10. Qube3 Pair- Angel O.
11. RDR42+ roof mounts- Michael K.
12. RDR52+ Dodge roof mounts- Trevor F. (local order)
13. RDR42+ roof mounts- Parker A.
14. F-Qube2 (2 Pr)- Marion B2B
15. DR12+ DIY bumper- Smith Auto
16. DR22- Rob S.
17. Qube2 (pr)- Nicholas D.
18. Qube3 (pr)+ Qube2 (pr)- Matthew C
20. Qube2 (pr) Christopher H.
21. F-Qube2 (pr) Eric C.
22. Robert H. RDR52
23. Christian P. RDR42 + 96-04 roof mounts
24. Lowell B. RDR42 w/ 05+ roof mounts
25. Kevin S. RDR42 (+ poss roof rack compatible mounts)
26. James N.- Qube2 pr
27. Gary P.- Qube2 pr
28. Timothy S.- DR22
29. Anthony B.- F-Qube2 pr (add into HC rear order)
30. Sean K. -DR32
31. Brian E.- RDR42 w/ 05+ roof mounts
32. James M- DR32
33. Jeremy W.- DR32
34. Justin L.- DR22
35. Matt. A.- Qube3 pr
36. Shay W.- Qube2 pr
37. Steve L.- RDR42 w/ 05+ roof mounts
38. Lowell B.- DR32
39. Jeff O.- DR22, Qube2 pr, Qube3 pr
40. Wesley P.- F-Qube2 pr
41. Josh M.- DR22
42. Jason B.- RDR42 (+ special 96-04 roof mounts)
......
RDR: 12
DR: 16
Qube: 36
All Rampage lights feature a 1-year warranty against dead LEDs. Warranty excludes: damages from neglect misuse and abuse, faded or chipped finishes or rust, misaligned led elements within reflectors. No returns or exchanges any Rampage LED lighting unless light is DOA, in which case a warranty replacement will be sent in exchange for the broken light. Warranty exchanges/repairs to be sent back at buyer's expense, shipping back to the buyer from us will be covered as part of the warranty.