Searched, and couldn't find a thread dedicated to turkey hunting. I'm really itching to get in the turkey woods, IMO the best time of year to be in the woods. Springtime is when everything is coming back to life. Very uplifting time of year. You could say it is my #1 passion in hunting.
I have lots to put in this thread, but I'll just start it with some admiration, respect, and education about these beautiful creatures.
'Fowl' weather is coming!!
The Eastern
The Merriam
The Osceola
The Rio Grande
The Gould's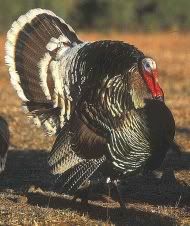 If you want to learn about the different sub-species, here is a good place to start:
http://www.basspro.com/webapp/wcs/stores/servlet/CFPageC?storeId=10151&catalogId=10001&langId=-1&&mode=article&objectID=32138&cat=&subcatID=0&obj ectType=article