Make:
LaRue LT15/Stealth w/Shilen ULTRAMATCH Barrel
Model:
MK12 Mod1(ish) clone
Caliber:
5.56/.223
Location (city or county):
Oceanside
Price:
ASKING $2000(obo)
Will ship (Y/N):
We can discuss that
Other info:
This rifle is built with all LaRue Chassis parts including LaRue billet lower(
currently all-but unobtainable
), LaRue billet upper and LaRue 12" handguard wrapped around a Shilen ULTRAMATCH SPR profile(18"/heavy) barrel chambered in .223 Wylde(about as nice a barrel as you can get for an AR). You will be very hard pressed to find a tighter package than this. This thing is truly one-of-a-kind from a core rifle standpoint.
LMT BCG
Pistol Grip is a Sierra Precision SPR
Geissele SSA Trigger
B5 SOPMOD stock
Surefire MB556K brake
Vamfire VLD convertible mag lock(Meh...)
Also includes TWO 20 round Pmags with Ranger plates, 2 KAC rail covers and a Magpul handstop kit(or whatever it's called).
This is more or less the epitome of the "Gucci gun."
Rifle is lightly used and has the associated marks and scratches here and there. Receivers are spotless. Round count is south of 1000.
Everything is great. Groups are great. Has only seen Hornady 68 and 75 grain match rounds.
Since we have a rifle length gas system on an 18" barrel with a standard carbine buffer, the recoil is already pretty light, even for an AR. Once you insert the Surefire brake into the equation, you get what amounts to a light push straight back into your shoulder with no loss of sight picture. Pretty durned impressive
, and given what we just went through with the panic, this is a downright bargain for what it is.
Pics:
Please note: sights, optic and bipod are not included, but I will sell them as well if buyer is interested.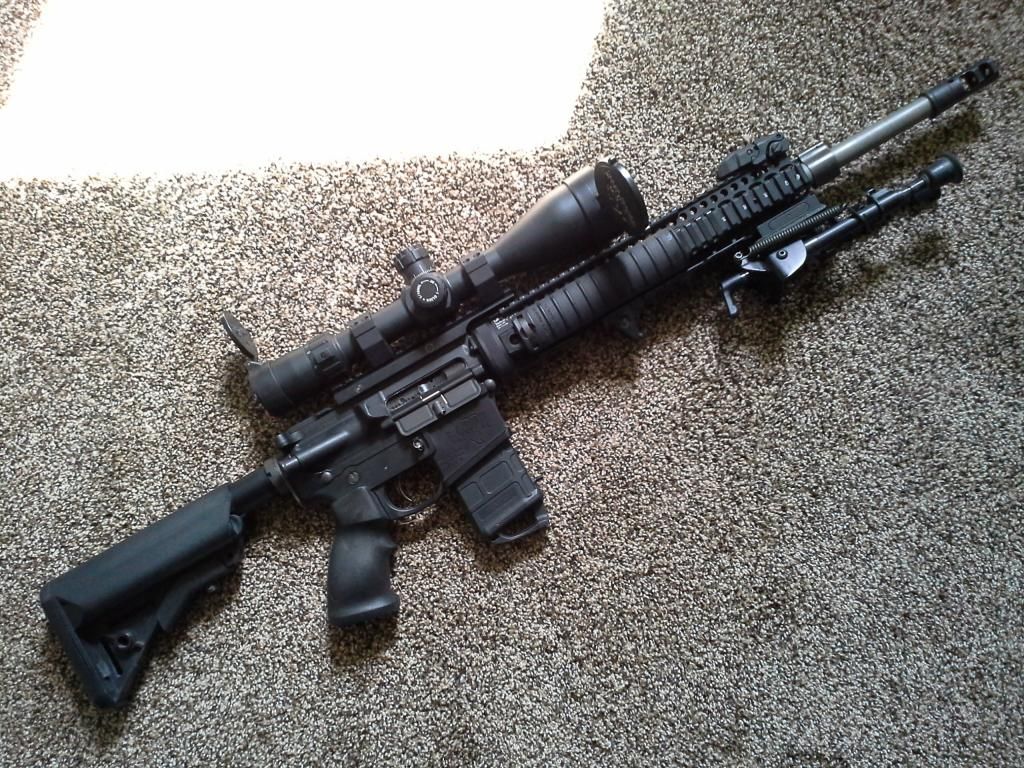 Everyone seems to be curious as to why I'm selling. I just don't feel like it fits my needs anymore as I've gone a different direction with my shooting. I have a standard M4 carbine with an ACOG that does what I need it to do. As much as I love this rifle, I simply don't shoot it enough anymore to justify having it and don't want it to sit around getting stale when someone else can be putting it to good use.