Ever wonder what to do with the POS holster that comes w/ your fine XD handgun? Well I've figured with the height of center console I'd be able to have a full size hand gun up-right in it. The following pictures are what I did.....First I got 8" cable ties and 1" X 1" adhesive cable 4-Way mounts. They are rated for 75 lbs tensile so it should be strong enough. And of course the POS holster that comes with the XD.
Drill a hole about 7/32 on the bottom/center of the Holster. Also, I'd loosen the allen screw on the holster so that the fit is not too tight.
Then loop 2 cable ties and the 4-ways on the top of the belt-loop rails and 1 on the bottom looping it through the drilled hole. This will give you stability both horizonally and vertically. Pull the cables tight and make sure that the mounts are flush.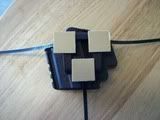 Place the gun in holster (UNLOADED!!) and kind of line it up where you want it. I have a Service and Sub-Compact and I set it up using my Service so I could use both if I wanted. My front of slide of the service almost touches the bottom....I put a small writing tablet (3/16") under it so it would give me a little space.
Then take off the backers on the pads and press hard against it to make sure its secure.
Picture looking down.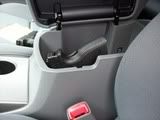 Picture of side view.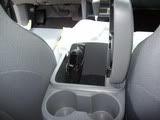 From the back seat.
I suppose you could do this using similar guns/holsters....you'd just have to modify it based on the holster.
I played with the set up a bit and it works pretty good....with the way you sit it's almost like having it on your side.