So a bunch of you have asked me:
"HomerTaco, how do I take the grille apart???"
My response:
"Watch this Video!"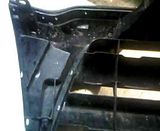 I filmed this with my Blackberry so the resolution is not that great, but I think y'all get the point...
Just grind down all the melt points & the inner insert will separate from the outer grille.
I needed two hands to separate it...
(Thanks to Oswego for his old grille!)