****UPDATE****
I discovered something else... There shouldn't be any issues with the front colour surround coming off as I found out what happened when I took it apart.. It was my fault
During my S/C install I broke the passenger side black circle clip, and forgot to ever replace it, the vibes from the high speeds ended up breaking the passenger side lower rectangular clip. both clips broken cause enough movement to slowly tear off the colour surround from the passenger side
****UPDATE****
Alrighty, so I've discovered a problem structurally with the stock grills, looking for your input on how to reinforce the grill, mostly because I don't want the same thing happening to zee sexy custom one.
What Happened: My Tacoma frequents speeds slightly higher then your average Tacoma, Always on closed course roads in Mexico, and hypothetically speaking usually in the 200+km/h range. So the wind forces cause such a beating on the front that it actually peeled off the front colour surround from the back structural plastic section. (I think there's like 25ish connection spots)
At said hypothetical speeds, the top left (passenger side) started to peel, I heard a loud snap and as I started to slow I heard SNAP SNAP SNAP like a dozen times in a row, until finally I came to a stop, and the grill colour surround was only being held on by about 4 support points on the lower right (drivers side)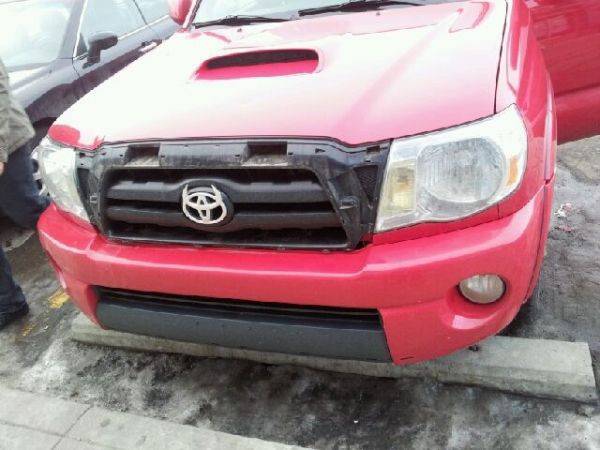 I've heard of this happening a couple times over on X-Ru.com as well. As you can see in the pic below all the snapped bracing points. I was thinking using a little bit of hot glue on all the points since I'll never have to actually seperate the grill and surround piece. Just wondering what your idea on this would be, I don't want to accidently ruin the good one.