Here's why:
I had been toying around with the idea of developing a new fender flare for my second gen.
There are limited options for what is available as an alterative to the stock flares - Basically Bushwhacker "pocket" style flares and a Canadian outfit known as "Jungle Flare"
I have misgivings with both from research and also having the opportunity to see & feel both products first hand.
For the Bushwhacker
:
My main complaint is the stupid exposed bolts! For shits sake they are only on there for looks! They serve NO OTHER FUNCTION! Now - I don't think the look bad... But they should still DO something.
This flare retains the stock inner fender mounting holes which is not compatible to my plans...
However - they are ABS thermoplastic construction, which is essentially the same as our stock flares - that is an advantage I'll explain later.
For the Jungle Flare
:
The issue here is with fitment. They are a fiberglass flare and the finish I saw was nice but the fit was not 100%. Being fiberglass, modification of these to suit my plans was not an option.
For many Members who have upgraded to a larger-than-stock tire (bigger than 265/75 r16 or equivalent) the issue of
rubbing
and
clearance
comes into play.
Some have chosen to modify the stock flares to compensate for needed space (n0rth, maxmillion2345) some have chosen to eliminate them altogether (Mr.Grimm).
I have nothing but the utmost respect for these members builds
and it was through reading them that I started to formulate a plan for a different solution.
I recently purchased a set of Bushwhacker flares from another member.
Now the fun begins.....
On a recent trip to RC I had a rogue tree attack me for no reason...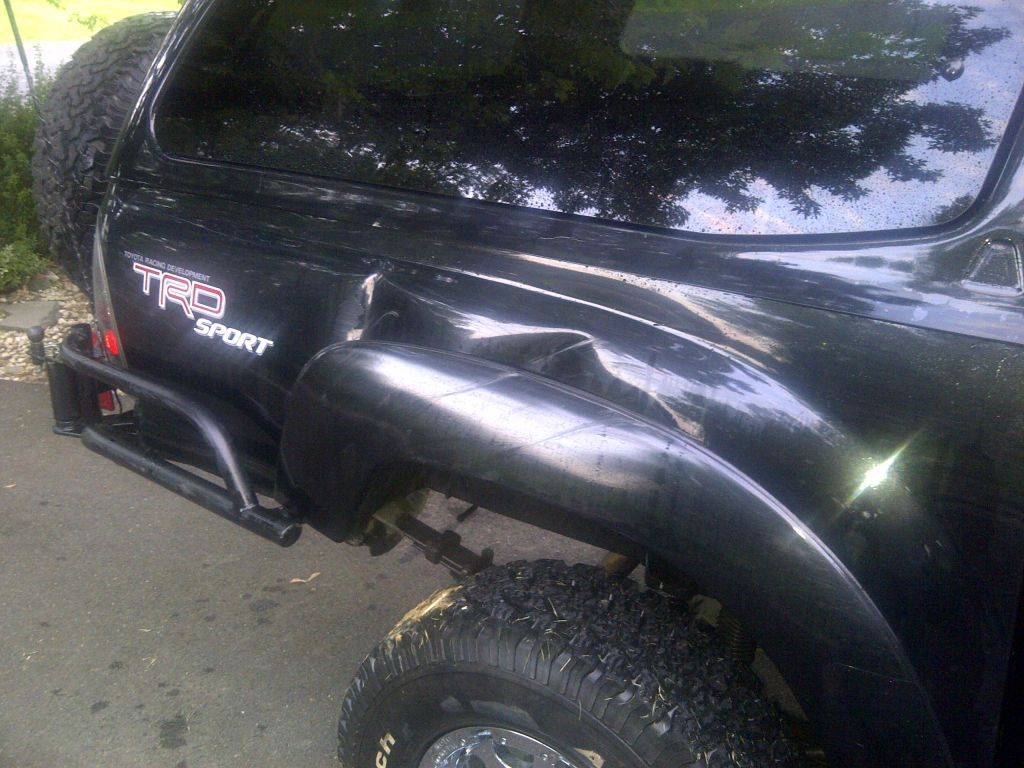 Now... instead of looking at this as a problem, I chose to see it as an opportunity!
Now I have a valid excuse to Mrs.Taco for the purchase new fender flares
!
My current suspension setup is as follows:
Front: 5100's set at 2.25 with stock coils
Rear: 5100's and a non-tsb leaf pack w/ Wheelers 3leaf Progressive AAL
Nothing to crazy - just a couple inches up from stock.
I want to go to 285's
I obviously have no problem cutting up the truck....
End Result of Thought Process:
Fabricate a custom fender flare that mounts from the outside and allows for removal of approx. 2" of sheet metal off of the stock fender.
Disclamer: ***This is simply an experiment at this point still...***
So far, here is where I'm at:
Front passenger flare with silly 2012 bumper piece removed: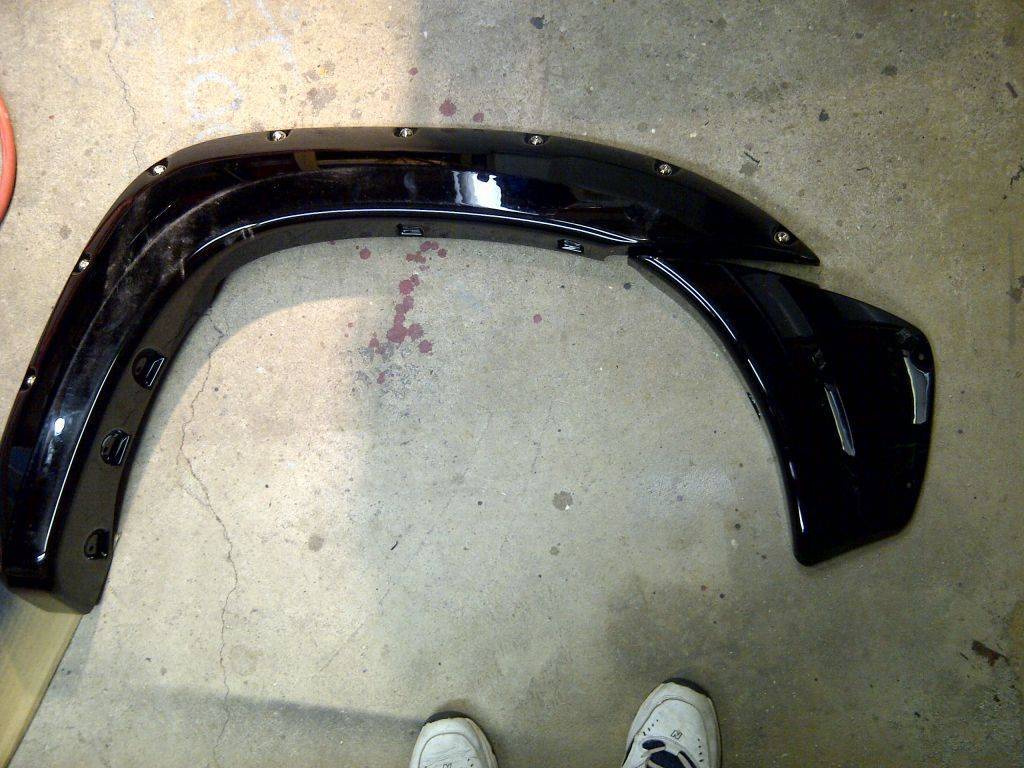 Here are all the silly "show-bolts" from both front & rear of one side...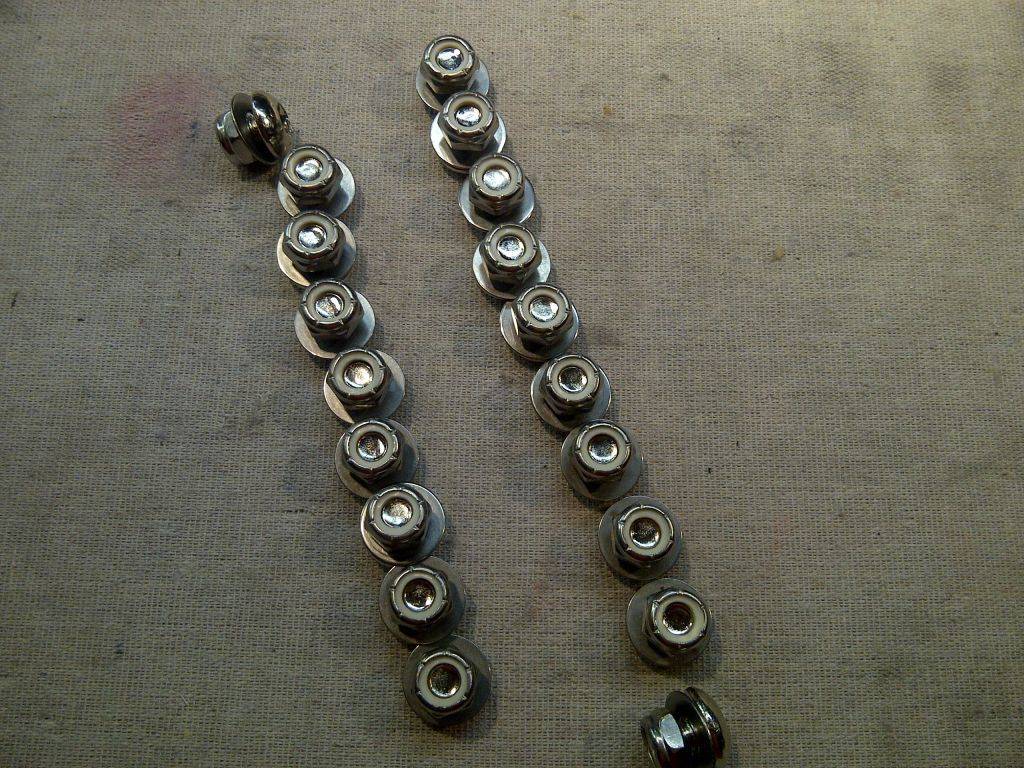 Side by side comparison of the stock passenger rear flare (left) vs. the Bushwhacker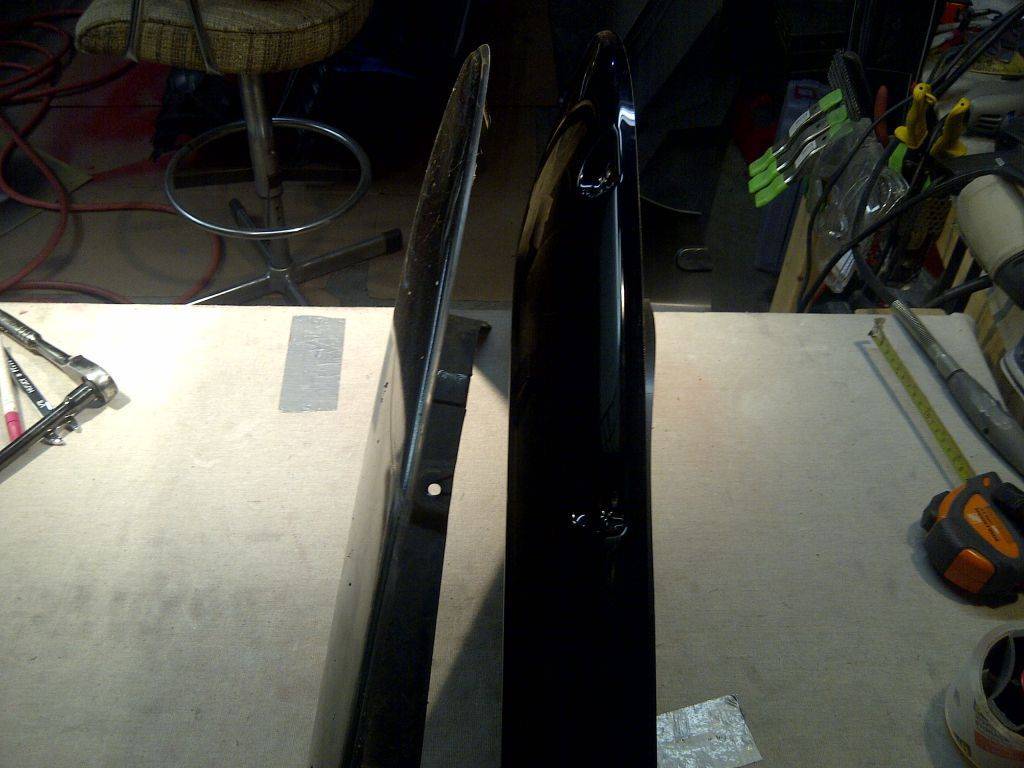 My preliminary marking on the back of the flare for what would be removed: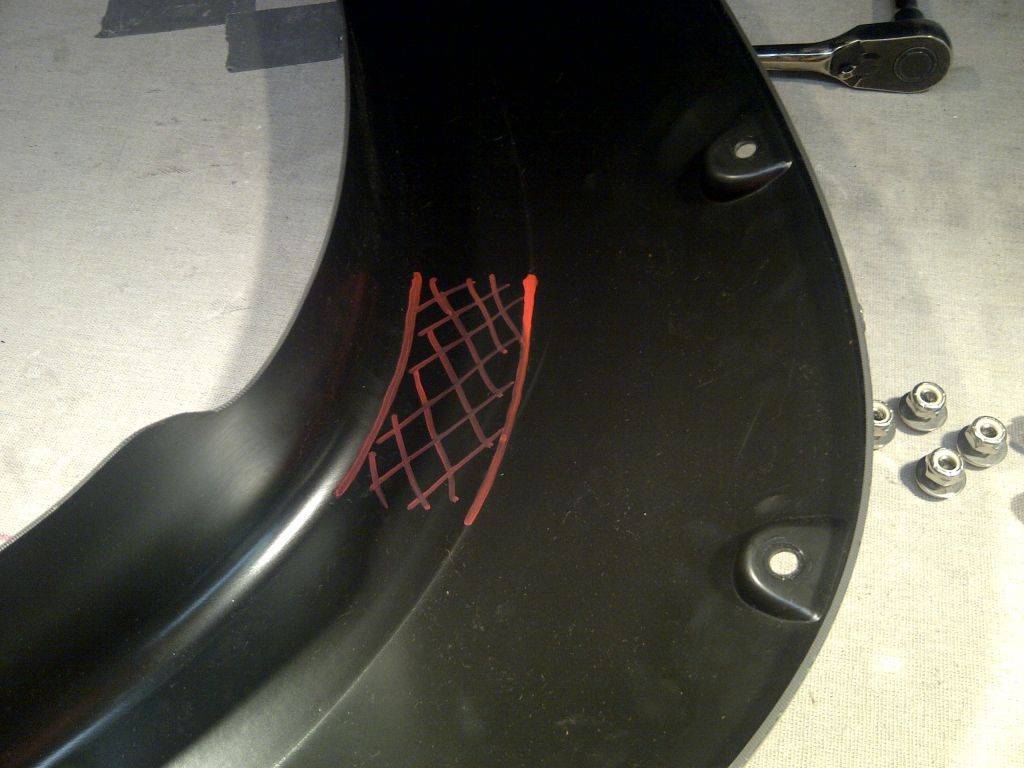 My goal is to retain the extended coverage of the flare over the tires but add clearance in the fender well itself.
I intend to seek out alternate hardware to replace the "show-bolts" and use them to fasten the flare from the outside. This would eliminate the need to fasten the flare from the inner fender which I want to modify anyway.
I've become rather adept at plastic fabrication. I've built a couple of grills you see...
This is a work in progress and I've got some time off due to the recovery for surgery so I intend to make good use of it. (besides building grills -I'm still doing that!)
I'd welcome any feedback, tips, or questions.
As with some of my other threads here on TW - I'm here to learn things too.
More to come....
Thank you,
~ Craig