So I installed hella 500 black magics behind the grill and followed this guide to a tee:
http://www.tacomaworld.com/forum/lig...ow-w-pics.html
The only difference that I did with the wiring of them was I drew power for my switch from the fuse box in the cabin of the truck using an "add a fuse" pictured below:
I put the add a fuse into the 10A - Tail slot.
So this was my first time really wiring anything so I did a lot of research and followed all the instructions as closely as I could. Everything has been fine for the past couple weeks but there was the odd rare occasion that I thought I could smell a really faint burnt/dusty smell. Visually all the wires looked fine and everything was working fine so I chalked this up to my paranoia.
The fog light housings I ordered arrived from
ebay
so I poped them in a couple nights ago. Truck is all prewired for the fogs so it was a really easy install with a stock OEM switch and OEM Denso relay for fuse box under the hood. Only add on to this was the DDM raptor 35W, 3000K kit (it was a really easy plug and play add on though).
All is working fine both hellas and the fogs.
Today I go to fire up the truck after its been parked in the cold for about 9 hours and it was really slow to turn over. I probably could have got it to turn over on the first attempt if I held on a little longer but didn't and it fired up on the second attempt after some noticeable delay.
Whats the problem the new OEM fogs with the DDM kit or my wiring job on the hellas?
I assumed my wiring job so I have disconnected the power to the switch and the power to the relay from the battery until I figure things out. I have started the truck a few times since coming home and it fires up as normal and all the lights worked fine up until I disconnected the power to the hellas. I didn't want to mess with a slow leak until I get some feedback on this. Does it sound like a short of some sort?
Thanks in advance for feedback!
If it helps here is a rough pic of how I wired everything up: (ground from switch is in cabin behind kick panel not though firewall as shown in picture)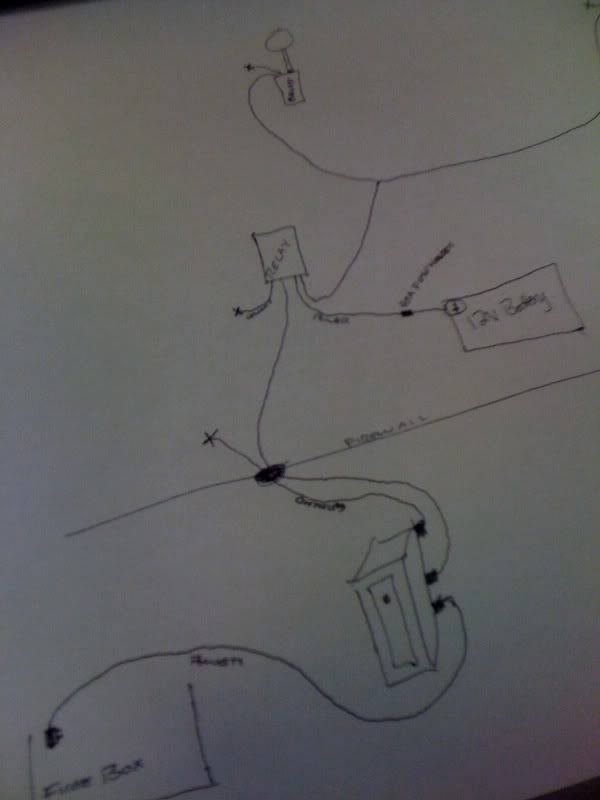 Used this switch: