Just finished installing my LED map and dome lights for my Taco. I searched around here before doing the install and couldn't find much on how to remove the map light bulb. Indeed they are a PITA to remove because you can't get enough grip on the tip of the bulb to remove it, however with the right method and tool you can get it out pretty darn easy.
Here is how.
1) Get a flat screw driver with a nice sharp edge.
2) Next get painters tape (what I used) or electrical tape and wrap the end of the screw driver but be sure not to wrap too much or you won't have enough sharpness to pry into the edges to take the cover off.
3) To pop the cover off, just find one of the edges that hold up the panel and pry under it and apply a little pressure and it will pop out. Do not worry about scratches because that is what the painters tape for. Once you pop the cover off it will look like this inside. Sorry for the bad picture....
4) Now is the sort of the tricky part. What you will need to do is change to a smaller type of screw driver head. I changed to a 1/8 , and wrapped it around about 1 1/2 times with painters tape. You want to take the screw driver head above the chrome reflectors and apply pressure downwards against the bulb while tugging on it with the grip you can get with the other hand and it should pop right out. I used a flashlight to do it at night but i'm pretty sure you should be able to see it in the day better.
5) Put the bulb in (Sorry no pictures of that, its really straight forward. They go in the same way they come out.
6) Put the cap on and your done.
Dome Light-
This is so easy it doesn't even need a DIY. All you need to do it take the painters taped screw driver head and find the prying clip mark. Get under with the screw driver and pry. Use force and it will come off, be sure not to pull so hard cause the other end has wiring attached along with a clip. Just be nice and easy.
Here is the finished product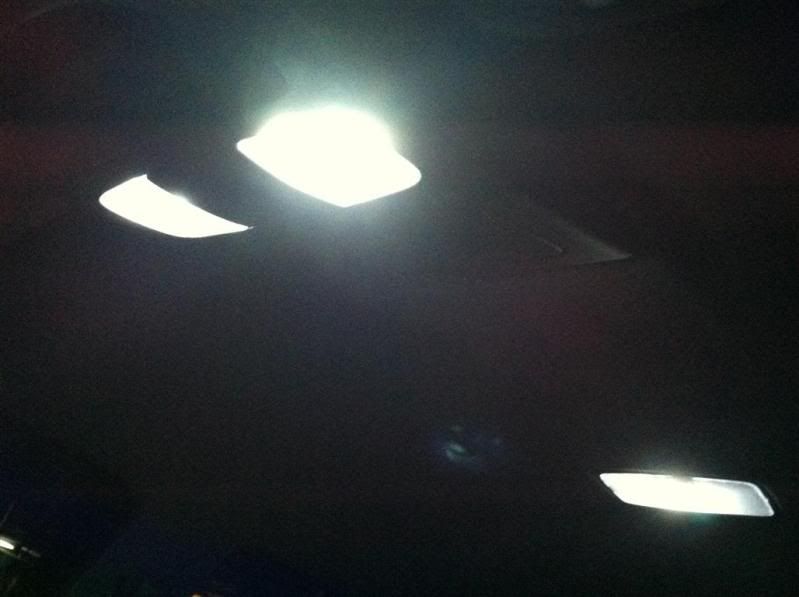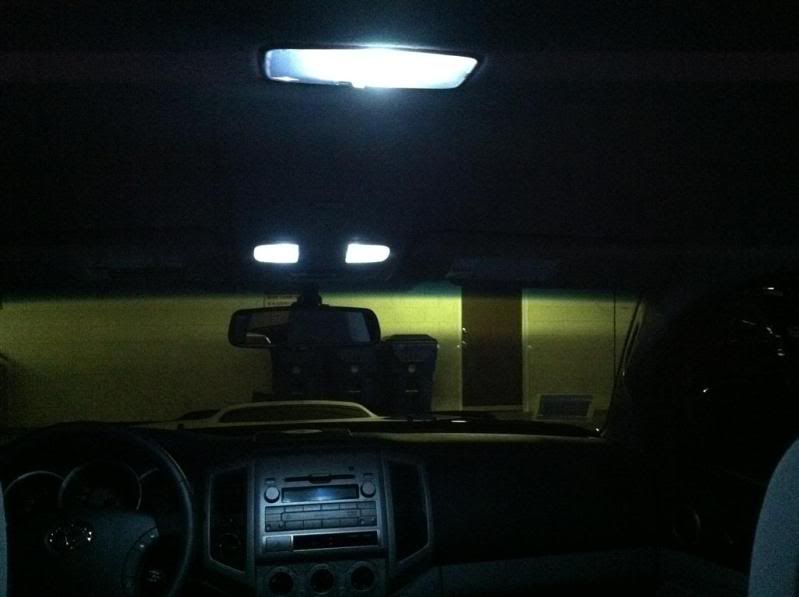 Lights Purchased from:
http://www.superbrightleds.com/
Map Lights - 2x WLED-x5 LED Wide Angle LED bulb (White) 194/168 Wedge Bulb
Dome Light - 1x 4410-x9 LED Festoon bulb (White) 194/168 Wedge Bulb
The lights match well in color and are bright enough. I like them because you won't blind your passengers and they look cool too.
Good Luck all