Since I've thrown sandbags in the back for the winter, I've adjusted my headlamps for the season.
According to the manual, the lamps should be angled 0.4 degrees down from horizontal. They mention a .823" drop for a distance from wall of 9.84', of course conversions from metric.
I laid this out in Cad based on the 0.4 degree angle to find the distance for an even 1" drop. the result is 11.94' (11 15/16") which is close enough to 12'.
So that's a little more manageable, 1" drop = 12' away.
Also, the small hex adjustment screw requires a 4mm socket. Turning towards the drivers side(counter-clockwise) lowers the beam, turning towards passenger's side (clockwise) raises the beam. It is also recommended if you need to lower the beam, go past the point and tighten back to desired level.
***01.27.12**
Since this post, I found I had to adjust the beams to slightly lower than 1" at 12' to effective illuminate the road due to a 3" lift. The above works great for non-lifted trucks.
On the hex head, the 4mm fits well, however, I had to scotchbrite the hexhead a little to knock some rust off to fit the socket properly.
Driver's side headlamp adjustment screw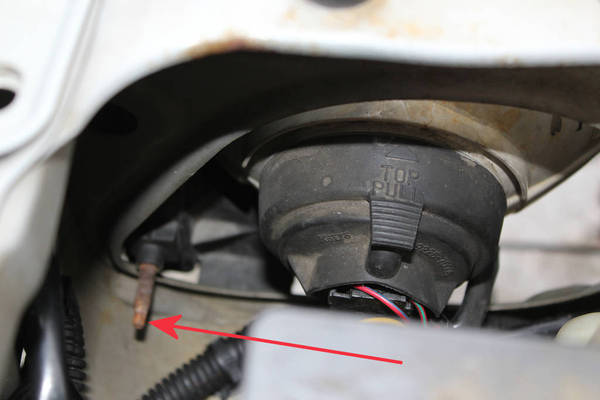 Passenger's side headlamp adjustment screw
A stubby socket wrench like this works well.