UPDATE ON PAGE 2. USED RIGID LED BARS NOT FLEXIBLE STRIP. FLEXIBLE STRIP FAILED AND SAGGED IN HEAT
I saw on here somewhere that a member used a waterproof flexible strip of 300 LED's (16 feet) and put them under the tie down rails on his tacoma... soo i found the same or similar ones on
Ebay
and started the project. they were $12.50 shipped. (thanks the heads up member... if i remembered your name i'd give you credit!) Edit - it was RAPR i stole the idea from.. thanks!
THESE.
http://www.ebay.com/itm/New-Cool-Whi...item2a20a25922
i then bought 20 feet of velcro from walmart and trimmed it to fit on the lights and rails.. that way if the LED's fail i can just replace them with another $12.50 strip.
I ran the power from the positive side of the battery with a 10amp fuse inline.. and the negative i grounded to the frame just inboard of the drivers side rear wheel on the frame (grounded the switch and lights there). Everything else is self explanatory. Wired them to a waterproof off/on switch with LED indicator. Where the lights bend around the front corners i put black wire loom around so it didnt look sloppy. Ran the wires from the LED's from the drivers side over the plastic push in..and into the tail light area.. (you can seeit a real little bit over the moose bottle opener. Before putting velcro on the bed rails make sure they are good and clean. i used 3M wax/grease/adhesive remover to clean them good. Also the LED's are cutable (the tail end).. i probably cut about 2 feet so there would be plenty to do a long bed.
used this switch (bought 2 incase one was bad)
http://www.ebay.com/itm/170712257652...84.m1439.l2649
Lights = $12.50
Wire = $5.00
Switch = $2.50
Inline Fuse holder/fuse/random connectors = $5.00
Velcro = $15
Sooo great bed light set up for $40.00 not bad at all.
no lights
lights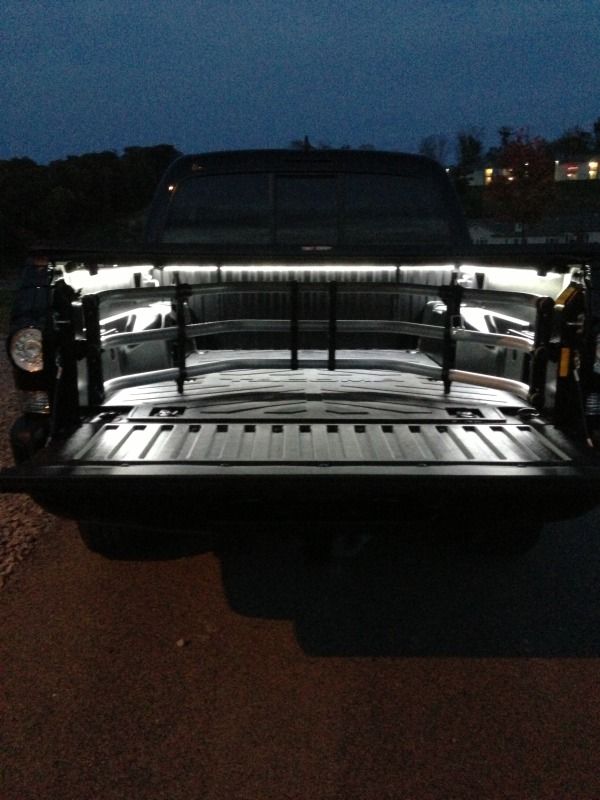 switch