I'm doing this write up because, although there is plenty of info and helpful people on TW, I was still struggling with my retrofit and having to ask questions. I found the TRS instruction helpful, but lacking in a few areas and some of the materials have changed since they wrote them (as well those are general instructions for all vehicles, not just the Tacoma). I hope this is helpful and will instill some confidence for those who are hoping to do this themselves. Best of luck
-Micah aka logcabin
I know it seems like a lot of steps below, but don't worry! I just wanted to be EXTRA detailed. You can skim through and get the general idea.
Now here we go-
I purchased a D2S retrofit from
The Retrofit Source
(TRS)
Let me just start off by saying a few things:
1. It is not too difficult to do this project, just a little time consuming.
2. If you can't have your truck without lights for at least a day or two, I would recommend buying some cheap ones and throwing those in while you work on your retrofit. I would recommend
partsgeek.com
because they have some pretty cheap lights you can throw in for a few days for about $45 per side.
3. IMPORTANT: I am in no way responsible for anything that might happen to your truck, car, vehicle, etc. This is meant has a helpful resource so you might have an easier time than me. Don't break the crap out of your headlights and then say, "F*cking logcabin told me to do this sh!t and said it was easy… screw him." I am not responsible for you buffoonity and/or foolishness.
4. I am also sorry I did not take pictures of my own project. I will be pulling pictures from sources I can find. If you see a picture on here that you want taken off because it is yours, please PM me and I will gladly accommodate your wishes.
5. If something is unclear, you think a direction should be changed or is wrong, or need more clarification, feel free to PM me.
So lets start off by going over what is in the box:
•Wire harness- should be in a clear bag and is a jumble of cords. Each cord end should have a small label around it to identify where it goes.
•Bulbs- in a box with a clear front so you can look at their prettiness
•Ballasts- should have two boxes, one in each with a small metal bracket and a little baggy with bolt, nut, and locking washer.
•Lenses- two boxes, one in each.
•Shrouds- in bubble wrap
•Two plastic black rings- these will help mount the shroud to the lens housing
•Maybe have:
oResealing glue- black coil of goopy rope stuff
oA small bag with half a weatherproof plug with wires coming out of it (don't know what this was for, never used it)
What I planned on doing:
•Putting in the retrofit
•Doing the black headlight mod (aka BHLM)
•Restoring the clear outer lens on the headlights cause they were getting crappy and yellow
Other helpful resources:
I pretty much used the instructions on TRS's website. The PDF can be found
here
.
What I bought:
•Ballasts- Morimoto 3Five 35W
•Bulbs- Morimoto 3Five 5000K D2S
•Halos- Nope: they break easily, sometimes even during installation. I was advised not to bother
•Projectors: LHD (North American Standard)
•Re-sealing Glue- Yep
•Shrouds- Apollo
•Wire Harness- Relay: H4/9003→ this is the one we need for our Tacomas
So lets get started:
1) First, we have to take the headlights out of the truck. There are more detailed
threads
on how to do this, but here is a quick summary.
2) First remove the Grille by unscrewing two screws up top (10mm ratchet or Phillips head) and undoing the clips on top and behind the grille.
3) Then start unscrewing the headlights out. There are the same 10mm Phillips head screws that you need to undo, but there is also a hidden 12mm screw that you will have to go up and under your truck to get. It is between the fender and a support. I first found it by feeling the threads on the screw and then figure out where the head of it was. Don't forget to unplug everything and take out the bulbs!
4) After that is done, take your headlights to the kitchen or living room, turn on the TV or some music, open a beer, and start taking everything off the back of both headlights. I WOULD RECOMMEND TAKING A PICTURE FOR YOURSELF OF WHERE EVERYTHING GOES SO YOU CAN PUT IT BACK ON LATER IN THE RIGHT PLACE! At this point, you might as well do step "e" as well.
a. There should be three small screws along the curved side. Remove those (by this point we haven taken anything apart yet)
b. Remove the black round top, and the similar grey one (remember which one goes on which for putting them back later)
c. Remove the funky looking black thing around one of the two adjustment screws
i. Will go over more about the adjustment screws do later. They have a normal 8mm ratchet top, but then it flattens to a disk thing. Note that these DO NOT come all the way out. Just leave them be for now.
d. Pull the rubber boot off too, make sure the bulb and stuff is out. You can also take out the bulb spring as well.
e. Now preheat your oven to 265F. Once there, throw you headlight in on a piece of cardboard. I put mine in as far from the element as possible, and put the lens side UP. I was just thinking that if anything happens to deform from sitting on the cardboard/metal grating, easier to maybe fix the grey backing then the clear giant lens that everyone sees.
f. Set you timer for 7 minutes and then grab some flat head screwdrivers, maybe a box cutter or razor blade, and wait.
g. Once they are ready, take that sucker out and start prying the two halves apart. Watch out for the clips around the side (cant miss them) and just work around the headlight. Some tips:
i. I tried to scoop out as much as the old glue with my flat head before really trying to pry the to halves apart.
ii. If it starts to get tough, throw it back in the oven for 2-3 minutes. I put mine back in about 3-4 times.
iii. Don't think, "I'm a man/woman who is buff… I will do this with pure muscle!" cause my buddy nearly broke the grey part in half like that…
iv. Be patient, this was the most frustrating and time-consuming part. This is when you beer will be your best tool
h. Once that is apart, you will have the grey thing with the reflector bowl in it, and the lens and chrome molding still together.
i. First, take the two adjustment screws still on the back of the grey molding, and loosen those until the bowl comes out. Watch out for the plastic clip that also helps hold it in place.
j. Now take the lens/chrome combo in your hands. Take out the screws and pop that chrome sucker out (us a little muscle and take the taps out of the other end). You can, if you like, paint this chrome thing if you like. This is what is painted for the BHLM (don't forget to pop out your turn signal and parking lenses too- its very easy just to push the tabs out of the way).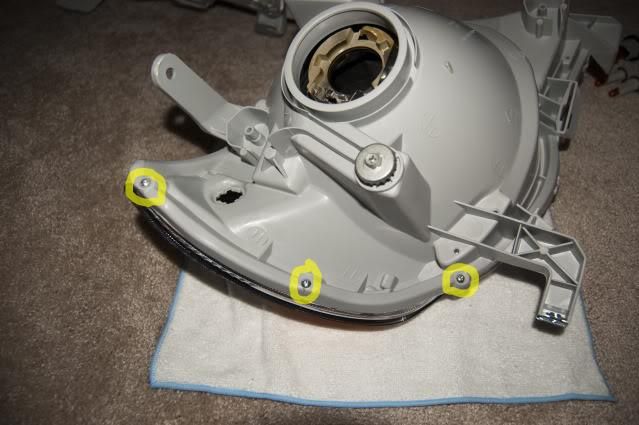 k. You also have the choice of painting the reflector bowl. If you do this, then you'll be done until tomorrow! (cause you'll want it to completely dry before you work on the rest) If not, go paint your other chrome part if you want.
5) Now it's time to put the projector in the bowl. Remove everything off the back of the projector except the big white silicone washer. NOTE: if you're like me you will want to know which way is up and which way is down. Inside the projector there is a metal flat bar connected to a bunch of shit and some springs. That is on the bottom! And just so you know, that is how the light switches to high beam vs. normal beam. You'll see once everything is done why that is. Another NOTE: some people reported that the gate and bar had a hard time flipping up and down (on and off). If this is happening to you, I would recommend stopping right there and contacting TRS to see if they have any recommendations or should send you a new projector. If this doesn't cycle properly, you will be stuck in either low or high beams!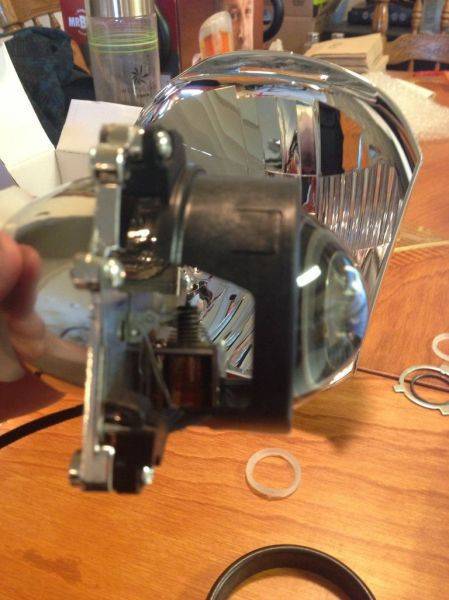 6) Now that everything is off the back of the projector, lets go over what was there. If you don't care which each part does, skip to #7
Not the exact same kit but looks like most of the parts are in this pic:
a. Two smaller silicone washers- these will be used in a little bit to keep it water tight.
b. Small metal split ring- will go over the bulb later.
c. Locking washer- the threaded washer/nut thing that will screw down but still leave threads exposed after you tighten it.
d. Locking cover washer- like the other one, but caps the end of the threads once it is on.
e. Alignment washer- has three small things poking off of it. Will help align you projector so it is not crooked later.
7) Insert the pro into the reflector bowl with the threads sticking out the pack. Remember the big silicon washer should still be on the projector. This is to help secure the projector in the bowl without it bouncing around.
8) Put the alignment washer over the threads so it sits into its groves.
9) Put one of the small white silicone washers on now. Make sure they don't twist it.
10) Put the first locking washer on now. Tighten it down with some vice grips, but don't do it too much as to break anything.
11) I ran the wires that come off the projector threw one of the remaining holes left by the bulb cover. I would recommend the same so they don't get too squished with everything else.
12) Now put the bulb in the assembly. It can only go in one way. Remember: DO NOT touch the bulb with your hands! The grease from you hand will shorten the life of the bulb by creating a spot on the glass that become hotter than it should. Handle with gloves or paper towel or something.
13) Put the metal split ring over the bulb assembly
14) Put the second small white washer on now too, but don't twist it.
15) Now put the last locking top washer on and hand tighten it down. If at this point you can jiggle the bulb a lot, I would recommend tightening the bottom-locking washer down a little more so the second top locking washer has more threads to secure the bulb.
16) Congrats, you just put your projector in properly, or at least we will find out if you did it right later!
17) Now it is time to put the shroud on. There is the black centric plastic ring. That will go in the shroud. The shroud has a small ring of tabs on the inside, and the ring will fit onto those. I glued those to parts together using silicone-ish type of glue I got from ACE hardware. I then put glue around the black plastic part on the projector, and then slipped the shroud/ring combo onto the projector. I let that dry overnight (cure time said 24 hours on the tube of glue)
18) Now, start assembling your headlight back together. If you painted crap, I sure hope you waited until the next day to let the paint fully cure, because I heard the vapors from the pain could cause problems.
19) Remember the adjustment screws? Well when you are assembling everything back together, try to tighten them about half way. So the bowl has plenty of room for adjustment. If you have a 12v power source, I would use these adjustment screws to try and get the cutoff lines as good as possible before sticking them back in the truck because it is a pain to adjust when they're back in there. The two screws adjust the bowl to point up and down—good luck.
20) Once everything is back together, use your resealing glue and stick the two halves back together. What I did is put the glue in the channel, roughly put the two half together, baked them, and then clamped them and tightened them down and re-clipped all the little tabs.
21) Because it is such a common problem, I put on another layer of silicon around the end of my headlight to prevent leaking.
22) Once everything is back together, you can do what I did and do a headlight restoration on the outer lenses. If you are not interested on how I did that, just go to step 23.
a. I went to my local auto parts store and picked up a headlight restoration kit. Mine were extra crappy so I picked up some 2000 grit sand paper as well (they don't sell 2000 grit sand paper at hardware stores usually; normally only at auto stores and glass stores)
b. Wet sand the lenses until the spotting is off
c. Use the rubbing compound to clean the heck off of them, and know a few coats of this might be necessary.
d. Use the final clear filler spray crap to make them look pretty and not cloudy any more.
e. Pretty much follow the direction on the bottle.
After sanding and rubbing compound on the bottom and the clear one is with the last clear spray stuff: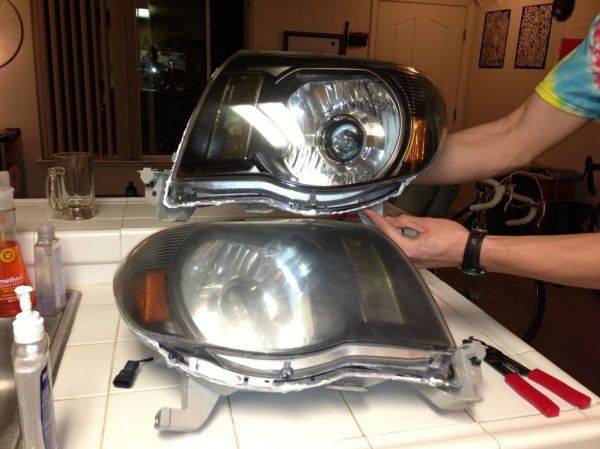 23) Cool. So now you have two big headlights on your kitchen table. Well take those suckers back to the truck! Take with you the wire harness, tools, ballasts, and your second or third beer (that's where you should be at right now)
24) Before throwing the headlights in, I would recommend fitting your wire harness up just because there is more room to work with. Just follow the labels on each end of where they should go. As for mounting, I used a bolt on the fan housing for the wire harness relay box (the orange one). For the ballasts, there are some predrilled holes in the metal that the headlights sit in that are the same size and have the same threading as the bolts supplied with the ballasts. Before bolting them in though, take some rough sand paper and take out the pain around those holes so there is bare metal. This will be your ground locations as well
25) Bolt the ballasts in, with the ground hook too
26) Drop your headlights back in and hood the rest of the stuff up. Make sure to put all your bulbs back in and make sure all you wires are connected.
27) Take one last drink from your beer, and turn the truck on. Flip on the headlights.
28) If your headlights did not turn on, recheck all the wiring and the grounds. Likely it is your grounds because that's what happened to mine the first time.
29) If your lights did turn on, they are probably not aimed properly. Make sure the truck is parked in front of a wall where you can easily see the cutoff lines (which only appear on low beams). Then use the adjustment screws on the back of the headlights to aim the bowls to be even and at a good height so as not to blind drivers but still give you good light down the road.
30) Make sure your high beams work as well. Flip them on. When this happens, the little gate in the projector should flip down, thus no longer blocking some light and no longer giving you a cutoff line. If one comes on and the other does, make sure the small plug that is sticking out of the back of the headlight is connected, as this is the plug that controls that gate.
31) Cool, now we need to make the back water tight. You should still have your stock rubber boots that were on the back. You will need to trim these. I ended up cutting up to the four (?) large square lumps on the boot. This should give you a good sized hole to put the orange bulb plug through and then on so it gives a good seal. Remember to run the high beam plug through the hole as well. If you totally screw this up, check TRS website and they sell different sized boots.
a. You might have noticed as well that there is a rubber boot on the cord that goes from the ballast to the orange plug end. This is if you have to run the plug through a drilled hole so it doesn't chafe the cord. You don't need it, but I left it on because there's no point in taking it of.
32) Once that is done, turn off you truck and then sober up before you drive.
Congrats, you're done!