Quote:
Originally Posted by
STEVESTRUCK
I bought some waterproof led lights I would like to put under my truck on both sides to come on when my dome light comes on, such as when I start it, or when I exit the truck, to light up the step rails. Can anyone tell me the best place to connect them?
Interesting idea, haven't seen this before so i went out to the truck and checked it out. Ok, first thing to do is to see what the amperage of those LEDs are in total, this will determine if you can do this. I have an 07 but this stuff should be the same. One the packaging there should be a spec saying what the amp draw is, 3-4 amps, whatever it is. If there is no amp spec but there is a wattage spec you can use that, if it's say 25 watts total then divide by 12 volts of your system and that gives you the amps (25 divided by 12 = 2.08 amps).
This next part I'm not totally sure on so you'll have to play it by ear unless someone else here knows this number.
You'll have to figure out the wattage of the dome light, I found replacement bulbs online that say 5 watts which comes out to .41 amps.
Next, I don't believe there is anything else and no other lights on that circuit if there is you will have to figure out what their amp draw is too.
So lets say your lights draw 3 amps and your dome light bulb draws .41 amps, so that's 3.41 amps total.
next, pop the hood and pull the cover off the fuse block which is the black box thingy right behind your battery :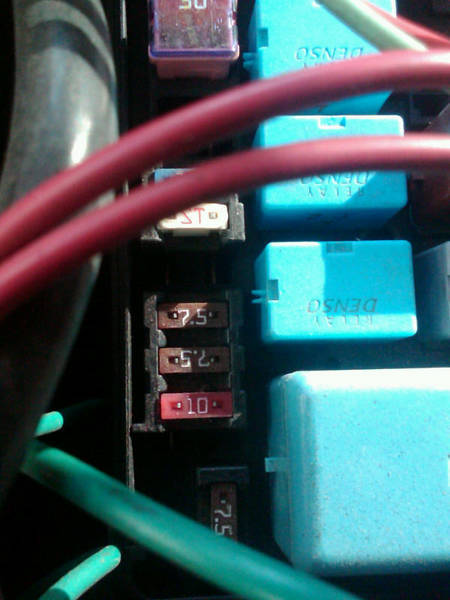 On the block in the lower left and corner you will see these fuses, if you look on the inside of the cover there is a diagram which tells you which one is the Dome light, in my case it's the brown middle fuse with the 7.5 upside down, that's yer dome light fuse.
next get something like this , it's called an add-a-circuit or fuse tap :
http://search.yahoo.com/r/_ylt=A0oGd.../dp/B000GKEXK2
Look at the pics and you see where the tap fits into the slot on your block and it has a wire coming off of it for a new circuit. Disconnect your battery before you start any electrical work on your truck! You install your old 7.5 fuse into it and wire the hot lead to your rock lights.
I would do this part before I put the lights on the truck to make sure it's going to work first. If you did your math right hopefully there is enough extra amperage capacity on that circuit to run the rock lights.
If not, you may be able to do the same thing on one of the ignition circuits but I'm not sure which one would work. NEVER put a higher amp fuse into a block, you're begging for an electrical fire.
There is not a whole lotta space on that part of the fuse block so you'll have to figure out which design will work for you and you'll have to cut a teeny tiny slot in the plastic edge of the block to get the wire out with out the cover pinching it.
Other than that, hang the lights, use lots of zip ties for the wires underneath, keep the wires away from hot pipes are engine components and it should work fine.
Good Luck