Probably one of the most common questions I have gotten over the past year is "when are you going to do your headlights?"
This is often one of the first things people get done and it's one of my last but much needed!
Honestly it was never a huge priority even though I despised the factory chrome look on my all black rig.
Mostly because I didn't know a whole lot about headlights and never took the time to properly research.
But my friends the day is finally upon us!
Burt over at Rechelon Aesthetics really took the time and gave me a crash course on all I needed, or cared, to know and made it easy!
We started collaborating on something that would stand my headlights apart from the rest when he mentioned Hydrodipping and why not incorporate the camo wrap that I have been planning on into the housing. WINNER! The fact that they took the time to research my goals and used their creativity to find a solution really sold me! That kind of customer service and attention to even the smallest of details is very refreshing and flows all the way through to their production process.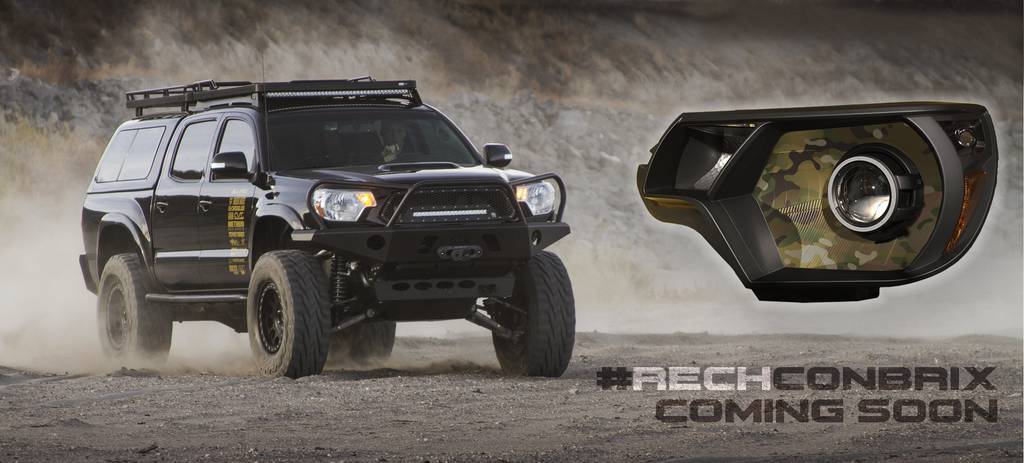 quick rendering of the headlight we are building
I wanted to keep it subtle and simple so only the bowl will be hydrodipped in a MultiCam pattern...
the rest of the build is as follows
(this could change)
:
_ 2015 Tacoma TRD PRO headlights
_ FXR Projectors
_ Apollo 1.0 Shroud
_ Bezels Painted Rechtin Black with Black Chrome Corner
_ Black Chrome DTRL / Turn Signal Bowl
_ MultiCam Headlight Bowl
_ Amber LED Halo
We are calling this collaboration build
RECHconbrix