Hmmm,
My 03 Taco is a fun thing to play with, and since I cant leave well enough alone, I came up with this one...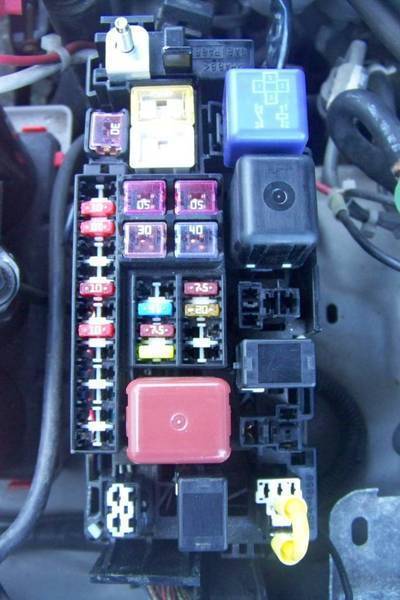 Heres a pic of my fusebox, notice the jumper in the slot for the power outlet relay in the lower RH corner. I had the relay sitting in my glovebox since I jumpered it out last summer. The other day I got a set of hella 75FF's for my truck, and I started to do a little research. I pulled up the wiring manual in the link that is in the stickies, looked into the fusebox wiring and saw the the next relay slot is HOT! Terminals #1 and #5 are tied to a bus bar. I grabbed my relay and went to find some connectors, matched them up to the two different sized terminals, and pulled my fusebox open.
The fuse box in the engine compartment is a neat thing, it is just held together with clips, when you release the 4 clips the fuse panel slides up and out so you can get to the back of all the sockets. I popped out the white clip from the socket hole, slid in the other two terminals from behind and pushed them to lock them in place. Then I reinstalled the white clip, slid the fuse panel back into the box running the wires out of the loom towards the inner part of the fender. With the relay in its new location, I tested it by grounding the wire I attached to the #2 terminal and the relay clicked.
Here is a view of the .250" terminal before I pushed it into the back of the relay mount.
My next step is to run a wire from Terminal #3 to 2 empty fuse slots, I plan to fuse each light through the box and send each wire out the the lights from the fusebox. I couldnt just use the relay and instructions in the kit could I?
After that will be the toughest part of all this, I want a factory FOG switch, and it is mounted on the turn signal switch assy, not on the dash. A bit more research through the wiring diagrams and I found the 2002 4runner turn signal switch uses the same connector that my truck has. I will be off to the junkyard tomorrow to look for one. The wire from the relay, through pins 10 & 11 in that switch to ground, that end will be Done!
So far, as far as supplies go...
1 .250" female crimp on terminal
1 .187" Female crimp on terminal
The next empty relay slot in my fusebox is not hot, it will need all 4 wires attached, so it will need twice as many connectors. I am contemplating a pair of extra backup lights.