Hey there peoples,
I posted this
http://www.tacomaworld.com/forum/tec...tion-help.html
over in the technical section but am getting no joy so I thought I would try posting here. I need a few opinions about the setup I am planning on doing for my driving lights. My state allows driving lights to be on with the high beams, so rather than just wiring them into any ol' power source I want to tie them into the high beams so they come on and off together and I don't have to hit a separate switch to turn off the driving lights every time I come across another vehicle. However, I also would like to have the option of turning them on or off at any time as the situation may warrant. The idea I've come up with is putting a 3 position (on/off/on) switch in the cab with one on position tied to the high beams and the other tied to the ignition switch. Wiring and electricity aren't exactly my strongest skill set so I wanted to get some other opinions on whether or not this setup will work.
Here is the schematic I've come up with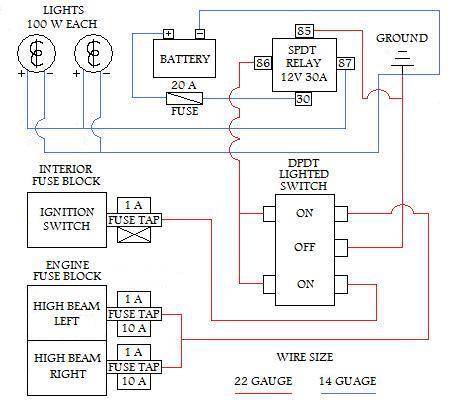 The one amp fuses on the fuse taps are for the secondary slot to protect the switch (I am planning on using an empty slot on the interior block that is tied into the ignition switch circuit so it should only require the switch fuse)
I'm using a lighted switch, hence the wire to ground.
So do you think this will work? The fuses for the high beams should only be getting power when I've got the high beams turned on in the cab right? Or is there a
relay
further downline that I would have to tie into? (I'm away from my truck at work for the next few weeks so I can't check) If anybody sees any problems or has any suggestions to make it work better I would appreciate the input.
Thanks for your time!